Consensus that the Fed won't dare pull the trigger on interest rates this week has kept markets asleep. This hasn't allowed interest-sensitive equities to prepare for such a hike, which might not occur now, but could very well be announced as early as September, during the next scheduled Fed meeting. It is clear that Yellen has one too many unknown factors to deal with beyond the September mark, the US elections being the most critical. This means that the Fed is working with a really narrow timeline if it wants markets on its side. If interest rates are expected to rise in a couple of months, then investors are looking at a great investment opportunity today. A synthetic long position on financials, matched with an equally sized short position on defensives, could be the smart-play in advance of this week's meeting.
Fed's Critical Move
An interest rate hike is certainly something that can be expected from the Fed as it would like to "seal" the end of its last monetary cycle, thus proving that it has succeeded in normalizing the US economy. In fact the recent G20 meeting could act as a prelude to such an occurrence, as G20 nations changed their rhetoric, for the first time, and stressed the need for fiscal policy to accommodate monetary authorities' efforts. This strategic turn could very well be viewed as creditor nations succumbing to pressures from debtor ones to inject "fiscal steroids" in their economies as a relief to US rate normalization.
The questions therefore is not whether the Fed will employ such a tactic, but rather when it will decide to announce it. While raising interest rates now would perhaps be the most prudent choice as the historically low market volatility/risk premia environment greatly assists markets to absorb such a hike, it still remains a highly unlikely event. This leaves September and December as the only two available slots at the Fed's disposal. December seems to be a very risky choice since too many factors can overturn the current state of the market. September, therefore, emerges as the most probable time for the Fed to move forward with a rate hike.
Macro Backdrop
There are a number of macroeconomic factors that support an interest rate increase. US real GDP growth, as forecasted by Atlanta Fed's GDPNow, is projected to reach 2.4% after a 1.1% reading in the first quarter of the year. US core inflation rate, the single most important factor Fed policy makers track, has been persistently diverging away from headline inflation rate, currently reaching 4-year highs, at 2.3%. Non-farm payrolls surpassed their June expectations with ease, while initial jobless claims are currently trending downwards near historical lows. Finally, the massive effort to restore American households balance sheet seems to have started bearing fruits, as existing home sales continue to rebound for a sixth consecutive year, surpassing all estimates and forming a strong trend. This highly supportive macro backdrop in conjunction with the highly favorable market momentum, are putting a clock on the Fed to act sooner rather than later.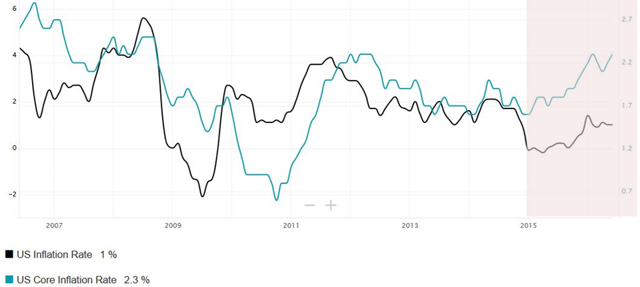 Investment Implications
If the Fed does signal, or the markets do sense, that a rate hike will take place as soon as September, then financials will certainly benefit. Considering how much banks have suffered from NIRP policies with US long-term bond yields (NYSEARCA:TLT) and net interest margins at historical lows, and the yield curve flattening, such a hike will most certainly provide a much needed relief.

This means that even a whisper of an interest rate relief could have financials outperform utilities, consumer staples, industrials, REITs, and high-yielding dividend stocks, which are surely not expected to benefit from such a move, and might even suffer because of it. A synthetic position consisting of long financials (NYSEARCA:XLF) on the one hand, and an equal-sized short position split between utilities (NYSEARCA:XLU), consumer staples (NYSEARCA:XLP), REITs (NYSEARCA:VNQ) , Industrials (NYSEARCA:XLI) and high-yielding dividend stocks (NYSEARCA:DVY) on the other, could capitalize on the growing probability of interest rate hikes. This spread position mitigates the systemic risk by exploiting the relative performance between these interest-sensitive US equity sectors.
There is yet another reason why investors should consider this spread position as a smart play and that has much to do with the relative value of financials, which is at its lowest point since 2013.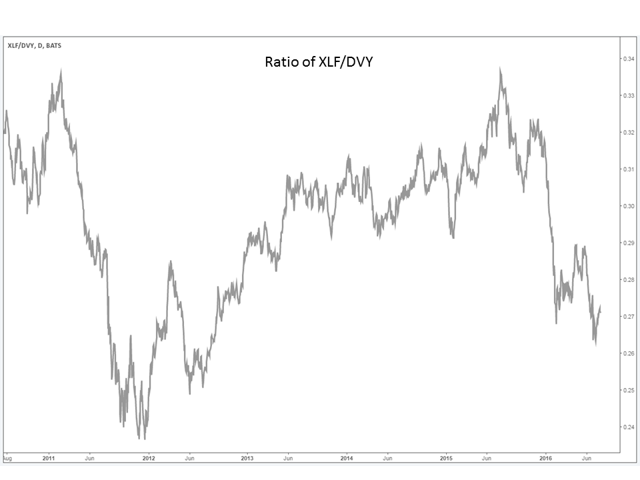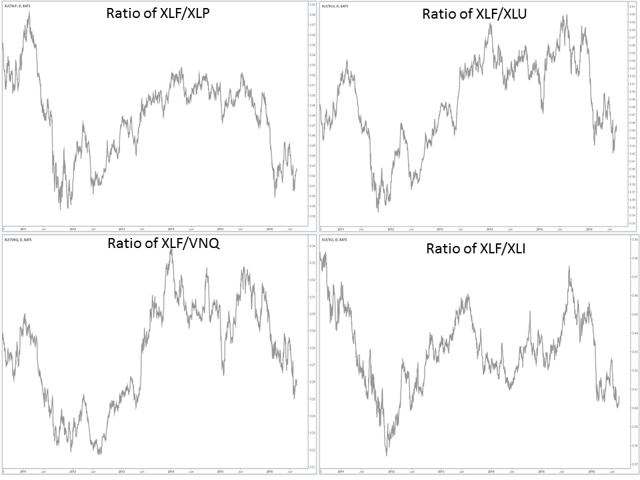 This signifies that a possible overturn of financials, triggered by an interest rate hike, will come at a time when investors can buy them at an optimal risk/reward point. So, while this week's Fed meeting is not expected to announce an interest rate increase, this does not mean that it won't start paving the way for this to happen in September. Investors could choose to act ahead of the curve, by taking advantage of this window that is opening up for them, instead of acting as mere bystanders to Yellen's interest rate tug-of-war.
Disclosure: I/we have no positions in any stocks mentioned, and no plans to initiate any positions within the next 72 hours.
I wrote this article myself, and it expresses my own opinions. I am not receiving compensation for it (other than from Seeking Alpha). I have no business relationship with any company whose stock is mentioned in this article.
Additional disclosure: The views expressed in this article are solely those of the author, provided solely for informative purposes and in no case constitute investment advice.