I monitor Brazilian stocks very closely. The reason is quite simple. Brazilian stocks have a high correlation with the USD Index and react heavily to commodity price changes. In other words: Brazilian stocks are a perfect USD trade. When I say Brazilian stocks, I'm talking about the iShares MSCI Brazil Capped ETF EWZ.
The main reason I'm writing this article is the current disconnection between EWZ and the USD as you can see below.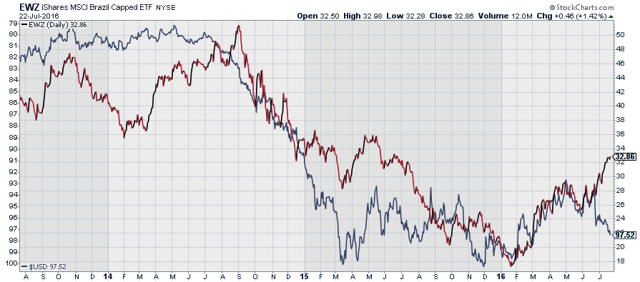 I could end this article right here and trust the most important currency in the words. However, I think it is important to look at a few additional aspects that might strengthen or weaken the bear case for Brazilian stocks.
Let's look at the Brazilian purchasing managers index. This leading indicator tells us everything about the economic outlook.
As you can see, the USD Index (displayed by the PowerShares DB USD ETF UUP) is leading the Brazilian economic outlook. Both the 2015 crash and 2016 (temporary) bottom have been predicted by the USD Index.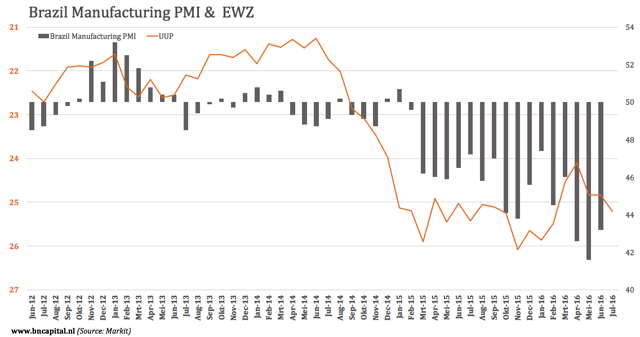 Stocks have done the same thing. Both the peak and the bottom have been a few months leading. The USD Index is affecting various asset classes before the economy changes.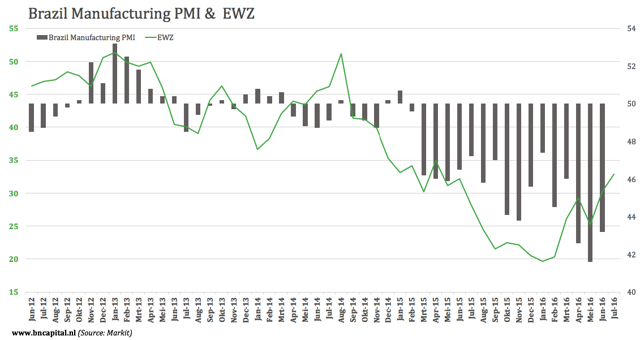 The Brazilian economy has improved a bit but is still far from growing. Under these circumstances, it is almost impossible to compete in Brazil.
The graph below is really interesting. It shows the USD Index and the Brazilian Reaal/USD exchange rate. The USD is leading the Brazilian currency by a few months. Every major USD move affected the Brazilian Reaal. Based on that info, the next up-leg should start any day now.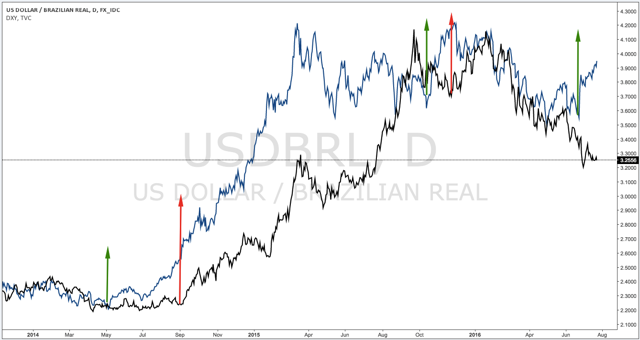 In addition to leading indicators, I looked at historical performance. EWZ has rallied 9% this month and almost 70% during the last 6 months.
EWZ's monthly performance is not very unusual as you can see in the graph below. The interesting thing is that EWZ had a very bad performance after such a strong month. Overall, the index has lost 1-2% after a month with a performance higher than 8%. 2016 has been an exception with multiple strong months since January.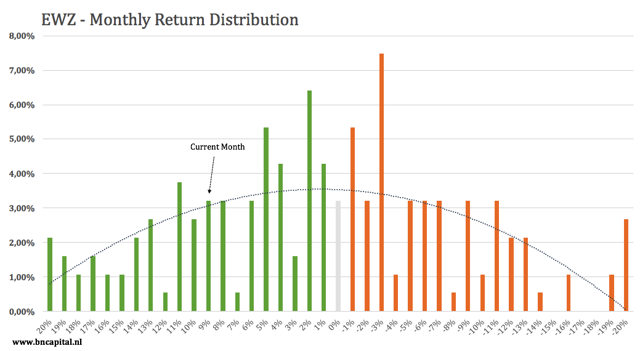 Another 'thing' that adds to the bear case is the fact that a six months performance like we are witnessing currently is very rare.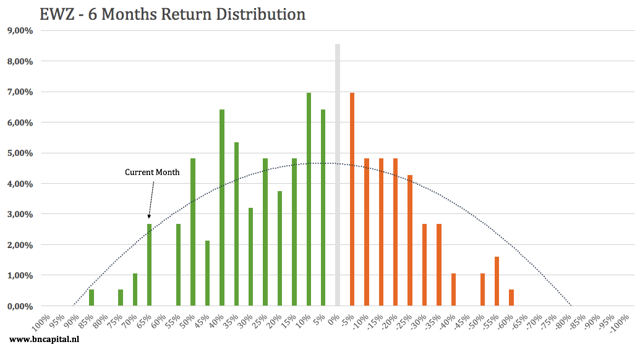 The last graph is about technical analysis. I normally don't do TA but I found a few interesting things.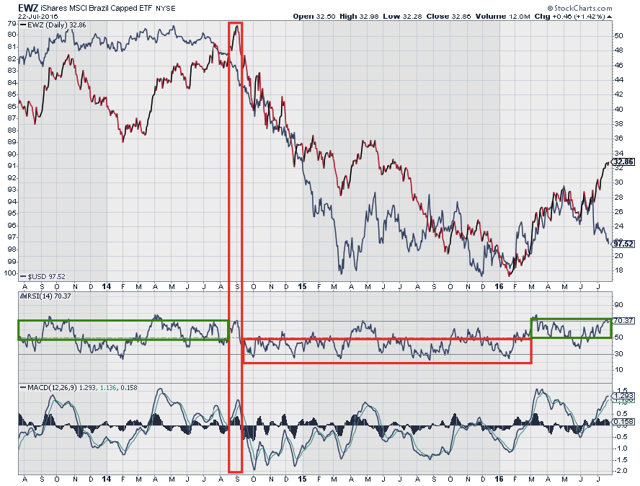 Prior to the USD rally, we saw that EWZ had been overbought on a consistent basis. After the USD bottom, things changed. EWZ was close to oversold until the USD peaked. I'm seeing similar signals like I saw in 2014. of course, this is TA combined with FA, but it gives me some extra confidence.
I am really positive about this trade. I started shorting EWZ today (Monday 25th of July). I started with a small position and will add to it if things go well. Keep in mind that I don't encourage anyone to go outright short. Shorting is extremely risky. Especially leveraged short ETFs.
I hope you enjoyed this article. Feel free to write a comment if you have questions or remarks.
Disclosure: I am/we are short EWZ.
I wrote this article myself, and it expresses my own opinions. I am not receiving compensation for it (other than from Seeking Alpha). I have no business relationship with any company whose stock is mentioned in this article.