Whole Foods (WFM) the erstwhile "organic" or specialty grocery kingpin reports their fiscal Q3 '16 financial results after the close on Wednesday, June 27, 2016.
Current Consensus:
| | | | | |
| --- | --- | --- | --- | --- |
| | Consensus EPS | y/y gro | Cons rev | y/y gro |
| Q3 '16 | $0.37 | -14% | $3.725 | +3% |
| Q4 '16 | $0.25 | +4% | $3.561 | +4% |
| fiscal '17 | $1.57 | +3% | $16.724 | +6% |
* Source: Thomson Reuters consensus as of 7/25/2016
If there is a poster child for the brutally-competitive nature of the grocery business, it is Whole Foods, which was growing revenue for years between 15% - 20% but thanks to the explosion of other specialty grocers which have strategically attacked Whole Foods in major urban areas such as Chicago (think Mariano's, Aldi's, Trader Joe's in Chicago, which did formidable damage and Johnnie's Foodmaster in Boston) Whole Foods comp's have gotten crushed.
Here is a brief history of WFM comp's:
| | | | |
| --- | --- | --- | --- |
| | Comp | Traffic | Basket size |
| 4/16 q2 | -3% | -2.1% | -0.9% |
| 1/16 q1 | -1.8% | | |
| 11/15 q4 | -0.2% | | |
| 8/15 q3 | +2.2% | +0.5% | +1.70% |
| 4/15 q2 | +3.6% | +0.8% | +2.8% |
| 1/15 q1 | +4.5% | +2.3% | +2.2% |
| 11/14 q4 | +3.1% | +1.3% | +1.8% |
| 8/14 q3 | +3.9% | | |
| 5/14 q2 | +5% | +2.5% | +2.5% |
Source: company earnings reports, internal spreadsheet
Readers can quickly see both the deteriorating comp trend and more worrisome (although the metrics go hand-in-hand) deteriorating traffic trends at Whole Foods.
That being said, easier comp's through the end of fiscal '16 and 2017 Whole Foods might see an improvement in comp's into the low-single-digits next fiscal year.
It is still a far-cry from Whole Foods former growth, but positive comp's are necessary for the retailer to trade higher (in my opinion).
The New "365" Concept: A lot of the analyst attention on this call will be focused on how the 365 store concept is performing and whether the overall price savings will drive better traffic trends at Whole Foods.
While the first store just opened in Silver Lake, California in May '16, some analysts have done their due diligence and compared 365 to the traditional Whole Foods format and have found some overall savings. The concept is still early and will likely be fine-tuned as more stores are opened.
When Whole Foods reported their May '16 quarter, management noted that comp's were running at a -2.6% rate for the first few weeks of fiscal Q3, so we can use that as one benchmark to evaluate 365 and the rest of the quarter at Whole Foods.
Valuation: WFM is trading at 20(x) forward earnings for what could be mid-to-single-digit EPS growth as it stands right now.
At 9(x) cash-flow and 40(x) free-cash-flow on a trailing-twelve-month (TTM) basis, there is little to like about WFM's cash-flow valuation either.
Morningstar values Whole Foods near $30 per share, while my own model, using a forward 4-quarter estimate and a target P.E puts a price target or fair value estimate closer to the low $40's.
Whole Foods has still not adjusted (to my knowledge) their 1,200 total store target that was announced in late 2013, early 2014. If that is the case, the headline about Whole Foods being between "a rock and a bigger rock" means that "capex" will continued to be stressed to open new stores, while Whole Foods needs to repurchase shares to stabilize EPS amidst negative traffic and comp trends.
That isn't a good combination.
Whole Foods debt-to-cap has jumped to greater than 30% as long-term debt was issued to buy back stock.
Technically, Whole Foods is in the earlier stages of repairing itself, although a trade into the high $30's, low $40's without a commensurate change in forward earnings estimates will force a sale of the position.
The key technical level for Whole Foods if it ever trades up there will be how the stock acts around the 200-week moving average in the low $40's.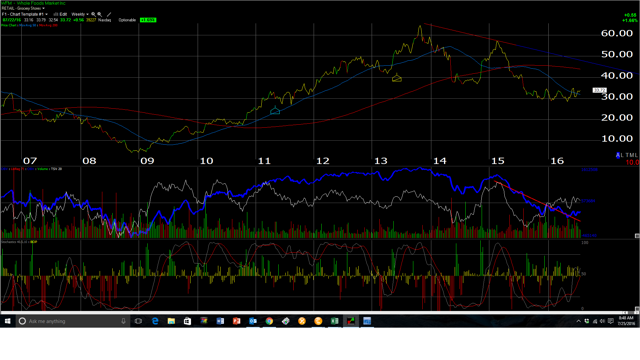 Conclusion: Whole Foods remains in a difficult spot. Management added $1 billion in long-term debt in late 2015 some of which was used to repurchase stock and stabilize earnings per share (EPS), in a falling net income environment.
For readers that want a quick tutorial on how earnings per share can be stabilized by share repurchases in a falling net income environment, here is a table of Whole Foods net income, fully diluted shares outstanding and EPS since late 2014:
Net inc ($'s ml)

f/d shares

outstanding

fully-diluted

EPS

7/16 q3
????
???
$0.37
4/16 q2
$142 ml
325.40 ml
$0.44
1/16 q1
$157 ml
338.20 ml
$0.46
10/15 q4
$105 ml
356.10 ml
$0.24
7/15 q3
$154 ml
360.50 ml
$0.43
4/15 q2
$158 ml
363.7 ml
$0.43
1/15 Q1
$167 ml
362.2 ml
$0.46
Source: quarterly earnings reports
This discussion was had with readers on my recent Alcoa post about how dilution penalizes shareholders. In Whole Foods example, the retailer has repurchased or spent over $1.1 billion in shares the last 3 quarters to help stabilize EPS even though quarterly net income has declined more than $10 - $20 ml year-over-year at some points.
The Chicago retail grocery market has always been (in my opinion) a good anecdotal observation lab for the densely-populated urban grocery market and I should have seen Whole Foods being crushed by Mariano's and small stand-alones like Plum Market in Old Town which grabbed foot traffic from Whole Foods thanks to convenience. The 365 concept could address some of this comp pressure. Mariano's, which was never a typical well-run retailer from what i understand was bought by Kroger in the last year, so my guess is Kroger will make Mariano's a more efficient competitor over the long-run.
In the interest of full and fair disclosure, Whole Foods has been one of the worst performers in client accounts over the last 2 - 3 years, which necessitated scaling down and buying more of WFM in the $30 area as the stock has started to base.
Investors need to see some comp improvement, and forward estimates start to not just stabilize but increase.
It is tough to justify paying 20(x) forward earnings for little to no EPS and revenue growth.
Something has to give.
If this turnaround is to happen in the most brutal of retail spaces, WFM needs to demonstrate evidence of such shortly.
Disclosure: I am/we are long WFM.
I wrote this article myself, and it expresses my own opinions. I am not receiving compensation for it (other than from Seeking Alpha). I have no business relationship with any company whose stock is mentioned in this article.