-by Benjamin Warner
Background on NVIDIA and Intro
Nvidia (NASDAQ:NVDA) has been on an unstoppable run since July of 2015 and is now crushing its all time highs. The stock is one of this year's best performers, up 91.78% since the January 1st. Most of the stocks performance can be attributed to excitement surrounding increased applications for its augmented/virtual reality and artificial intelligence chips.
Nvidia's recent run is reminiscent of that of Ambarella's (NASDAQ:AMBA) last year. This article will parallel the two stocks and frame Nvidia's recent run using Ambarella for perspective.
Ambarella's Epic Run
Anyone who follows chipmakers will be familiar with Ambarella's story. For some background, the company started as a fab-less chipmaker and designed video chips mainly for one customer- GoPro (NASDAQ:GPRO). As sales in GoPro cameras exploded between the summers of 2014 and 2015, Ambarella sprinted from $30 to $126.70. With earnings growing at rates of 60-80% year over year, Ambarella's share price appreciation was no surprise, however it became clear in the middle stages of the run that the stock was getting a little frothy.
As shares of Ambarella rocketed upward, doubling over the year between June '14 and June '15, and then once again between late May and July of '15, the shorts came out in full force, driving short interest above 30% of the float for multiple consecutive months. The result was an epic short squeeze that drove the stock to trade at more than 60x earnings and then drop back to 14x within six months.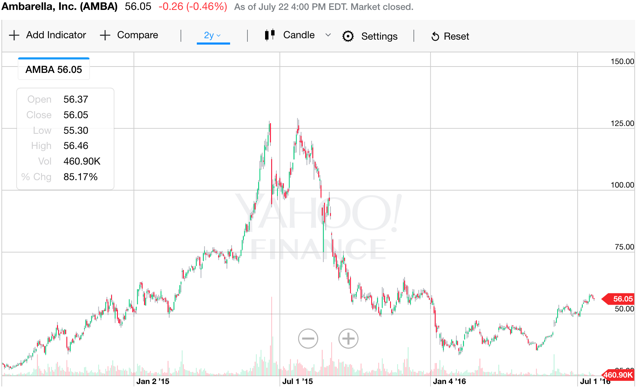 Figure 1: Short squeeze is visible on Ambarella's chart- the stock nearly doubled in just one month around June '15 and subsequently collapsed. (Source: Yahoo Finance)
Ambarella's bubble burst around the time Citron issued a report decrying the stock's valuation and citing its markets as "niche". After a brief dead-cat bounce, shares continued to slump on news of declining sales numbers from GoPro. The stock has yet to make any significant recovery towards all-time highs although bullish sentiment is gradually coming back.
Nvidia's Run-Up is Similar to Ambarella's…
Differences in business model aside (will be addressed later), Nvidia's share price run is reminiscent of Ambarella's. Like Ambarella, Nvidia has seen extremely rapid share price appreciation mostly due to excitement surrounding increased application of core product line-the stock has more than doubled over the last four months. Upside catalysts have included two upside surprise earnings and enthusiasm surrounding Pokémon Go's use of augmented reality.
However while the upside catalysts have been tangible it appears that at least some of Nvidia's price action has been due to short covering. As seen below, short interest on Nvidia is fairly high- around 9%. That number has been steadily declining since mid-May when Nvidia surprised earnings to the upside and ~10 million shorted shares were covered immediately after. The combination of major upside catalyst and high short interest make it easy to detect a short squeeze, here.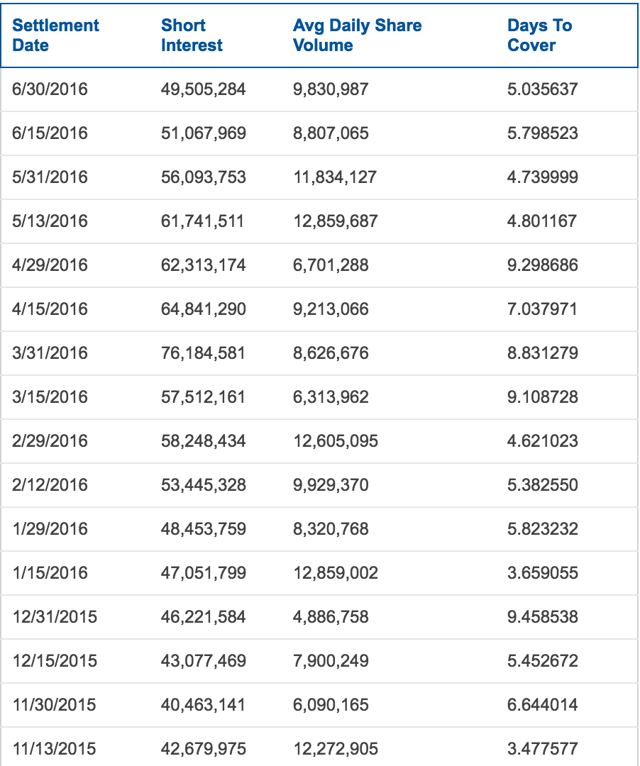 Figure 2: Short interest data for Nvidia. (Source: Nasdaq.com)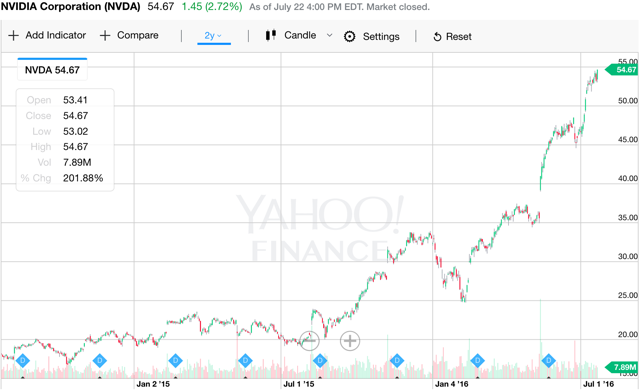 Figure 3: Shares of Nvidia appreciated rapidly after earnings beat and shorts covered. (Source: Yahoo Finance)
The obvious issue with Nvidia now is its valuation. Trading at 45x trailing earnings, there is tremendous pressure on the stock to keep pushing out good news; earnings beats, upward revisions to guidance, new product announcements. The valuation also puts pressure on management to execute perfectly going forward- and even that might not be enough to sustain the run if macro and/or competitive forces do not remain extremely favorable going forward.
More cause for concern is the Wall Street outlook for Nvidia. Wells Fargo recently downgraded Nvidia to 'Underperform' citing that shares are trading well above fair value range of $30-36 and that competitor Advanced Micro Devices (NASDAQ:AMD) is poised to grab market share in the graphics segment. Of course one re-rating is not cause for immediate concern, but only one institution- Mizuho- shows any upside for Nvidia, with a price target at $60. Whether or not Wall Street is right about Nvidia, it will be hard for the stock to appreciate much if almost all of the major institutions believe it is overvalued.
…But its Business is Much Stronger
Even at its current ridiculous valuation, Nvidia is a tempting buy for its core business prospects. Three of the companies biggest markets- Gaming, Enterprise Graphics, and Automotive - are extremely fast growing, and Nvidia has established solid market share in each of them.
Nvidia's advantage in comparison to Ambarella, here, is that its products service multiple industries and not just one line of products. The chances of sudden and rapid drop-off in demand for gaming, graphics, and/or automotive chips are exceptionally slim. However, it is a possibility- or a probability according to Wells Fargo- that Nvidia will lose market share to competitors going forward. With gaming, graphics, and automotive market growing rapidly, it seems reasonable to think that competition will be attracted to the space.
The Bottom-Line: Dilemma
Nvidia presents an extremely compelling growth story in a market where lots of companies seem to be topping out. However, expectations for the company are extremely high and Nvidia must keep putting out good news and beating earnings to continue higher- and that's an unsustainable trend in the long run.
Disclosure: I/we have no positions in any stocks mentioned, and no plans to initiate any positions within the next 72 hours.
I wrote this article myself, and it expresses my own opinions. I am not receiving compensation for it (other than from Seeking Alpha). I have no business relationship with any company whose stock is mentioned in this article.