2016 is shaping up to be an excellent year for high yield. While naysayers warn of avoiding "yield traps", savvy and picky investors have been able to enjoy double-digit capital gains on top of a double-digit or near double-digit dividend stream. The year has not treated all high yield assets equally, though, and many index products have massively underperformed pickier purchases.
For instance, the SPDR Barclays Capital High Yield Bond ETF (NYSEARCA:JNK) has underperformed my 2016 bond fund favorite, Pimco Dynamic Credit Income Fund (NYSE:PCI) by over 4 percentage points from the time I recommended it (and by 3 percentage points year to date). This is largely a result of the market snapping back from overselling high yield assets, getting us closer to overbought territory.
Looking at my picks this year, I have enjoyed solid gains across the board thanks to good timing and a sober analysis of macroeconomic trends and their impact on bond yield curves, default rates, and the Federal Reserve's interest rate movements. Looking at these picks one by one shows how an analytical approach to the markets and good timing can offer a high income stream even when the market warns of extreme risks.
2016 Pick #1: An oversold equity fund
With stocks crashing in February, it seems a great time to buy into the S&P 500. But it was a much better time to buy AGIC Equity & Convertible Income Fund (NYSE:NIE), which was then trading at a 15% discount.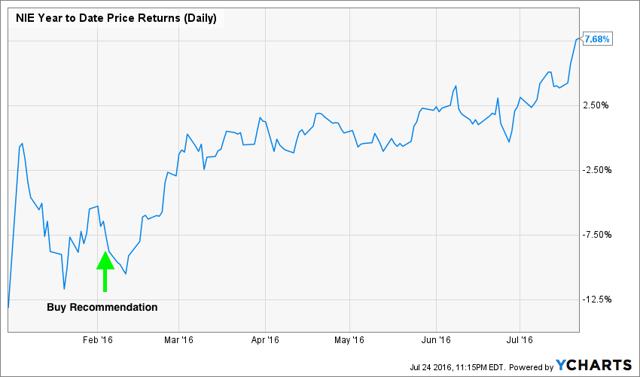 Since that recommendation, the fund is up 16.7% excluding dividends, versus 13.6% for the S&P 500. Adding dividends and even without annualizing, we get a return of 22.7% in just 5 months.
Why? Simple: the fund's discount-to-NAV was exceeding its 52-week median as a result of a double-whammy from the market. Equities were down, and fears of future interest rate hikes and a lack of liquidity in the corporate bond market were causing a massive sell-off of all kinds of bonds, including convertibles. Since NIE invests heavily in both, its NAV was negatively impacted severely by the sell-off, which caused an overselling from investors who sought safety in a moment of panic.
NIE's discount-to-NAV is now less than 10%, which is much closer to its historic median.
2016 Pick #2: Highly Discounted Junk Bond Funds
My second big pick for the year were a collection of highly-discounted junk bond CEFs which would have no problem covering distributions thanks to the rising yields in corporate bond debt. While I provided 37 options for readers, I also considered (and eventually did purchase) three funds for myself: Credit Suisse Asset Management Income Fund (NYSEMKT:CIK), Pioneer Diversified High Income Trust (NYSEMKT:HNW), and Western Asset High Yield Defined Opportunity Fund (NYSE:HYI). With yields around 10% based on NAV, each seemed a strong contender to cover dividends and provide capital gains as the junk bond market recovered from its very long and precipitous decline.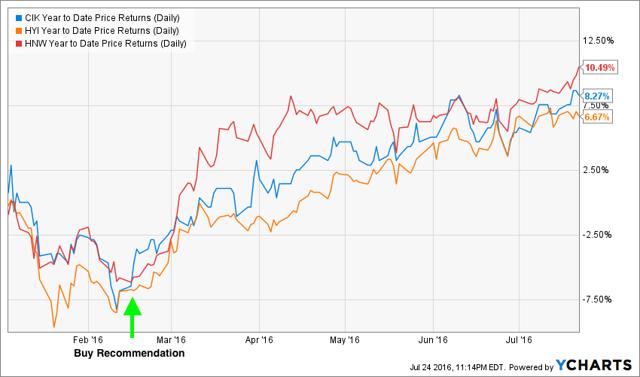 Now that money is back in the corporate bond world, these funds are all up YTD and are up above JNK, again demonstrating the folly of indexing the high yield market:

Again, each fund was trading at unusually large discounts to NAV yet were in a position to cover dividends more easily than in the past. This rare congruence provided an excellent buying opportunity that rarely comes around.
2016 Pick #3: An Extremely High Yielding BDC
I usually don't write on BDCs because I lack the knowledge or time to delve into their inner workings, and some have a history of using their complexity to misguide and fool investors into allowing management to earn outsized fees for meddling returns. Yet it was impossible to avoid TriplePoint Venture Growth (NYSE:TPVG), which clearly did not indulge in the obfuscation tricks of its less scrupulous peers, while also having a solid portfolio in a sector that can earn massive returns.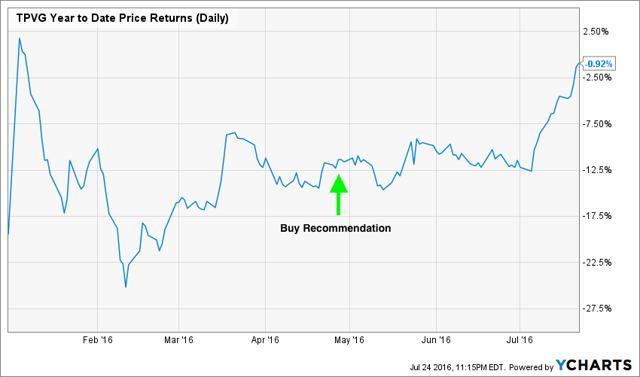 Looking deeper into TPVG's portfolio, I realized it had an interesting strategy: investing in solid, income-producing and sustainable tech firms, both startup and well established. This is a seeming paradox; many venture capitalists and early stage investors ignore metrics like revenue, earnings, operating margins, and so on. But TPVG's combined focus on high growth and sustainable business models meant its ability to cover dividends, despite its low capital deployment, was enough to get me to buy.
The stock is up 15.5% since then excluding dividends, far above the UBS Etracs BDC ETF (NYSEARCA:BDCS), which is up only 4%. Also, my 14% dividend yield on cost is significantly higher than both BDCS and almost all other BDCs on the market, despite TPVG's solid dividend coverage and growth potential.
2016 Pick #4: A Misunderstood Bond Fund
Pimco Dynamic Credit Income Fund is the younger but bigger sibling of Pimco Dynamic Income Fund (NYSE:PDI), which is famous for having outsized dividend payouts thanks to its aggressive investment in mortgage backed securities (MBSs) at a time when these assets have become significantly safer than the market's recency bias would have us assume.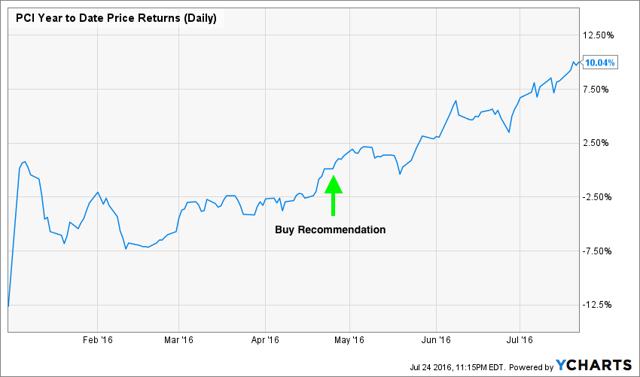 In April, PCI officially shifted to focus more on MBSs than it used to, which was one of the reasons I bought heavily into the fund. Other reasons : PCI had one of the biggest discounts-to-NAV among Pimco CEFs, a sustainable dividend, and the potential for special dividends. PCI's undistributed NII was 53 cents per share in June, meaning a special dividend is almost guaranteed in December, just as we enjoyed last December.
Since my recommendation, PCI is up 11% and now trades at a 6% discount, versus the 10.6% discount when I wrote about the fund.
Forward Look
The high yield market is infamously volatile, and with equities at record-highs, concerns about a sharp correction are in the air. Changes to the 10-year yield and the spread between Treasuries and corporate bonds make me less concerned, although high yield CEFs are clearly less attractive now than they were in February. While I have bought in and out of some funds over the year, I remain long all of the funds listed in this article, and await a signal from my metrics for a top. Only then will I consider selling.
Disclosure: I am/we are long CIK, HNW, HYI, NIE, PCI, PDI, TPVG.
I wrote this article myself, and it expresses my own opinions. I am not receiving compensation for it (other than from Seeking Alpha). I have no business relationship with any company whose stock is mentioned in this article.