By Parke Shall
For the last few years, one of our favorite things about Ford (NYSE:F) has been the company's commitment to innovation and growing itself instead of allocating capital to shareholders too early or being conservative in their approach to organic global growth.
We continue to adhere to our long-term prediction that Ford stock will eventually rise when the company turns some international locations into profit centers. Ford has made investments not only in itself but also in property plant and equipment across numerous global geographies. This allows them the infrastructure to produce vehicles at a reasonable cost to the company internationally.
Today we wanted to point out yet another instance of Ford leading the industry. Ford has been able to find success over the last few years because it was first to use the aluminum hybrid model for trucks and its outside the box thinking in terms of innovation has put it leaps ahead of its peers.
We have noted in several articles that competitors tried to use the same strategy with their trucks after Ford did it with some success, but they didn't make nearly as many headlines and clearly were not seen as the pioneers.
We think the same is going to be the case for Ford's latest innovation, installing Apple CarPlay (NASDAQ:AAPL) and Android Auto (Google (NASDAQ:GOOG) (NASDAQ:GOOGL)) connectivity into its vehicles before peers:
Ford says it will offer Apple CarPlay and Android Auto across its full lineup of 2017 vehicles.
The smartphone features will be built into the Sync 3 system to be included in all Ford and Lincoln vehicles.
The accelerated rollout of Apple CarPlay and Android Auto will put Ford ahead of its major peers.
Automotive news reported,
"We developed one platform - Sync 3 - and have been able to quickly offer the technology across our lineup," Chuck Gray, Ford's global director of electrical and electronic systems engineering, said in a statement. "Customers considering a new vehicle can now choose any 2017 model year Ford car, SUV, light truck or electrified vehicle with SYNC 3 and be able to access their favorite apps."

The industry's adoption of Apple CarPlay and Android Auto, which together cover more than 98 percent of the U.S. smartphone market, since their introduction in 2014 has been slower than anticipated, with some automakers falling behind their announced timelines. In many cases, the features are being added as part of a vehicle's redesign or freshening, in contrast to Ford's all-at-once approach.

Today's announcement means Ford will have the technology in more nameplates than any competitor except General Motors, according to Apple Inc.'s website, which lists more than 120 compatible U.S. models. (That's about one-third of all new-vehicle nameplates.) Apple says CarPlay is on 32 GM nameplates, including derivatives such as coupes and convertibles, and 22 from Ford Motor.
At a time where smartphones are such an integral part of the daily routine for U.S. consumers, integration into vehicles is likely now a key part of an automobile sale. This integration comes at the right time for Ford.
Also this innovation takes Ford vehicles one step further into the future and one more step ahead of peers in terms of mobile offerings. The US auto market is a crowded market notably due to General Motors (NYSE:GM) and also with upcoming participants like Tesla (NASDAQ:TSLA). However, it is this type of innovation putting itself first in line prior to peers to introduce new technology that is going to keep Ford appealing to potential buyers.
We strongly believe that should there be a drawback in American auto sales, Ford would likely have the least amount of pullback of any of the manufacturers simply because these types of innovations keep it ahead of the curve.
As innovation continues domestically, Ford also continues to push innovation overseas in key markets. For instance, the company announced earlier this year that they would be investing over $1 billion into the China smart car market. Smart cars are widely seen as the next big thing in China, and Ford is the first US-based automaker to make such an investment.
It is staying ahead of the curve like this that has allowed Ford to flourish since the 2008 crisis.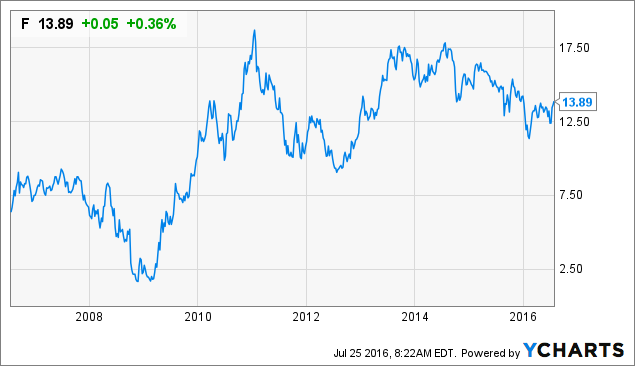 F data by YCharts
Arguably Ford came out of the crisis in better shape than any other auto manufacturer. The F-150 line and Mustang line have helped catalyze sales in the US while luxury brands like the new Lincoln continue to have popularity in other geographies.
Ford is taking an "all together" global approach to rebuilding its business. It's not an approach that is going to yield short-term gains and instant spikes in the stock price. It is however a strategy that will allow the company to set up a very firm foundation for itself and allow it to capitalize on whatever global geography is heading into an upswing economically as it happens.
It continues to be a reason that we are long Ford for the long term.
So much of the playbook that Ford has executed since 2008 continues to rely on organic innovation as well as diversification globally. The introduction of mobile to their in dash systems, and being the first to do so, continues to lead us to believe that Ford is executing a playbook that will bode well for the company over the course of the long term.
Disclosure: I am/we are long F.
I wrote this article myself, and it expresses my own opinions. I am not receiving compensation for it (other than from Seeking Alpha). I have no business relationship with any company whose stock is mentioned in this article.