On July 23, 2016, Synchrony Financial (NYSE:SYF) reported Q2 2016 net earnings of $489m, or $0.58 per diluted share, which beat the consensus EPS estimate of $0.55 by 5%. For comparison purposes, the company reported net earnings of $541m, or $0.65 per diluted share, for the same quarter in the prior year.

(Source)
The company has been impacted by the challenging operating environment, which has had a negative impact on the company's asset quality and reserves (more on this below). Synchrony reported mixed Q2 2016 earnings in that there was a lot to like but there were also a few areas of concerns that should be closely monitoring over the second half of 2016. I will provide my top three takeaways from the Q2 2016 results in the following format: The Good, The Bad, and The Not So Bad.
The Good
Investors should be encouraged any time a company is able to beat the consensus EPS estimate, even when the expectations are lower now than they were a year ago, but my focus for the "good" will be on the improvement to the efficiency ratio. Synchrony reported an efficiency ratio of 31.9% for Q2 2016, which was a ~5% YoY decline from the ratio reported for Q2 2015.

(Source: Q2 2016 Press Release [linked above] - edited by author)
Full disclosure: The efficiency ratio represents (i) other expenses, divided by (ii) net interest income, after retailer share arrangements ("NII after RSA"), plus other income.
The important takeaway is that the other expense category increased YoY (from $805m to $839m), but that this increase was largely driven by the overall growth that the company is experiencing. For example, the company reported NII after RSA of $2.54b for Q2 2016 and this compares favorably to the $2.28b reported for Q2 2016.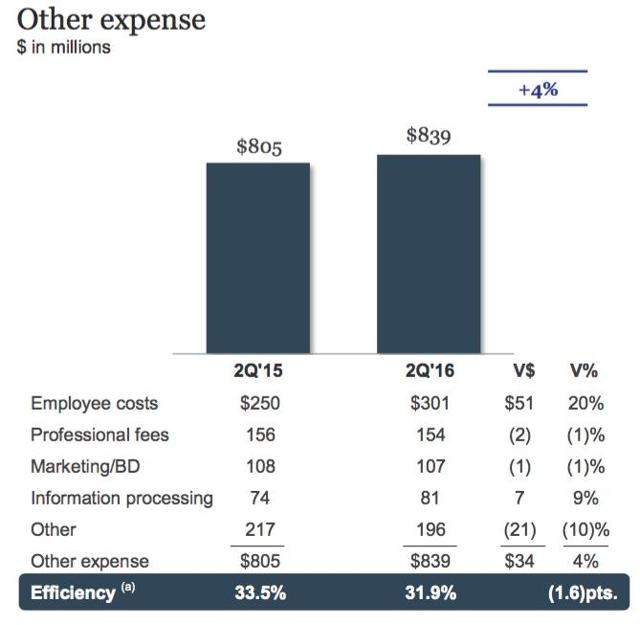 (Source: Q2 2016 Earnings Presentation)
This 4% YoY increase in other expenses is more than reasonable when considering the fact that the unadjusted net interest income increased YoY by over 10%, and that management had previously communicated the need to build up the company's infrastructure to handle the anticipated growth. Synchrony's top line growth explains why the company saw employee and IT processing costs increase by 20% and 9%, respectively.
On the bright side, Synchrony was able to chisel off $21m in the "other" category, as the company benefited from less expenses related to the EMV roll out (a program that occurred in the prior period) in addition to benefiting from a reduction in costs paid to the former parent company General Electric (NYSE:GE).
Synchrony reported an impressive Q2 2016 efficiency ratio, but management fully expects for the ratio to trend back up over the next two quarters due to increased marketing expenses and other necessary infrastructure investments. However, management reaffirmed the guidance given earlier in the year that the ratio should remain below 34% through the remainder of the year.
The Bad
Synchrony's asset quality has been the main focus over the last few weeks and this is because, as described in a recent article, Synchrony is experiencing some headwinds in the current environment. Management previously communicated the need to increase the net charge-off rates and build up the company's reserves, and this was exactly what happened in the most recent quarter. For Q2 2016, the company reported YoY increases in each of the asset quality metrics: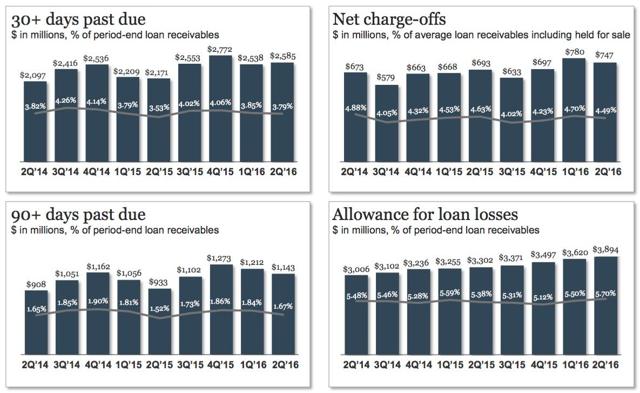 (Source: Q2 2016 Earnings Presentation)
However, it is important to mention that the Q2 2016 metrics are still below the historical averages, which is a topic that management highlighted during the Q2 2016 conference call:
The backdrop for credit is still favorable. However, our forecast indicates that credit will gradually normalize higher from the recent lows. It's important to note that we are not seeing a step change. Our view takes into consideration factors like portfolio mix, as well as account maturation, consumer trends and payment behaviors. We consider all of these factors in our underwriting today, and we're still seeing very attractive returns across the credit spectrum.....So in summary, while credit will normalize from here, it's important to reiterate that we are still operating in a pretty favorable environment when it comes to credit, and the risk adjusted yields we're earning on the new accounts we're bringing on are still very attractive

-Brian Doubles, EVP, CFO and Treasurer, during the Q2 2016 Conference Call
The slight downturn in asset quality is not a good thing, but I believe that the concerns are being somewhat overblown by analysts. As management mentioned, the recent asset quality metrics were well below the historical averages so a slight uptick will not have a material impact on earnings.
The Not So Bad
The YoY decline in earnings is not a significant concern [yet] but it is also not a great sign for Synchrony's near-term prospects. There are many factors that are coming into play here but the two main contributors are (1) the increase in the provisions for loan losses and (2) the decline in other income.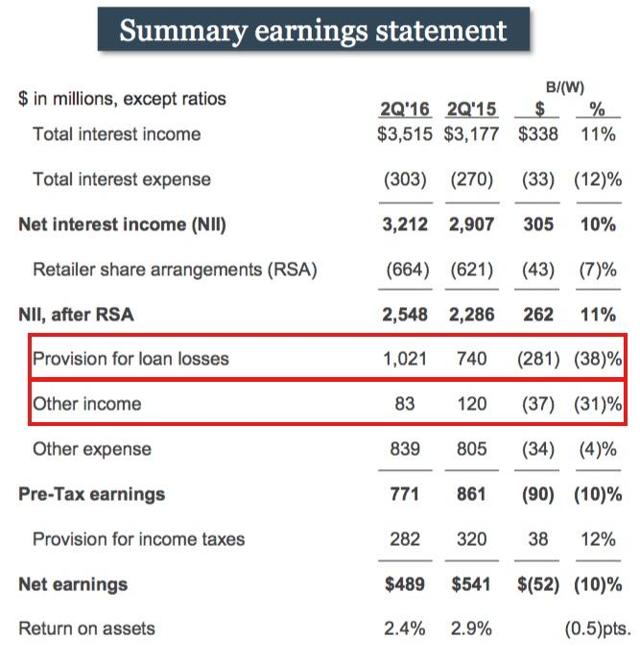 (Source: Q2 2016 Earnings Presentation - edited by author)
The provision for loan losses was already discussed above in "The Bad" section, but again, management is estimating for credit to normalize so this should not have a significant impact on Synchrony's earnings going into early 2017. The 31% decline in other income is largely a result of a big one-time gain of $20m recognized on portfolio sales in Q2 2015, so this also should not concern investors.
Both of these factors are short-term headwinds, but investors would be wise to pay close attention to the provision over the next few quarters to ensure that the results are in line with management's expectations because multiple increases in the provision over time will have a significant impact on the company's earnings potential.
Bottom Line
There is no denying that Synchrony is being impacted by a softening in the economy and that the earnings over the next quarter or two may not be anything to brag about, but let's not forget that this company is operating in a growing market and that Synchrony was still able to beat the Q2 2016 earnings estimates. Synchrony reported an impressive YoY increase in NII after RSA and the company is experiencing above-average growth in its growth metrics (purchase volume, loan receivables, average active accounts, & interest and fees on loans), so the long-term business prospects are still intact.
Additionally, Synchrony recently initiated its first dividend ($0.13/quarter) and buyback program ($952m). Therefore, these factors alone make Synchrony a great long-term investment at today's price.
However, investors should closely monitor the company's asset quality and over the second half of 2016 because any further deterioration could result in a significant decline in the stock price. Furthermore, Synchrony's share price will likely be under pressure if the overall market pulls back, but any significant sell-off (not directly related to a further downturn in the company's asset quality) should be considered a buying opportunity.
If you found this article to be informative and would like to hear more about this company, or any other company that I analyze, please consider hitting the "Follow" button above.
Disclaimer: This article is not a recommendation to buy or sell any stock mentioned. These are only my personal opinions. Every investor must do his/her own due diligence before making any investment decision.
Disclosure: I am/we are long SYF, GE.
I wrote this article myself, and it expresses my own opinions. I am not receiving compensation for it (other than from Seeking Alpha). I have no business relationship with any company whose stock is mentioned in this article.