Welcome to the Financials sector's third edition of "Buy on Weakness?", a series of articles that sifts through the underperformers of the week to find potential investment opportunities in the large-cap Financials world. The idea is to help investors, particularly those focused on value plays, unearth ideas for the coming week.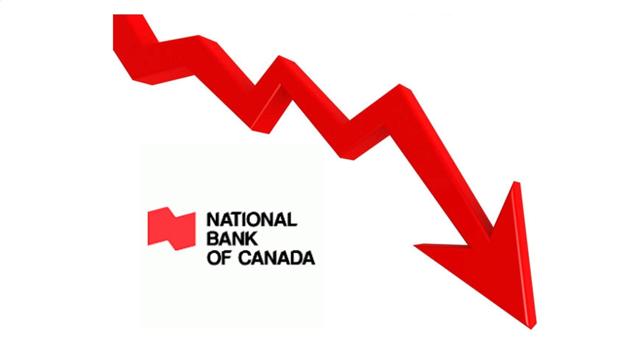 Credit: DM Martins Research montage using company logos
The table below highlights the top 20 Financials companies - worth $10 billion or more in total equity value - that have performed the poorest in the previous five trading days.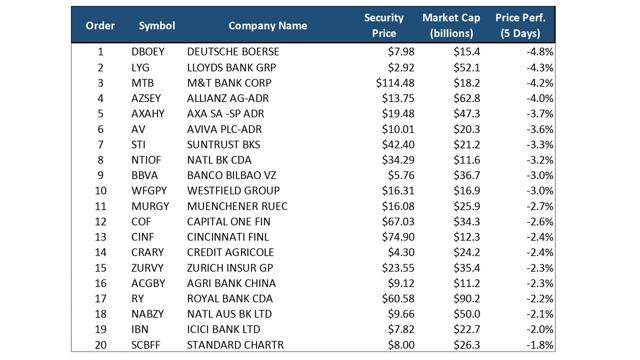 Source: DM Martins Research, using market data compiled from Zacks
Let's take a closer look at some metrics.
Diving deeper into the data
While last week saw many winners in financials as earnings releases poured in, there were also a fair share of decliners. These top 20 financials losers have a low median forward P/E of 10.9x, compared to the S&P 500's median trailing P/E of 14.6x and the overall financials sector's 15.8x. This week's top 20 group is expected to grow EPS in 2017 by 5.3%, and the companies generate a solid median dividend yield of 4.3% (19 of the 20 companies are dividend-payers).
The table below highlights, in green font, the three best-positioned financials companies in each of the following categories: projected EPS growth, dividend yield, forward P/E and forward PEG (P/E divided by percentage-point EPS growth).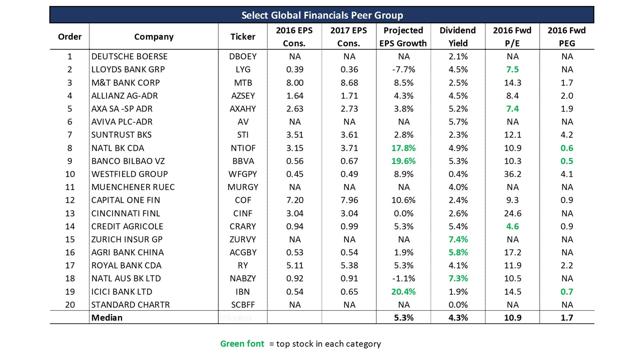 Source: DM Martins Research, using data from Yahoo Finance, Nasdaq and Market Watch
So which short-term loser should investors consider adding to their portfolio to take advantage, in the long run, of this price decline? And which should they avoid, despite the price drops?
Let's take a closer look at a featured name on the financials top 20 "biggest loser" list.
National Bank of Canada: This stable dividend-payer stands out among its competitors
This week, we feature National Bank of Canada (OTCPK:NTIOF). The stock, down 3.2% last week, boasts a generous dividend-yield of 4.9% with a 2017 forward PEG ratio of 0.6x.
Montreal-based National Bank of Canada is the sixth largest bank in Canada by assets and operates through its Personal and Commercial, Wealth Management, and Financial Markets business segments. The bank is a regional leader as 94% of revenues originate in the Canadian market (61% from Quebec alone).
National Bank announced, in June, that it missed 2Q16 forecasted revenues by C$40M and EPS by C$0.28. The bank noted that its bottom line was hurt by a provision for credit losses from oil and gas companies during 2Q16.
The bank also stated that it will halt acquisitions until next June in order to build up its capital base. CEO Louis Vachon expects to reach a 10% Common Equity Tier 1 capital ratio by the end of fiscal 2017 (from its current ratio of 9.8%). Over the past two years the bank has expanded operations to international, under-banked markets by acquiring stakes in four financial institutions in West Africa and Asia.
- The bull case: SA author Caiman Valores thinks that this underpriced stock deserves investors' respect. The author explains that "National Bank shapes up as one of the best low-risk plays on Canada's economy because … it has the least direct and indirect exposure among the six major banks to the country's energy patch. It also is one of the most efficient of the top six banks, and this allows it to continue generating solid margins, all of which will contribute to stronger profitability as Canada's economy recovers from the protracted slump in crude." The author concludes that the stock is trading 23% below its fair value (when it was trading 3% higher at $35.43) while offering a sustainable dividend payment of 5%. However, the author does not discuss the possibility of a protracted Canadian economic slump.
We largely agree with this analysis and believe the stock represents long-term value. National Bank offers the largest dividend yield, greatest projected EPS growth and the lowest forward PEG ratio when compared to its peer group.

- The bear case: WestEnd511 is not buying the bull case due to the company's reliance on the Canadian market. "Unlike the other Canadian banks that have non-Canada exposure, NB's P&C business is entirely Canadian and this poses a risk in a scenario where the Canadian economy weakens further. This is also why NB is ranked last in my pecking order among the six Canadian banks. In short, I remain cautious in this segment given the potential shock it could experience."
While the author makes the strong point that National Bank is not as geographically diversified as its Canadian peers, WestEnd511 admits that the company is attractive due to its favorable ROE and P/E ratios versus those same peers. The author concludes that investors may want to engage in National Bank due to its valuation but prefers TD and RY as safer investments.
Research report authored by Aris Tindianos, edited by Daniel Martins
Disclosure: I/we have no positions in any stocks mentioned, and no plans to initiate any positions within the next 72 hours.
Business relationship disclosure: Research report authored by Aris Tindianos, edited by Daniel Martins
Editor's Note: This article discusses one or more securities that do not trade on a major U.S. exchange. Please be aware of the risks associated with these stocks.