Outerwall to Be Acquired For $52 Per Share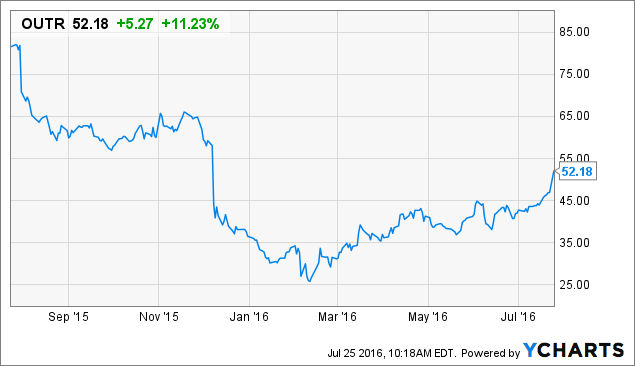 OUTR data by YCharts
The Outerwall (NASDAQ:OUTR) saga has come to an end after the company said Monday that it has agreed to be acquired by Apollo Global Management for $52 per share; the transaction values Outerwall at approximately $1.6 billion, when you factor in the company's net debt.
The deal isn't too surprising for existing shareholders. The sale is the result of Outerwall's ongoing exploration of strategic alternatives to maximize shareholder value, following the report of a 14.1% stake in the company by activist hedge fund Engaged Capital.
I've covered Outerwall numerous times on Seeking Alpha. I bought most of my shares after the stock sold off 24% following the news of weaker Redbox sales and revised guidance, as well as the resignation of Redbox's president. I argued that despite the drop in Redbox sales, Outerwall's stock was deeply undervalued even with the revised downward guidance.
In my last article that analyzed its Q1 2016 earnings, I argued that the company had a pretty strong quarter, even as Redbox rental revenue declined 18% year-over-year. At the time, shares were trading at a forward P/E between 6-7 and shares traded at just $40.99 per share, and the company managed to reduce its debt by 9% in Q1. We also saw a huge improvement in the EcoATM business, as revenue jumped 113% and operating loss decreased to $5.7 million from $8.3 million last year.
This deal is obviously good news for shareholders who bought and held shares anytime between now and December of last year, when shares declined below $50 per share. Its especially good news for shareholders who were smart enough to buy shares when Outerwall dropped all the way down to $25 per share in February as this was the point of maximum pessimism - shares were certainly too cheap to ignore as pointed out by SA author Silky Oak Capital.
But I have to admit that the deal is a bit disappointing for those who were expecting a takeover at a higher premium, because you can make the case that Outerwall shares are worth much more than the takeover price.
For example, Outerwall's first-quarter saw the company earn $53.8 million in free cash flow and $38.5 million in net income, or $2.29 per share, which crushed analysts estimates. Based on the company's full-year EPS guidance, it expected to earn between $5.35 - $6.55 per share. With a takeover price of $52 per share, this implies a P/E valuation of just 7.9-9.9.
With annual EBITDA of approximately $400 million and an enterprise value of $1.6 billion, shares trade at an EV/EBITDA of just 4. With approximately $180 million in annual free cash flow, shares trade at a EV/FCF of 8.8 based on the takeover price.
So yes, I am a bit disappointed by the takeover news as I feel Outerwall shares are worth a bit more than the buyout price. We will also never get to see if EcoATM will have been a profitable business following the recent acquisition of Gazelle, nor will we get to see if Redbox's digital app would have been a hit with consumers. The takeover also is not good news for shareholders who bought in mid-2015 when shares traded between $60-$80 per share.
Here's the bottom line: I ended up making some money on my Outerwall position, but I feel like the risk was not worth the reward and I think the company sold itself for too cheap.
Disclosure: I am/we are long OUTR.
I wrote this article myself, and it expresses my own opinions. I am not receiving compensation for it (other than from Seeking Alpha). I have no business relationship with any company whose stock is mentioned in this article.