Everyone has been waiting for the "next big thing" from Apple (NASDAQ:AAPL). For quite some time it was said to be televisions but that seems to have vanished in the rear view mirror. There seems little doubt now that it will be the actual manufacture of an electric vehicle (EV), presumably one that is basically autonomous.
EV manufacture is closely tied to car-sharing and new driving services such as those pioneered by Uber (Private:UBER). Hence Apple's recent US$1 billion investment in China's rival to Uber, Didi Chuxing.
However that investment won't get Apple much further down the road. They might have done better to follow the example of Samsung (OTC:SSNLF) with their investment in thriving Chinese electric vehicle manufacturer BYD (OTCPK:BYDDY). It is clear that a lot of IT spending in the next few years will be based around the auto sector. A recent study forecast that the auto software, services and components business would be worth US$500 billion.
Getting involved in what is being termed the "shared mobility" market would be a better course than actually manufacturing autos. At the same time, Apple's long-term rival Samsung has better options of its own in auto manufacturing if it decides to drive down that route.
China
It is still not certain why Apple bought into Didi Chuxing. It may just have been an attempt to appease the Chinese Government and show that Apple is serious long term about investing in China. If so, US$1 billion is probably a small price to pay. Or it may have been a starting gambit in the idea of auto-sharing long term in China when Apple is manufacturing its own vehicles. Samsung's latest investment in a manufacturing auto business seems a better entry point, even though it is only a small investment.
It is well-known that Warren Buffett's Berkshire Hathaway has a 9% stake in BYD. The new investment by Samsung Electronics Co. is said to have been for 3 billion yuan (US$450 million). It represents a 2% stake in the company. It seems like a much better use of investment money.
As with Tesla (NASDAQ:TSLA), BYD is working toward offering a full suite of electric auto and battery storage products. This even includes solar paneling. So it is already moving toward the kind of vertical integration recently outlined by Elon Musk in his much derided plan. Those who criticized Musk's ambitious plans as pie in the sky should look at BYD. They are already doing what Musk is planning.
Samsung's investment in BYD was part of a private placement. Other investors included private Chinese parties and a government-backed investment fund. Samsung may also be a bit late to the party in terms of electric autos, but it seems to be making up for lost time. For instance, two-thirds of their 1,804 patent filings since 2010 have been related to the auto sector. Currently between 30% and 40% of all components in a vehicle are electronic. This is expected to exceed 50% in the near future.
Samsung itself had set up Samsung Motors in 1994. Following losses it sold the business to Renault in 2000, and it is now known as Renault Samsung Motors. Samsung still has a close relationship with the French auto manufacturer. The Korean venture recently announced plans to manufacture a 1 ton electric light vehicle. Further details have not been revealed as yet. It seems likely Samsung will have some direct involvement. Its fellow Korean chaebols Hyundai and Kia are both coming out with EVs.
BYD had rightly been derided by some for its boxy and unsexy auto models. It is trying to change that perception, as the picture below shows.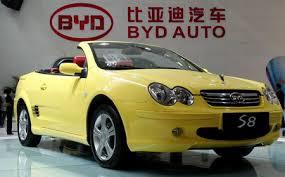 Originally a battery manufacturer, BYD is manufacturing electric cars, buses, hybrids and solar paneling. China became the world's largest market for electric vehicles last year. BYD also has an active export business. An example of that is the electric buses it is exporting to countries such as Singapore, pictured below.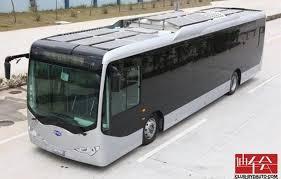 BYD has 24 factories in China. It has revenues of US$8.5 billion and aims to sell 150,000 electric autos in China this year. Its recently opened plant in Shanxi is specifically for the production not of standard passenger autos but of electric "special purpose" vehicles and industrial trucks.
Samsung also shares with BYD expertise in battery manufacturing. Its Samsung SDI division has recently invested heavily in the auto battery manufacturing business. This supplies all of BMW's EV requirements as well as the Fiat 500e. It has a tie-up with Tesla but apparently just in Tesla's home storage division, not its auto division. Only in the long term will it become apparent whether Samsung and BMW offers a better battery life than Panasonic and Tesla.
Tesla's plan to integrate autos, energy storage and solar energy is a good one, if hard to achieve under Tesla's capital restraints. This is what BYD is already doing. In a recent article I suggested Apple would be wise to buy a stake in Tesla, but that ship has now sailed as Musk consolidates his assets. An investment in BYD would have been equally wise.
Apple's "CarPlay" product, its software expertise and the potential of linking iPhones to auto hailing and to auto control are obvious. However its "CarPlay" product is really only just one more in a wide suite of innovative software products it offers.
A tie-up with BYD would have cemented Apple's position in China at a time when both the Chinese central government and local authorities there are pushing ahead with bold targets on EVs. This is not just for cars but also buses. Sales of EVs and hybrids quadrupled last year in China to 331,000 vehicles. EVs alone numbered 247,000 units, compared to 115,000 in the US. The Chinese Government has set a target of 3 million EVs by 2025. It has strong incentives in place for both purchase and usage of EVs. Despite some resistance from consumers there seems little doubt the government there will as usual get what they want.
The chart below shows the recent growth of what the government terms "new energy" vehicles.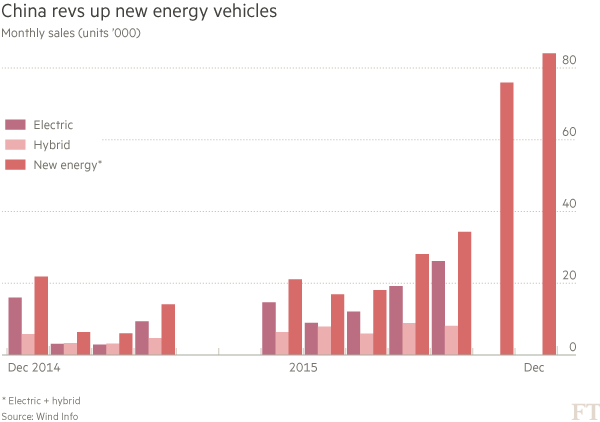 Apple probably needs also to align the company more closely with the growth markets of Asia. There seems little doubt that is where the impetus for EVs is mainly coming from. Earlier this year Elon Musk described Hong Kong as the "beacon city" for EVs and described Asia as the "biggest area of expansion for the company."
In terms of its products in general, Asia is where Apple needs to target. Its recent moves in China and now India indicate Tim Cook is very much aware of this. China represents 25% of the company's revenue. This will only increase in time as Asia's economies continue to grow more rapidly than those of North America or Europe.
The Apple Vehicle-Car Sharing
With companies like Tesla and BYD already so far down the line, it is hard to imagine how Apple could catch up. Bringing autos onto the road is a long process with a lot of engineering problems and regulatory hurdles. It is very unlike bringing a new phone or music player into play. Additionally for high-margin Apple, autos are much less high margin products than mobile phones or software. That could cause problems for Apple's stock price.
The tie-up with Didi suggested one possible route into the market, but Apple will be late onto the market there as well. The recent tie-up between Toyota (NYSE:TM) and Uber illustrates this. As does that between Volkswagen (OTCPK:VLKAY) and Israeli outfit Gett, and that between U.S. based Lyft (LYFT) and General Motors (NYSE:GM).
A recent article in "Business Insider" had speculated that Apple might buy Uber. That seems like a non-starter for many reasons. Most prominently, it would represent a fairly valued public company buying a seemingly highly inflated in value private company.
The Apple Vehicle-Behind Schedule
Steve Jobs had been interested in an Apple car years ago and studied a prototype with designer Bryan Thomson back in 2010. Nothing came of that for Apple. The design idea has been carried forward though in a project being handled by LCV Capital Management.
There seems little doubt that "Project Titan" is moving forward. R&D spending by Apple has increased substantially in the past three years.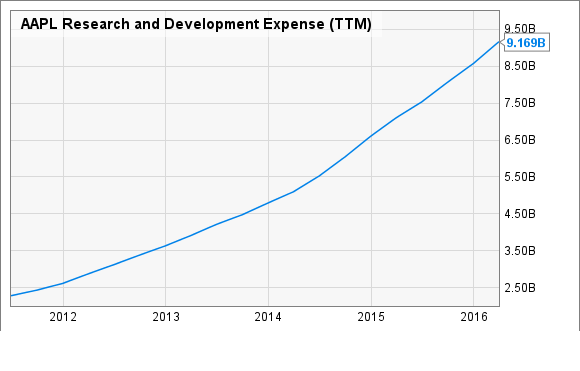 Analysts are convinced that this is mainly being soaked up by "Project Titan." Evidence that can be cited includes employment of auto engineers, purchase of car-related domain names, and reports of secretive testing and research sites. The company has purchased augmented reality patents that could apply to autonomous driving. However, building an auto requires a lot more manufacturing and engineering spread than building a music player.
Already it is hard to see how Apple would catch up against such well-entrenched players both in car-sharing and in just manufacturing alone. To take just one recent example, Volkswagen, which certainly needs to upgrade its environmental credentials, has announced ambitious plans for electric cars. They are targeting 25% of sales to be electric by 2025, which would probably equate to 450,000 vehicles. This is being seen as a threat to Tesla, which is targeting 500,000 vehicles by 2020. How much greater a threat is it though to Apple whose vehicle is still so far off on the horizon. That is not to mention the largest players in electric vehicles and hybrids, namely Toyota, Honda, Lexus and Nissan. They are all proceeding at full speed with a full suite of products.
Apple's "Project Titan" is shrouded in secrecy. Quite well-documented reports continue to indicate that there have been delays. The year 2021 would seem to be the earliest an Apple car could be on the road. Team leader Steve Zadesky left the company earlier this year. One sees the problems Tesla have had starting from scratch with the complexity of varying platforms for just two models. One wonders how long it would take Apple starting from scratch to do likewise. Indeed it is not known how many models they plan to have. Presumably just one in the first instance. Like BYD, Tesla is now talking electric buses but this is already quite a well-established market for either Tesla or Apple to penetrate.
It's hard to know how anyone knows, but predictions of how an Apple car would look seem to have come out as below: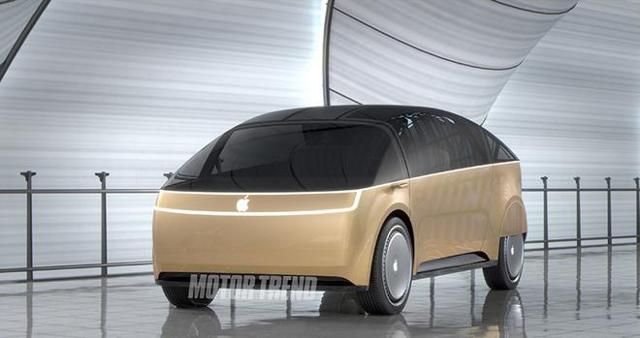 For Apple to make much impact with a new car one would think it needed to be autonomous. However this itself would cause serious issues with whether Apple's cloud infrastructure could handle such huge data traffic. That itself would need large-scale and time-consuming capital investment from Apple.
The Apple Vehicle-Green Credentials
An Apple EV or a link-up with another EV company would bolster Apple's green credentials. The company used to be seen as environmental and somewhat anti-establishment, enhancing its appeal to the young. This has been somewhat lost in the sagas of huge profits and tax avoidance overseas. Various EU reports on Apple's tax affairs in Europe are being watched. They may be damaging to the company's reputation.
In fact there were reports that Apple was looking to buy over the rights to F1 racing from British entrepreneur Bernie Ecclestone. It's hard to imagine this is true. Apple would surely not wish to be associated with F1, the very antithesis of environmental motoring. Involvement in the Formula E series for electric cars would seem a better bet.
An Apple Car would certainly help the company in its image amongst the young, just as Elon Musk is seen as a visionary by many young people. It is young people who in general are less keen on buying conventional autos and more interested in car-sharing, EVs and a focus on public transport in big cities.
Conclusion
What Warren Buffett and Samsung share in common is an investment in a leading electric auto manufacturer located in the fastest-growing economic area in the world. The IMF economic forecast as below illustrates the latter point clearly.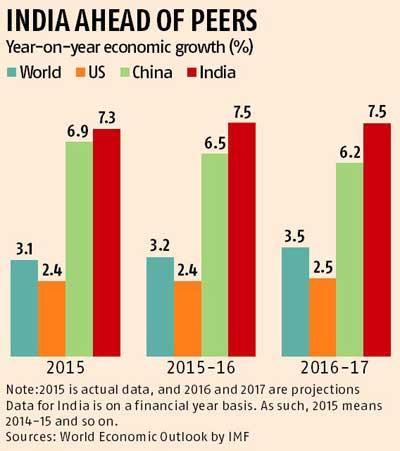 The growth rates of China and India are way above those of the rest of the world. Those of the rest of the world are above those of the United States. The growth rates for India and China are likely to stay that way for the foreseeable future. The picture is even more Asia-based if one includes other fast-growing economies such as Indonesia, the Philippines and Vietnam.
For Apple the road to success in manufacturing electric autos is a long one. It is fraught with difficulties and huge capital expenditures.
Samsung already has a lot more infrastructure in place for the auto business, including its auto battery business. It is building relationships with existing manufacturers who already have products on the road. Apple can be seen as a manufacturer which hopes to have one auto product on the road in five years' time.
Apple has by most criteria out-performed Samsung in mobile phones in recent years. However in the long proxy war between Samsung and Apple, the auto business seems to be one battle which Samsung is better positioned to win.
Disclosure: I am/we are long AAPL.
I wrote this article myself, and it expresses my own opinions. I am not receiving compensation for it (other than from Seeking Alpha). I have no business relationship with any company whose stock is mentioned in this article.
Editor's Note: This article discusses one or more securities that do not trade on a major U.S. exchange. Please be aware of the risks associated with these stocks.