Of all commodities, my most bullish outlook is reserved for copper (NYSEARCA:JJC). Copper demand has been a non-stop growth story with few hiccups for the last 100 years. I have no doubt in its continued consumption. The engineering needs for copper will continue to grow in the 21st century, an inevitability that contrasts with the story of shortening supply.

Source :ICSG
Ore Grades
It is no surprise that as the world has increased consumption of copper, ore grades have been on the decline. The world's miners have been consuming the most profitable ore for decades. As ore grades have declined, cash costs have been rising in an inverse relationship.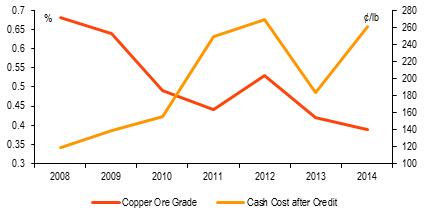 Source: AME Group
This decline is readily apparent when examining major producers. BHP (NYSE:BHP) has continually needed to expend capital to maintain a flat production rate at Escondida, one of the world's biggest mines. The most recent financial year saw a 28% decline in ore grade. To prevent a decrease in production, BHP must extract a full one-third more material for the same amount of copper concentrate. That ore becomes deeper and harder to extract each year. Costs have managed to sit around the $1.00/lb mark only through significant capital spending, and a bear cycle that has seen the price for services plummet.
Ore grades will continue to decline, and with much of the world's copper uneconomic at current prices, the marginal pound of copper will set the price in the long run. Few experts would argue that sub $3.00/lb copper is sufficient to maintain supplies, much less increase them at a rate that feeds the global economy.
Copper Sentiment
This all begs the question, how is the global economy doing? Back in March, I wrote a pair of pieces outlining the stage for a copper deficit. For those interested readers, they can find them here.
Since then we have seen Brexit, a bevy of conflicting data from China, an imminent Italian banking crisis, and softening earnings in the U.S. Despite the negative sentiment surrounding the global economy, money managers have slowly been moving toward a net-long position in copper. The real estate sector appears to be booming, and copper imports to China met all time highs (no doubt fed by stockpiling of the metal as an arbitrage opened between London and Shanghai exchanges.)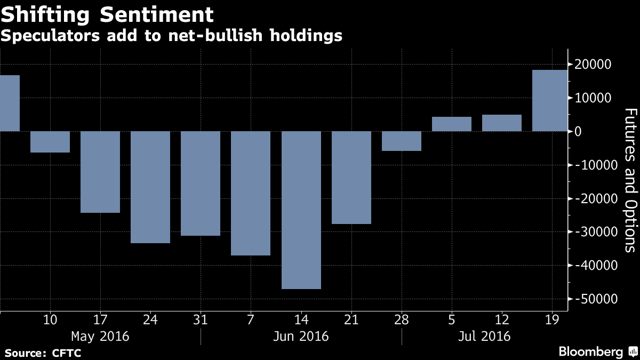 Source: Bloomberg
Impending Shortage
Increasingly, pundits are calling for a lack of copper to meet demand. Peru remains the only major producing country likely to increase output this year, and technical issues I covered in my review series will likely arrest production growth to half of what the government predicted at the start of 2016. Furthermore, some governments have stepped up with emergency lending to copper producers falling on hard times.
Here was the data between 2014 and 2015.
Country

2014

2015

Change

Chile

5750

5800

0.9%

Other Countries

3600

3900

8.3%

China

1760

1750

-0.6%

Peru

1380

1600

15.9%

USA

1360

1250

-8.1%

Congo

1030

990

-3.9%

Australia

970

960

-1.0%

Russia

742

740

-0.3%

Zambia

708

600

-15.3%

Canada

696

695

-0.1%

Mexico

515

550

6.8%

Total

18511

18835
Supply Outages
Supply outages are the wind that will push the market into deficit earlier than predicted. The market has a history of underestimating outages from copper miners, and overreacting to the news when it occurs. Increasing evidence shows of low prices leading to underfunded mines, and mismanaged operating strategies. A crippling drought in Africa could leave nearly half a million tons of annual copper production offline as energy shortages bite.
Even when combining optimistic assumptions of supply and pessimistic assumptions for demand, the picture is long-term bullish for copper.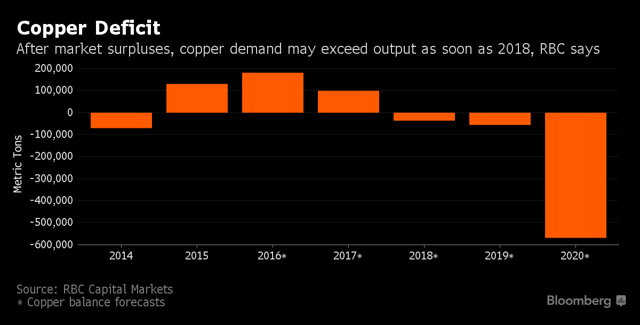 Source: Bloomberg
The image above is from a Bloomberg article covering the depth of the slowdown in copper exploration and expansion. As many producers are either scraping by or loss making, the capital needed to ramp up production is absent. As money becomes unavailable, development projects are halted, and cash costs rise. This funding gap results in a spiral that can be difficult to break. This gap of financing is set to survive through 2016.
While the industry is confident about an emerging deficit, it remains difficult to raise finance for projects as low prices deter investors - Principal Consultant on Copper and raw materials CRU London
Lengthening Project Schedules
Boom and busts are as much an outcome of the lag between supply and demand as it is from economic growth. For copper, the typical project schedule has widened substantially over the past decade. Environmentalist groups have an increasing say in politics, and thus mine approvals. Compounding the political concerns is increasing technical issues. Rising water concerns around the world and dismal projects economics have crippled the industries ability to respond quickly to the expected shortage.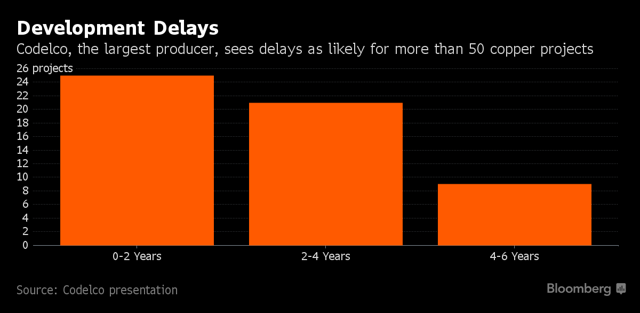 Wrap-Up
Unlike in oil, where I hold a bearish view, the outlook for copper prices are surprisingly positive. Low prices are having an effect on copper supply that will last for several years - even if prices rise. Demand continues to grow as it has for 100 years, but unlike oil, copper does not have technological advancements, fresh mammoth reserves (shale oil), or extremely low-cost producers (Saudi Arabia, Iran, etc.) that can ramp up production quickly if prices rise.
Copper is my investment focus for the next decade. I see many opportunities coming, and believe that when the deficit rears its head, we will see a decade-long bull market for copper as supply struggles to catch up. Ore grades are declining, copper is fundamentally rare in the earth's crust. I'll leave this with my favorite copper quote.
Iron, I'm sorry to say it, but we're floating on an iron ball, the earth. Iron is either the first or second most common element on the periodic table and everyone and his brother are building iron mines. But copper is rare and hard to find and without it we don't have a modern world.
- Robert Friedland
Disclosure: I/we have no positions in any stocks mentioned, and no plans to initiate any positions within the next 72 hours.
I wrote this article myself, and it expresses my own opinions. I am not receiving compensation for it (other than from Seeking Alpha). I have no business relationship with any company whose stock is mentioned in this article.