Welcome to the energy sector's tenth edition of "Buy on Weakness?", a series of articles that sifts through the underperformers of the week to find potential investment opportunities in the large-cap energy world.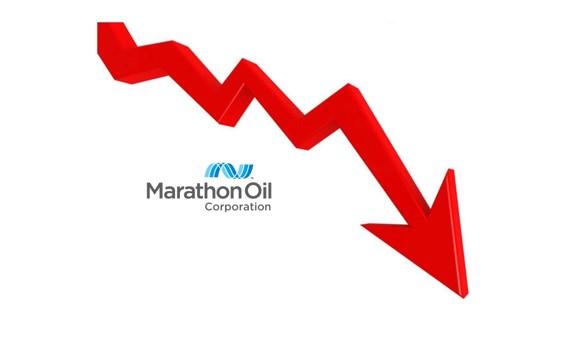 Credit: DM Martins Research montage using company logos
The idea is to help investors, particularly those focused on value plays, unearth ideas for the coming week. Check out the ninth and eighth editions of "Buy on Weakness?" for a look into prior weeks' "energy losers".
The table below highlights the top 20 energy companies - worth $10 billion or more in total equity value - that have performed the poorest in the previous five trading days.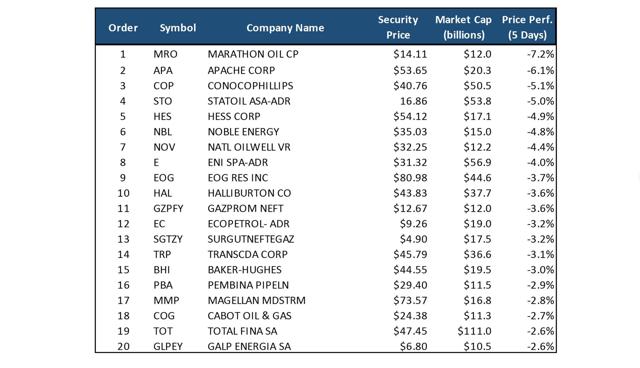 Source: DM Martins Research, using market data compiled by Zacks Research
A Glut of Oil Products Continue to Weigh on Oil Demand
Despite recent weeks' rally in the broader indices, the energy sector continued to be weighed down by supply glut. The gloomy outlook was further exacerbated on Thursday with the news that Libya may resume crude exports for key terminals. S&P Energy was down 1.4% for the week while Dow and S&P 500 were up 0.3% and 0.4% respectively. Large-cap energy group was down 0.9%, or ~$26.7 billion in market value this week. Biggest decliner in large-cap energy this week was Marathon Oil (NYSE:MRO), down 7.2%, while the biggest gainer was Petroleo Brasileiro (NYSE:PBR), up 7.9%. Overall in the portfolio of 66 large-cap energy stocks that we analyzed, there were 45 with negative performance over the past 5 trading days.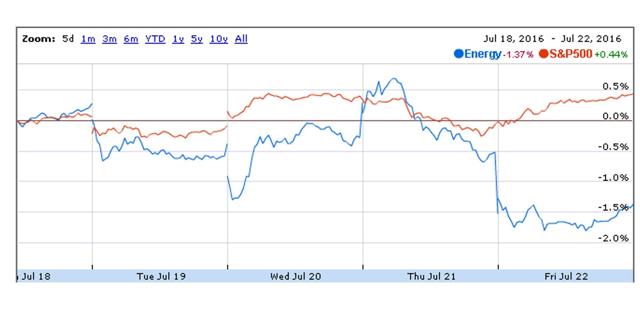 Source: Google Finance
WTI Crude was down 5.5% in the same week, closing at $44.26. Natural gas futures ended the week with marginal gain, closing at $2.80 on Friday.
Let's take a closer look at some metrics focusing on the weeks' top 20 underperformers in the energy space.
Diving deeper into the data
The top 20 energy losers of the week have a median 2017 forward P/E of 19.5x, compared to the S&P 500's median trailing P/E of 14.6x. This week's top 20 group is expected to grow EPS in 2017 by 35.9%, and the companies generate median dividend yield of 1.9% (19 out of 20 companies are dividend-payers).
The table below highlights, in green font, the three best-positioned energy companies in each of the following categories: projected EPS growth, dividend yield, and 2017 forward P/E.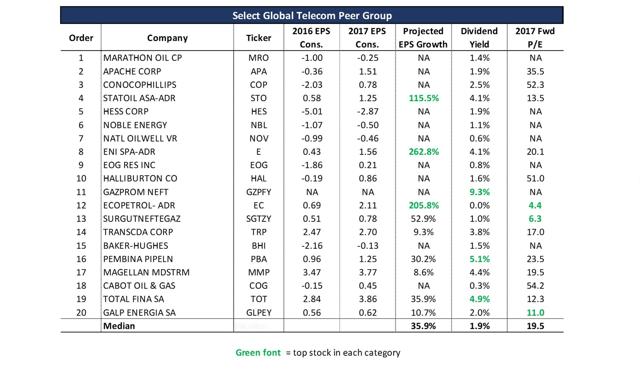 Source: DM Martins Research, using data from Yahoo Finance, Nasdaq and Market Watch
So which short-term loser should investors consider adding to their portfolio to take advantage, in the long run, of the price pullback? Let's take a closer look at one potential opportunity featured on energy's top 20 "biggest loser" list last week.
Marathon Oil : after recent round of divestures and acquisitions, is the company ready for growth?
Trading Recap:
MRO is an American petroleum and natural gas exploration and production company with operations in North America, Europe, and Africa. As of close of business on July 22nd, MPO was up 12% YTD, slightly lower than the YTD benchmark results for energy sector SPDR (NYSEARCA:XLE), but recovering strongly from the year's February lows.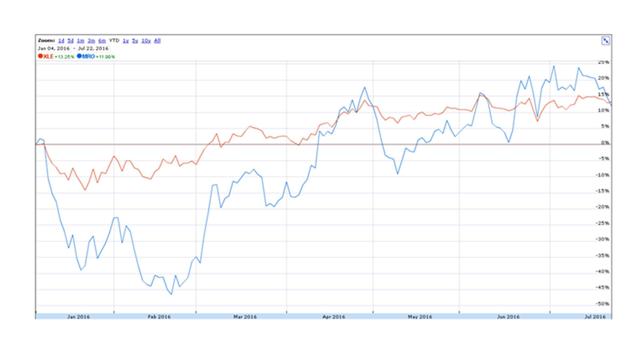 Source: Google Finance
We have a positive view on the stock
- The company has gone through a series of divestitures earlier this year to reduce its risk exposure to falling crude oil. And as capital expenditures have dropped gradually over the past few quarters, the company now sits on over $2 billion in cash at the end of 1Q16 (vs. $1.2 billion in 4Q15). With better liquidity and the possibility of a continued oil price rebound, we believe MRO is well positioned for the upside with comparatively fewer risks on the downside.
- Acquisition of PayRock Energy Holdings in June presents an attractive investment opportunity. With the transaction scheduled to close in Q3 of this year, MRO is expected to reap 60% to 80% IRR at $50 per barrel WTI from the asset acquired from the transaction. Given the U.S. EIA pricing summary forecast, $50 per barrel pricing valuation is well within reach for 2017.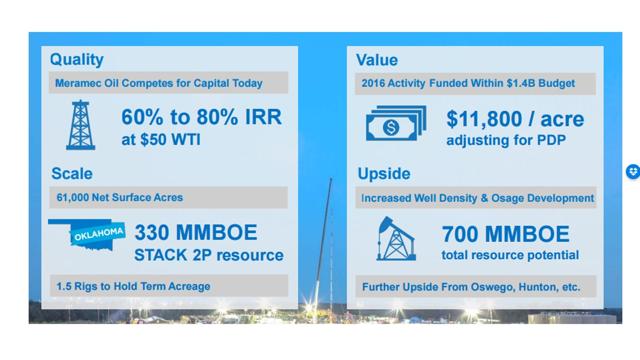 Source: MRO Company Presentation
Risks:
- MRO is an oil and gas producer that faced substantial losses last year due to sharp decline in commodity price. Any further decline in 2H this year could impact company cash flow and valuation significantly.
- The company continues to be highly levered, with $7.3 billion in debt as of 1Q16. As author Value Investor argues, "Marathon Oil lost a great deal of business diversification, which theoretically implies that it should be much more cautious with leverage". While we believe that the acquisition of PayRock was likely a good move, the $888 million price tag will certainly weigh on the company's balance sheet.
Disclosure: I/we have no positions in any stocks mentioned, and no plans to initiate any positions within the next 72 hours.
Business relationship disclosure: Report authored by Jay Yang, edited by Daniel Martins