Facebook (NASDAQ:FB) is reporting earnings this week. It has taken the mantel as the best-performing stock in the FANG acronym year to date. In fact, it has even had the best performance when you look at the expanded TFAANG acronym, which includes Tesla (NASDAQ:TSLA) and Apple (NASDAQ:AAPL). However, even as Facebook has had great performance, I feel that its risks have increased. Bullish investors love to describe Facebook's moat in social media, as the main app has the highest time spent on it in the entire sector. However, they are ignoring the competition from apps outside of social media.
When analysts ask Reed Hastings, the CEO of Netflix (NASDAQ:NFLX), about increased competition from the likes of HBO (NYSE:TWX) and Amazon (NASDAQ:AMZN), he always reminds them that NFLX views competition differently. It doesn't just look at the other video content subscription services. It views the entire entertainment landscape as competition whether it's video games or social media apps. From this perspective, Netflix recognizes the competition will always be high. Even if it was able to put HBO, Amazon, and Hulu (NYSE:DIS) out of business, it will still be difficult to gain new subscribers and keep churn low.
This is the same way investors should look at Facebook. It was easy to ignore this competition from other categories such as games when social media was growing as Facebook took market share in the category, but now we are in a new dynamic where social media is in decline, so it is not enough to just analyze Twitter (NYSE:TWTR) and Snapchat (CHAT) to determine the level of competition. As I showed in my article, "Facebook Is Losing Ground," the time spent on social media is down 22.4 minutes in the U.S. from Q1 2015 to Q1 2016 with all major social media apps showing declines. Investors need to look at gaming as a real threat to social media.
Recognize as I make the point that Pokemon GO (OTCPK:NTDOY) is taking share from social media, that I understand Pokemon GO may not have staying power. However, I believe it represents how gaming can impact time spent on social media. As you can see from the infographic which uses data from a Citi report, Instagram usage is down about 8% from before (6/27-6/30) Pokemon GO was released as compared to after (7/11-7/14) it was released. It makes sense Facebook was the least affected by the change because it appears the younger demographic has been playing the game the most and FB has a more mature user base.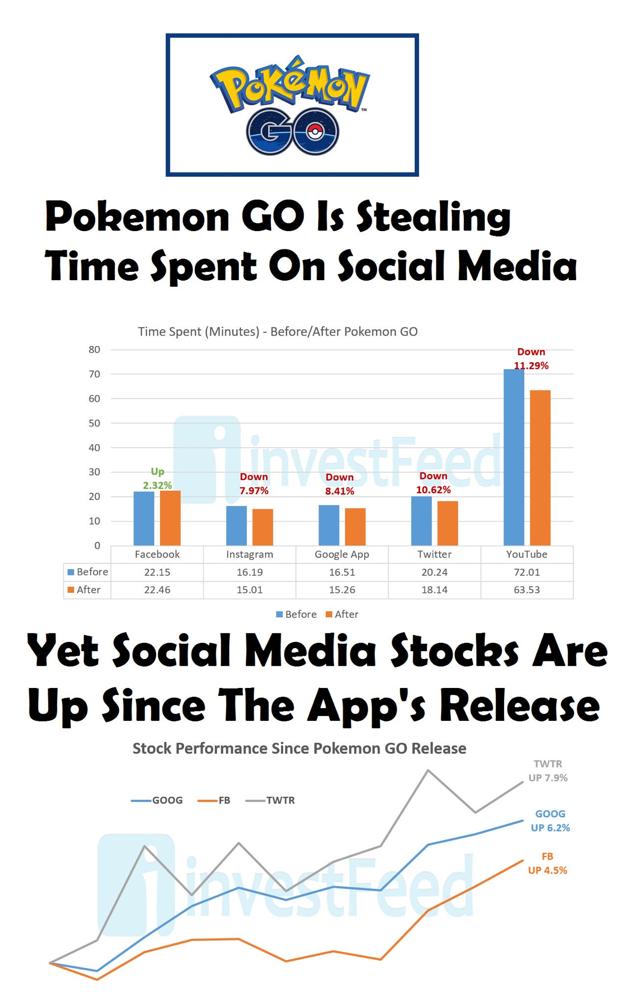 The chart below shows the time spent on Pokemon GO versus the other social media apps. Pokemon GO has had the most successful launch in the history of the App Store, so these metrics jive with that record. It's also worth noting how Snapchat is catching up to Facebook with time spent only four minutes lower.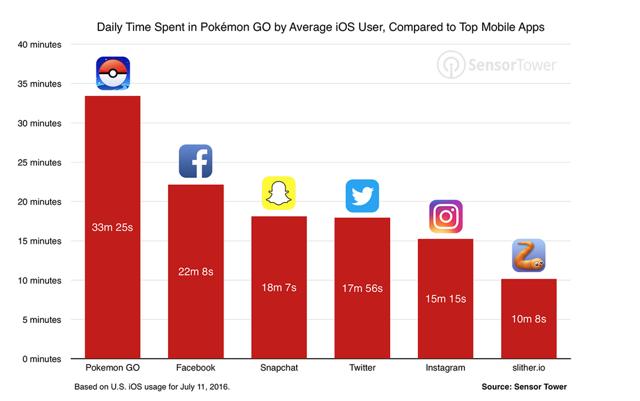 I would be really interested to see the data on how Pokemon GO affected Snapchat usage. It's too bad we don't have that data available. The only thing I can say is that Snapchat is currently third in the App Store while Instagram has declined to ninth as you can see from the chart below. Not only has Pokemon GO knocked Instagram down, but the Poke Radar app has also pushed it lower in the rankings.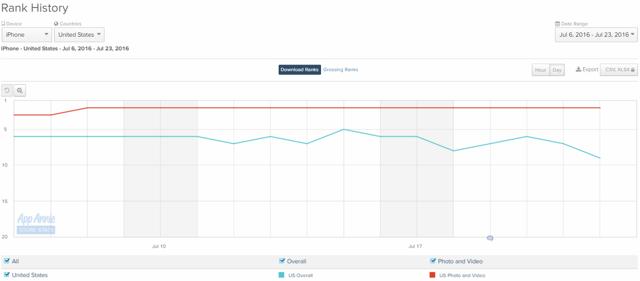 This thesis on gaming taking over social media is definitely a work in progress. It seems social media is in decline and gaming is on the rise. My best guess is that Pokemon GO is an example of one of those games. It just happens to have a more pronounced and quantifiable effect on social apps because of its sheer size. The data point that jumps out at me is the decline in time spent on YouTube (NASDAQ:GOOG) (NASDAQ:GOOGL). Facebook can be looked at as a staple which is being threatened by Snapchat, but probably won't lose out to a game. Instagram and Twitter are used by a younger audience making them more vulnerable. Maybe YouTube lost out because it is used by a younger audience and has the most to lose.
Besides the direct impact from Pokemon GO, it is also interesting to look at the effect augmented reality will have on social media. It could be a new trend alongside live streaming which could alter the landscape of the industry. Snapchat seems to be the most advanced in this category with its use of filters. The company recently filed a patent for an ad-overlaying system which services ads based on what you are doing. The idea of seeing an ad for a restaurant nearby while you capture a video within the app can be more effective than traditional online ads because it gets closer to the point of purchase. It also has an effect on what you spend your money on in real life as opposed to what you'll purchase online.
It is becoming clearer that the concept of a social media app being a place where you simply post a few words about your day is becoming obsolete. Video, whether it be live or with augmented reality integrated, will be the next frontier of social networking as content becomes even more immersive. Snapchat appears to be the big winner in this new industry. The caveat is I could be completely wrong if Snapchat is actually getting killed by Pokemon GO even though it's third in the App Store.
Conclusion
Gaming has been a part of the reason behind why social media usage has been down across the board. Pokemon GO shows us one game can hurt these apps as well, with Facebook being the only one to avoid the pain. However, Facebook isn't out of the woods because Snapchat appears to be the best situated for this new augmented reality social network space. Snapchat is trying to change directions to appeal to older folks on Facebook. It can pivot towards them while continuing to appeal to the younger generations if it keeps innovating faster than the other apps. The recent patent filed by Snapchat shows it is focused on staying ahead of the game by being the first to implement new features effectively.
Instagram has been seeing declines due to Pokemon GO. I will be looking to see if Facebook mentions Pokemon GO in its prepared remarks as a headwind or if an analyst asks it about the game's effect on the firm. If Facebook says it is hurting usage on any of its apps, this could hurt the stock.
Disclosure: I am/we are short FB.
I wrote this article myself, and it expresses my own opinions. I am not receiving compensation for it. I have no business relationship with any company whose stock is mentioned in this article.
Editor's Note: This article discusses one or more securities that do not trade on a major U.S. exchange. Please be aware of the risks associated with these stocks.