When it comes to adding high-yield income stocks to a dividend portfolio, investors usually shoot for real estate investment trusts that invest in residential or commercial properties, business development companies, and at least until recently, master limited partnerships. All of these income vehicles have one thing in common: They invest in a pool of assets and the cash the assets generate is passed through to shareholders on a monthly or quarterly basis. What's more, in light of the low interest rate market environment, a lot of investors are starved for yield, which in turn makes high-yielding stocks especially appealing for investors.
While I do have my fair share of investments in real estate investment trusts already, I continue to think that there are still a lot of opportunities in the REIT space. My favorite so far has been Starwood Property Trust (NYSE:STWD), 'Starwood Property Trust: Why Not Buy This High Quality 9% Yielder For An Income Portfolio?' But Starwood is far from being the only real estate finance company that is making a strong value proposition. Not too long ago, for instance, I penned a piece on another 12% yielder in the same line of business that I thought was also worthy of a hard look.
Ladder Capital Corp. (NYSE:LADR) is another real estate finance company that is investing in first mortgage loans, real estate equity, commercial mortgage-backed securities, etc. Here are Ladder Capital's core earnings sources for the 1st quarter: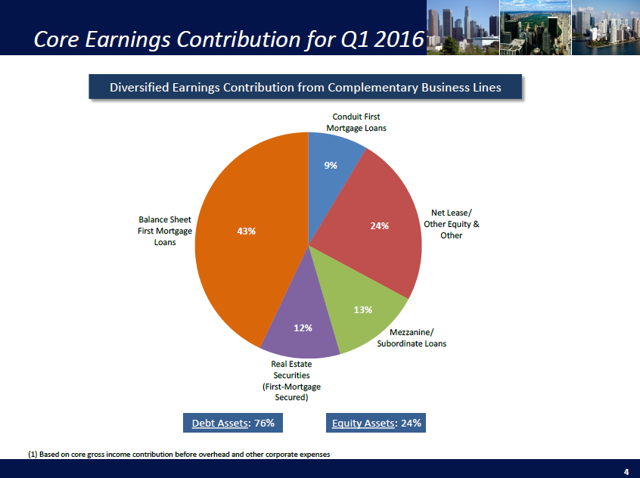 Source: Ladder Capital Corp. Investor Presentation
There are three reasons why I think investors should give Ladder Capital a good look at this point:
1. Ladder Capital's core earnings have been volatile, expectedly, but the company has been consistently profitable since inception, which is a difficult thing to pull off.
Importantly, consistently positive core earnings underscore that management knows what it is doing, raising confidence in the sustainability of the real estate finance company's dividend.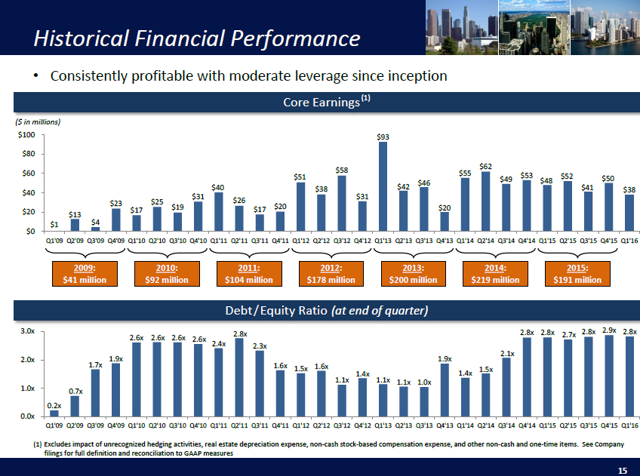 Source: Ladder Capital Corp. Investor Presentation
2. Ladder Capital's shares are selling below accounting book value, which translates into compelling total return potential. The REIT's shares are on the auction block for 98 cents on the dollar, and are selling for $13.17 at the time of writing (accounting book value at the end of the 1st quarter: $13.46/share).
3. Besides consistently positive core earnings, and a low valuation on an accounting book value basis, there is another reason to buy Ladder Capital for a high-yield income portfolio: The dividend. Duh.
Ladder Capital sends shareholders a $0.275/share dividend check every quarter. Since the REIT's shares sell for $13.17, an investment in Ladder Capital yields 8.35 percent on a run rate basis.
Importantly, Ladder Capital covers its dividend with core earnings. In the 1st quarter, Ladder Capital said it pulled in core earnings of $0.38/share, handsomely covering the REIT's 1st quarter dividend payout of $0.275/share, and then some.
Interest Rate Risk
Ladder Capital's interest income is, expectedly, a function of interest rates. Higher rates obviously translate into higher interest income, and potentially, higher dividends for shareholders. On the other hand, a CRE market downturn and slow rate hikes could weigh on Ladder Capital's shares.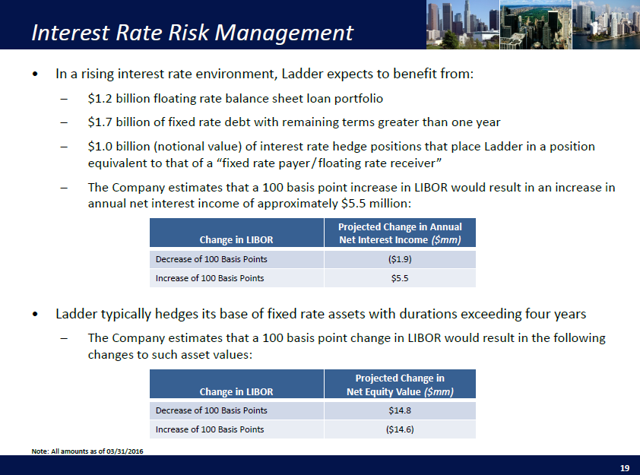 Source: Ladder Capital
Your Takeaway
If you like fat dividends, take a look at Ladder Capital, an underrated, internally-managed commercial real estate finance REIT that has been consistently profitable on a core earnings basis, sells below book value, and yields 8 percent. Buy for income and capital appreciation.
If you like to read more of my articles, and like to be kept up to date with the companies I cover, I kindly ask you that you scroll to the top of this page and click 'follow'. I am largely investing in dividend paying stocks, but also venture out occasionally and cover special situations that offer appealing reward-to-risk ratios and have potential for significant capital appreciation. Above all, my immediate investment goal is to achieve financial independence.
Disclosure: I am/we are long STWD.
I wrote this article myself, and it expresses my own opinions. I am not receiving compensation for it (other than from Seeking Alpha). I have no business relationship with any company whose stock is mentioned in this article.