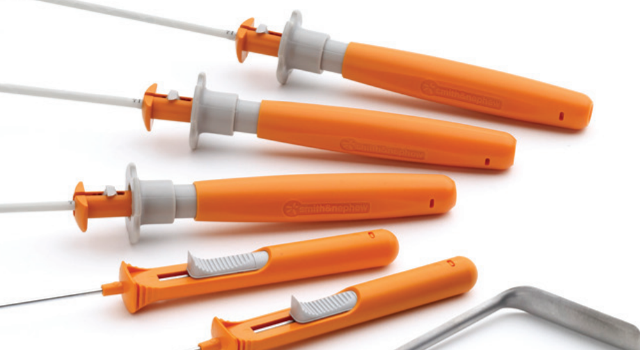 The medical tech space has always interested me. One of the appeals of my Johnson & Johnson (NYSE:JNJ) purchase in 2015 was its exposure to both consumer goods and medtech alongside its pharma activities. Yet I have also been keen to get direct exposure to the medtech space. In this regard, one company that has constantly appealed has been that of Smith & Nephew (NYSE:SNN).
I have not covered it for some time now. However, recently its ADRs have caught my attention after the weak GBP has made it a more appealing play for my spare USD cash. Having been on my watchlist for what seems like eternity, I finally dived in and opened a modest position through their ADRs.
Although only a modest position at present, in time I hope to build this up after taking a look at their Q2 2016 results on Thursday. Why? Well let me explain in a little more detail.
Global Operator
First off, I remain impressed by the scope of its global operations. Of course, like so many major healthcare companies, Smith & Nephew sells its products widely across the world. Despite this, there is little doubt that the US is its main market. In Q1 2016, nearly 50% of all its revenue came from this one country alone: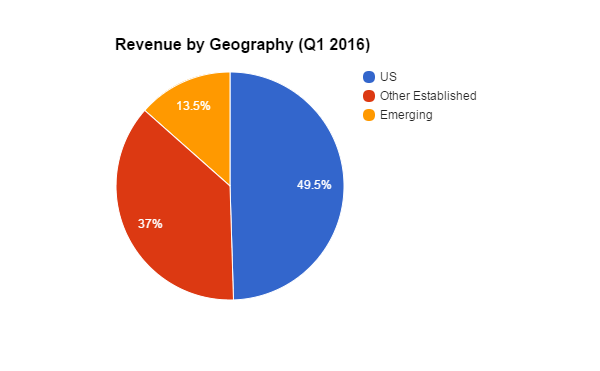 A further 37% comes from other established markets. Yet most intriguingly 13.5% comes from the emerging markets (I will return to this later). Its diverse revenue stream across the globe also feeds into its strong global market share position across its core segments: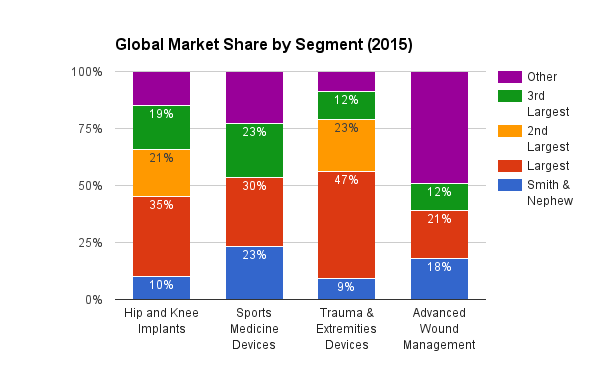 This strong market position has also helped ensure that, despite high research, development and manufacturing costs in the medtech space, Smith & Nephew has maintained robust margins: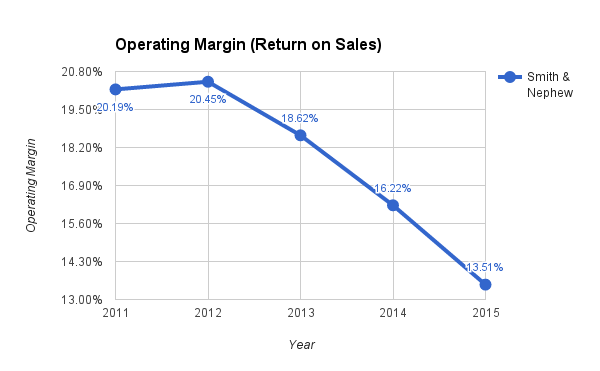 Indeed, my one worry here is evidence of margin compression in recent years. Something I'd like to see in coming quarters is an improvement in this regard. Nonetheless, in the meantime margins around the 13.5% mark are still highly respectable. In time, I would like to see them return to the 20% mark which has been common for Smith & Nephew and its peer group until recently.*
Emerging Markets
Indeed, more so than most of its peers, Smith & Nephew has been focusing on its emerging market exposure. By deploying more economical products and customer packages it has sought to gain headway in these areas. In recent quarters this has, therefore, marked a core growth driver for the company generally outpacing its established market performance (table from Q1 2016 company presentation):
At Q1 time, however, this story appeared to have begun to stutter with a 6% decline compared to a 22% growth in Q1 2015. Time to worry? Not at all it seems. As the company explained in their Q1 results:
Emerging Markets revenue was down -6%, as double-digit growth in most countries was offset by conditions in China and the Middle East. In recent quarters weakness in China has impacted growth across our Trauma, Sports Medicine and Advanced Wound Management businesses. As expected, this continued during the first quarter of 2016, with destocking patterns tracking our forecasts. End-market demand has remained attractive and we expect improvements in our growth trends when we lap the comparator in the second half of 2016. We also saw a significant slow-down in tendering activity and sales in oil-dependent economies in the Gulf region during the quarter, which affected Trauma in particular. These two factors negatively impacted Group growth by approximately three percentage points in the quarter.
What was encouraging here is that double-digit growth was experienced in most markets. Even in China "end-market demand has remained attractive" even if reported results are less attractive with destocking. Clearly Q1 2015's unusual 22% leap was always likely to result in a relative decline in Q1 2016 as it growth rate had been abnormal.
Although something to watch as we start to shift in H2 2016, I am encouraged that we should return to a more stable growth pattern in the emerging markets shortly.
Robust Growth
All told this means that to Q1 time, Smith & Nephew reported some solid looking results. Underlying growth was running at 4% with an additional 2% contributed by acquisitions. Currency headwinds did, however, chip off 3% (chart from Q1 2016 company presentation):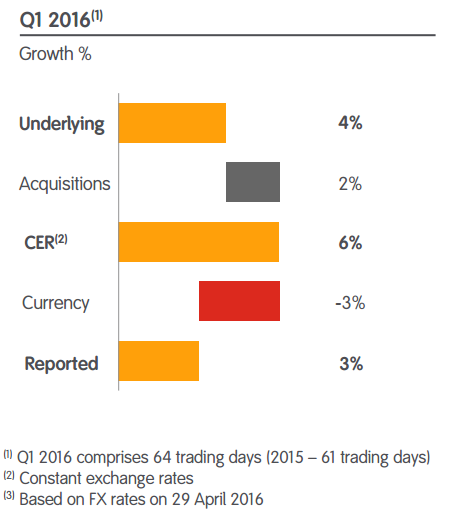 What is excellent to see if the combination of robust organic growth with an additional acquisition kicker attached. I should expect to see a similar sort of performance when we get fuller results at Q2 time. The medtech space has been consolidating in recent years, and Smith & Nephew looks compelling both as potential predator and prey. Its continued acquisition program has so far proven effective. Yet rumors of a Stryker (NYSE:SYK) or Johnson & Johnson looking to pick up the company itself seem far from an impossibility.
Dividend
The company has therefore been growing its own income nicely in recent years, a trend set to continue into the near future and beyond as healthcare provision across the globe increases and populations age. Yet Smith & Nephew has also been generously growing its investors income over this period too.
Since 2005 Smith & Nephew have declared in USD. As a UK-based investor, this certainly has its appeals. Yet for those of you in the US it is scarcely less so. Clearly, with the GBP so weak at present (and perhaps weaker yet to come) US investors are left with a more consistent understanding of what income is coming their way. For me, it is a useful hedge against potential further GBP weakness.
What is more, this dividend has grown strongly since 2000: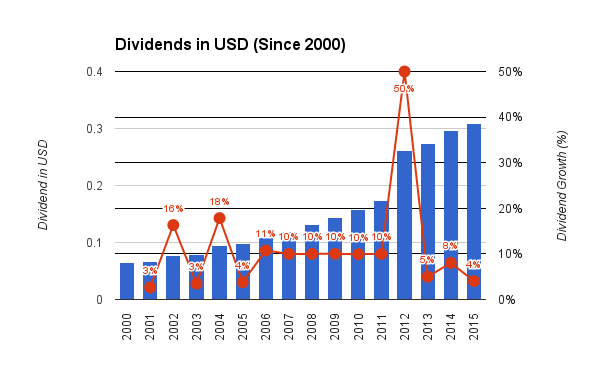 Despite this rapid growth, however, the dividend remains very healthily covered by FCF. Indeed, looking at its historic FCF and dividend payout suggests that its present historic 1.8% yield is covered more than twice by FCF: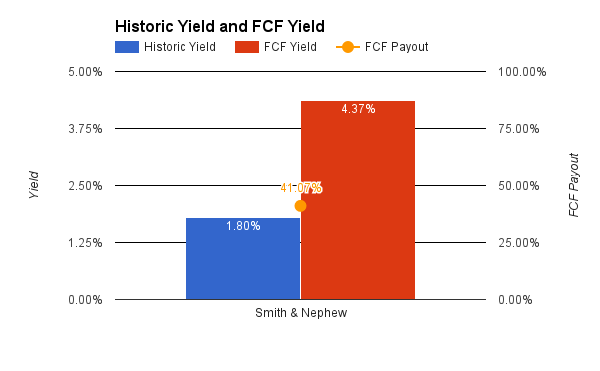 This leaves it with a much higher historic dividend and FCF yield than its US-listed medtech peers* providing yet another reason to find Smith & Nephew particularly attractive at the moment. What is more, that 1.8% yield is attractive even against Smith & Nephew's own historic yield which has averaged 1.73% over the last five years: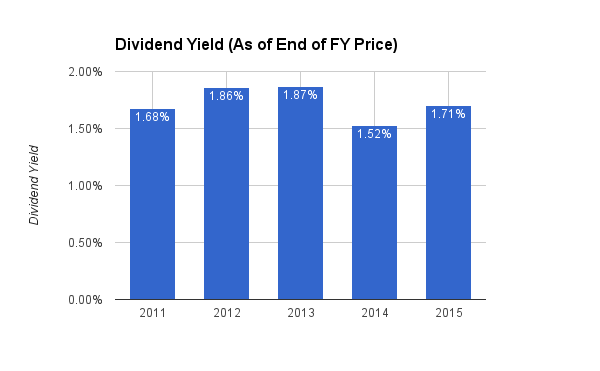 Appealing? Certainly. And analysts expect-and I fully agree-that we should continue to see a ~5% dividend growth rate over the next few years or so. Although hardly a sky-rocketing growth figure, it has been tremendously consistent and Smith & Nephew has plenty of latent potential to return to the double-digit dividend growth seen between 2006 and 2011.
Strong Balance Sheet
Earlier I mentioned that Smith & Nephew has been on the acquisition trail like many of its industry peers. I know what some of you may be thinking as a result, do the acquisitions fuelling the additional 2% growth boost mean they are overloaded with debt? Put simply, no. Smith & Nephew has made some large and small acquisitions in recent years. Yet despite this, compared to many of its peers* it is comparatively lightly leveraged: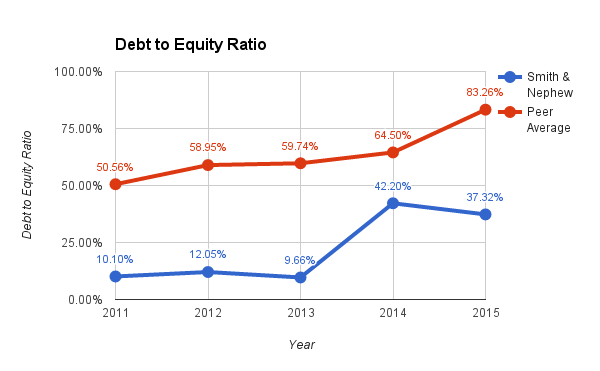 Its recent acquisition moves-including the $1.7 billion ArthroCare deal-has lifted debt levels noticeably in recent years. Yet in spite of this lift, its FCF continues to cover debt levels comfortably above my preferred 25% level and (again) well ahead of its peer group average*: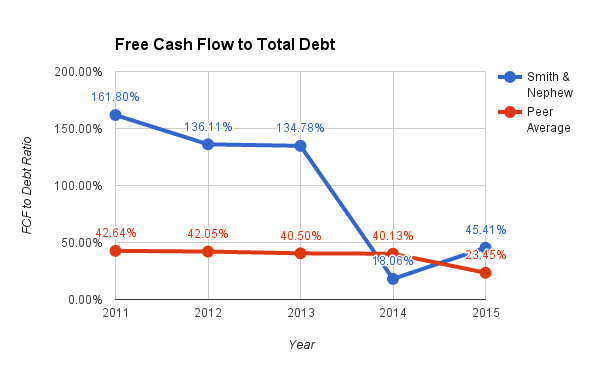 At over 45% it would suggest that, theoretically, Smith & Nephew could repay the entirety of its debt in just a little over two years using just its FCF. In reality this is unlikely to happen (after all, there is the excellent dividend to think of) but it suggests that the company has plenty of scope to manage its debt load.
Cash Flow
Already the dividend and debt situation has pointed to strong cash flow performance at Smith & Nephew. Few of you who have read much by me will be unaware that highly cash generative businesses are, for me, the most attractive. And here Smith & Nephew has rarely disappointed. Taking a look at its CROIC (cash return on invested capital) figure suggests it continues to generate an impressively high FCF return on its capital invested (that is, total debt and shareholders' equity). Although not peer-beating it is very much in line with the average*: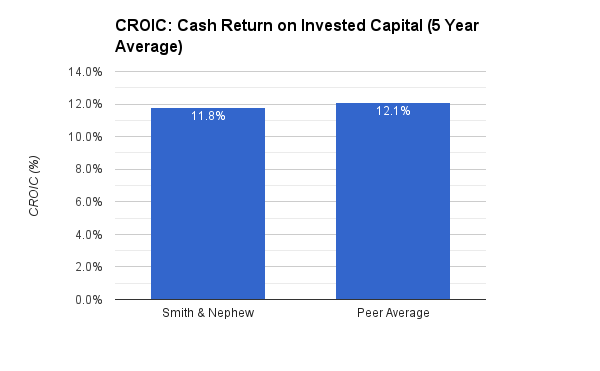 This suggests that on average Smith & Nephew has generated about $11.80 in FCF for every $100 of capital invested-a very attractive return indeed. Historically, Smith & Nephew has seen CROIC around the 14% mark. I suspect that, in time, they should return to this sort of level. Ideally I'd like to see some movement upwards in this regard when we get the Q2 results shortly as the ArthroCare acquisition really begins to bed in.
Favorable Valuation
Smith & Nephew is therefore a compelling company. What is more, it is not obviously overvalued. I already noted that its yield is currently running a little ahead of its recent average. Yet, the company is also still running at a fairly sizeable discount to its peers. On a historic PE of a little over 20, it is still trading well below the 23 average of its peers.* This is largely courtesy of the post-Brexit GBP rout. Whilst the underlying London shares have jumped bringing their valuation more in line with their international peers, the weak GBP has kept the ADR price at the same level as pre-Brexit: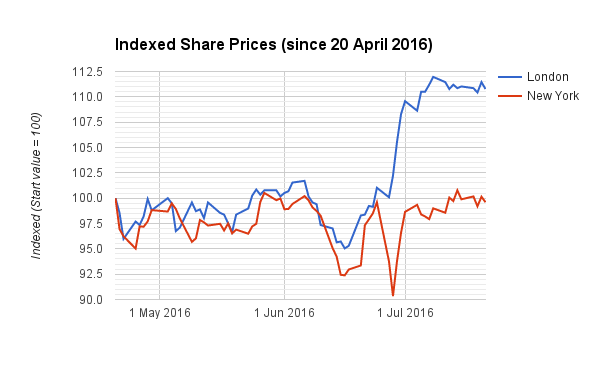 As such, although the London shares have increasingly begun to reflect the fair value of the company relative to its peer group, for those investing using USD the share continue to carry a generous discount. It is for this reason I have invested some of my spare USD into Smith & Nephew's ADRs. Put simply, the ADRs still offer excellent value for long-term investors even though the underlying shares have edged closer to fair value.
Conclusion
Smith & Nephew has continued to impress. With robust global market shares, incredible cash flow strength and a peer-beating yield and balance sheet it is a tantalizing pick. Thrown it its defensive nature in the healthcare segment, and you have a compelling company for what is undoubtedly a testing global outlook both politically and economically.
If you are investing using GBP, Smith & Nephew continues to represent fair value. Yet for those looking for a home for their USD, the Smith & Nephew ADRs continue to look compelling value. For now I am willing to wait to see what the results look like from Q2 2016 on Thursday before topping up. Yet I have little doubt they will be solid enough for me to be keen to divert a little more of my capital in their direction. Right now, however, I am content to have opened a modest position already.
Notes
* Peer group includes: Stryker, Zimmer Biomet (NYSE:ZBH), Medtronic (NYSE:MDT), Becton Dickinson (NYSE:BDX), C. R. Bard (NYSE:BCR), St Jude Medical (NYSE:STJ), Thermo Fisher (NYSE:TMO), Danaher (NYSE:DHR), Fresenius Medical (NYSE:FMS), & Baxter (NYSE:BAX).
Unless otherwise stated, all graphs an d the calculations contained within them were created by the author. Image reproduced from Smith & Nephew.
Disclosure: I am/we are long JNJ, SNN.
I wrote this article myself, and it expresses my own opinions. I am not receiving compensation for it (other than from Seeking Alpha). I have no business relationship with any company whose stock is mentioned in this article.