MIPs and why surgical robots are here to stay
The evolution of surgery, from a 'risky' art form to an exacting and precise scientific discipline, was marked by numerous innovations. The Hippocratic Oath. Anesthesia. Organ Transplant. Blood Transfusion. The invention of Plaster of Paris. Along with these, one of the most significant innovations in the modern era was the development of the Minimally Invasive Procedure (MIP) - a term coined by John EA Wickham in 1984, who then wrote about it in the British Medical Journal in 1987.
Until the advent of MIP, surgeons (and anxious patients) were battling three principal obstacles - bleeding, pain and infection. Most surgeries, until then were 'open' surgeries, requiring large incisions which resulted in greater pain and slower recovery. In contrast, MIPs only required a tiny incision - tiny enough to be covered with a band-aid. This technique directly addressed the patient's anxieties since there was significantly lower pain, faster recovery and reduced chances of an infection. A MIP, however, relies heavily on imaging techniques for guidance and its this emphasis on precision that created the need for surgical robots.
With a fast increasing geriatric population (on the demand side) and AI aided medical technology (on the solutions side), the market for surgical robots is set to grow at a frenetic pace. This market is expected to reach USD 11.4 Billion by 2020 from USD 4.2 Billion in 2015 at a CAGR of 22.2% during the forecast period.
High profile new entrants and signs of consolidation
Earlier this month, Zimmer Biomet entered the surgical robots race by acquiring France's Medtech for an estimated $132 million. Medtech's product portfolio includes two surgical robots for minimally invasive brain and spine procedures dubbed the ROSA Brain and the ROSA Spine. The subject of this thesis, Mazor, received a much needed shot in arm after Medtronic agreed, on May 18, 2016, to help promote its flagship guidance system - Renaissance. The deal allows Medtronic to take an equity stake of up to 15% in Mazor. While Intuitive Surgical still remains the market leader thanks to its first-mover advantage, the industry continues to attract several high profile entrants. Alphabet and Johnson & Johnson had, last year, announced plans to pool their expertise to create surgical robots. The company they formed, Verb Surgical, has a stated aim to create cheaper, smarter and smaller robots.
Mazor - time to transition from a single product, single price-point and single metric play
Mazor Robotics, a Caesarea, Israel based organization whose US headquarters is located in Orlando, Florida, unveiled its flagship product, Renaissance Guidance System, for commercial use in 2011. Since then, in May 2013, the company has dually listed on the NASDAQ. As a single-product emerging company, Mazor's shareholders have so far relied on only one metric to gauge its management's performance - the number of Renaissance installations.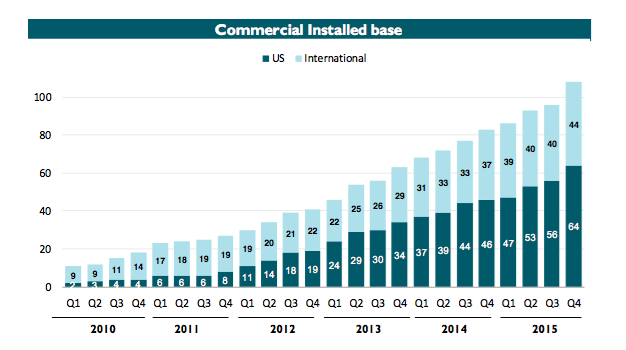 From 18 installations in 2010 to 108 installations in 2015. While 108 installations across 5 years may not seem like a hugely impressive number, this number needs to be looked at in the context of Renaissance Guidance Systems' List Price - a whopping $849,000. Apart from the sale of the surgical robot, manufacturers also derive recurring revenues from the sale of instruments, disposables and from services rendered. Not surprisingly, the increased number of installations have also had a significant positive impact on Mazor's recurring revenues from Disposables and Servicing.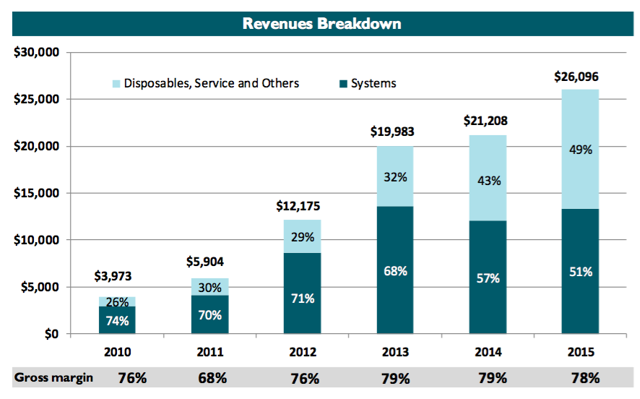 The Medtronic deal, which is essentially a marketing-focused agreement to increase installations, reinforces Mazor's management's commitment to remain a significant player in the market for spinal surgical robots. What could help Mazor at this stage in its quest to increase volumes is a transition from its exclusive (or premium) pricing model to a feature-based pricing strategy while continuing to retain its core Razor and Blade Model - a pricing model that involves a reusable "base" component and a consumable component that must be replaced regularly. This is a common practice in the medical devices industry where a new, sterilized component must be used with every fresh application.
The need for a Product Variant and a Feature-based pricing strategy
Mazor, like market leader Intuitive Surgicals, employs a Premium Pricing strategy (Intuitive's Da Vinci robot has an approximate cost of $2 million). This approach works by creating a favourable perception in the buyer's mind. The buyer equates the higher price points with increased reliability, quality and distinction. While this approach does result in significant gross margins (Mazor enjoys a gross margin of 78%), especially at an early stage when the market for a new product has relatively few players, a premium pricing strategy might start to flounder with the arrival of newer entrants (with deeper pockets). Some of the likely medium-term pricing trends in the industry are already evident. For instance, Medtech's ROSA Spine is priced at $ 700,000. Todd Pope, the CEO of small cap Transenterix, which is preparing to launch its surgical robot Alf-X in Europe, in a recent interview, said his company plans to compete on a cost basis. He said his company's Surgibot will have a lower upfront cost, while the per-procedure payments for the Alf-X will be lower than those charged by Intuitive.
As the arena for surgical robots starts to get crowded, Mazor would do well to introduce a features-based pricing (The company had recently announced an optional brain module priced at $129,000 but that is on top of the $849,000 list price). Mazor could, for instance, look to develop a basic model of the Renaissance (focused on low cost, low volume MIPs in bottom left quadrant of the diagram below). Intuitive Surgical's dominance in this market is largely due to the fact that Da Vinci is a multi-purpose robot - the only one of its kind - that can scrub in on heart bypass and valve repair operations, hysterectomies, prostate removal surgeries and other procedures. The installation of a robot, even if it is priced at $ 2 million, is a decision that is a lot more easier for a hospital to make if it can serve multiple purposes.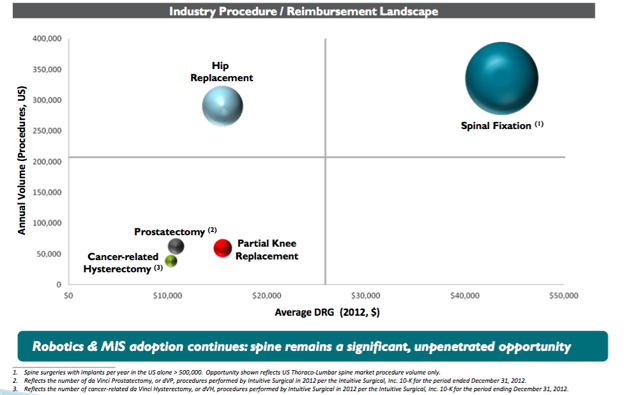 A features-based pricing approach helps Mazor :
1. Price its basic model competitively which in turn
2. Helps it drive installations which
3. Creates market demand for surgical robots and boosts recurring revenues,
4. Enables Mazor to cross-sell advanced features in Neuro and Spinal Surgery to a larger client base.
Conclusion
I see close parallels between the ink-jet printer industry and the market for surgical robots as far as long term industry trends are concerned. Ink-jet printers eventually turned cheap; The money was subsequently made on the ink. This is a natural follow through in a industry where most players employ a razor and blade model. Eventually, as competition intensifies, surgical robot's will turn cheaper and their manufacturers will adapt to make money off the disposables. The key therefore is to scale-up quickly on installations, especially the installation of lower-priced multi-purpose surgical robots. Increased competition, especially the entry of players like Google, Johnson & Johnson and Zimmer Biomet will create demand, grow the market for surgical robots and will also result in smarter, smaller and cheaper robots. Mazor (and Medtronic) would do well to develop 'a cheaper, mass-market, multi-purpose product variant' to complement its existing niche product.
Disclosure: I/we have no positions in any stocks mentioned, and no plans to initiate any positions within the next 72 hours.
I wrote this article myself, and it expresses my own opinions. I am not receiving compensation for it (other than from Seeking Alpha). I have no business relationship with any company whose stock is mentioned in this article.