The Global X Superdividend ETF (NYSEARCA:SDIV) provides an opportunity to buy into high yield equities globally with a lower risk point based on diversification. As with all high yield investments though, it is important to understand the underlying details to make sure it is a worthy investment.
The Underlying Index:
SDIV tracks against the Solactive Global Superdividend Index. Per the fact sheet, the index tracks against the 100 highest yielding international stocks. This currently equates to currency and market exposure of 50% USA, 18% Australia, 10% Europe, 6% Singapore, and 16% other. More details on return and Sharpe ratio are in the table below.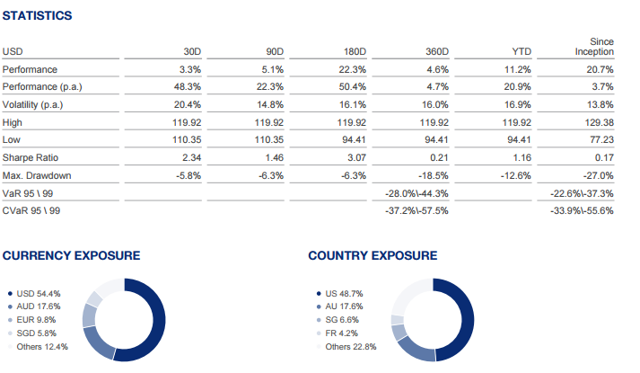 Source: Solactive.com
The ETF:
SDIV's fact sheet provides an overview of sector weighting. It currently is overweight in REIT's with almost half of the ETF's investment in real estate related equities. Beyond that, the diversification is fairly even with the next highest sector at 13%.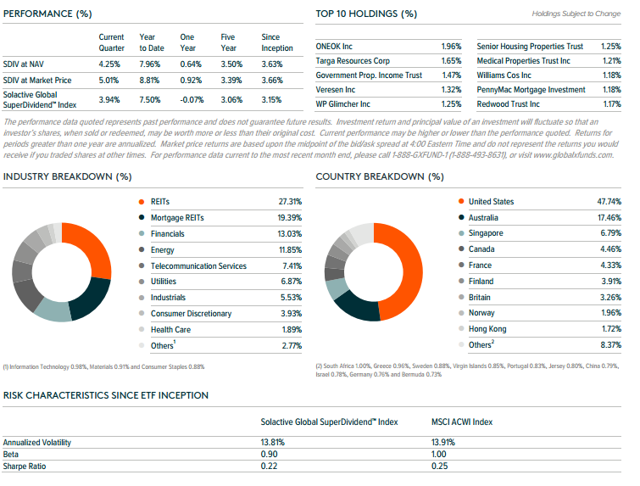 Source: GlobalXFunds.com
SDIV currently yields 7% at its current price of $21.36 and pays monthly. Since inception, it tends to trade in a range of 19 - 24 with occasional breakouts above or below based on market events. With the heavy weighting in REIT's and 12% exposure to Energy, it saw a drop to $17.51 in February as the market was dropping in those 2 sectors but has seen the similar rise with the market to its current price in the middle of its typical trading range. Its investments in Telecom and Utilities provides some level of hedging against market drops as defensive sectors to keep a beta of 0.9.
The ETF does come with a 0.58% expense ratio. It saw turnover of 26.1% in the last closed fiscal year which is the primary reason for the high expense ratio. Given the high yield and the need to trade out of equities that drop their yield (which I would actively trade out of as well, incurring applicable brokerage charges), this seems like a reasonable expense. In exchange, I receive a diversified investment of 100 equities with global exposure. At least for now, I don't have time to research Australia, Singapore, France, etc to find yielding stocks so this is a value add proposition.
Conclusion:
SDIV provides exposure to domestic and global markets with a targeted effort to maintain high yield and monthly payouts. The diversified 7% yield balances risks from being overweight REIT and from currency exposure. A high expense ratio of 0.58% is the balance to the high yield but is not outrageous given the high turnover ratio which is inherently necessary in the high yield space. The ETF tends to trade sideways in a range of 19 - 24, so there is opportunity to build a position on the low end of the range (<20) and trim at the high end (>23) for intermediate profits for the more active traders but I intend to build the position on the low end and hold for the yield.
Disclosure: I am/we are long SDIV.
I wrote this article myself, and it expresses my own opinions. I am not receiving compensation for it (other than from Seeking Alpha). I have no business relationship with any company whose stock is mentioned in this article.
Additional disclosure: This article is for informational purposes only and should not be construed to constitute investment advice. Please do your due diligence before any trading activity.