For investors of Canada's now second largest telecom Rogers Communications (NYSE:RCI), the spring brought with it much trepidation. Rogers was forced to deal with the first NHL playoffs in 40 years with out any Canadian teams participating, the last thing the company wanted after its multi-billion dollar acquisition of the NHL broadcasting rights in Canada. Many feared that this could sour Roger's second quarter results, but luckily for the company and investors other factors such as the Toronto Raptors playoff run combined, the 50% increase in average viewership for Toronto Blue Jays games and wireless subscriber growth helped close the second quarter on a high note.
But where does this leave Rogers in the eyes of investors and is Rogers still a viable investment option?
Roaming for results
Due to the growth of BCE (NYSE:BCE) Rogers has fallen to the second place spot in terms of the overall leader in Canada's telecom market. However Rogers remains the leader in the wireless market with 9.96 million subscribers (8.35 million postpaid, 1.61 million prepaid), compared to BCE with 8.23 million (as of Q1 2016; Q2 2016 report due on August 4). In Rogers' second quarter it managed to gain 65,000 net new wireless subscribers which helped lift its overall revenues to C$3.45 billion. A modest increase over the C$3.4 billion it generated during this time last year but still fell short of expectations of C$3.48 billion.
This modest increase in revenues continued down the company's financials as operating profits increased to C$1.34 billion from C$1.33 billion, and net income rose to C$427 million (C$0.77 per share) from C$412 million (C$0.70 per share). Rogers was able to generate these results due to its delicate balancing act between its divisions.

Source Q2 2016 report
The bundled bundle of bundles
In term of subscribers as I mentioned above Rogers' wireless division added 65,000 net new subscribers up from the 41,000 it added during the same period last year. Rogers was also able to exceed analyst's expectations of C$59.92 in average revenues per customer with an average revenue per wireless customer of C$60.18. Rogers' wireless division truly is the life blood of the company with its total revenues of $3.45 billion, C$1.93 billion came from wireless. These strong wireless numbers may be both a blessing and a curse for investors. With Rogers so weighted towards the wireless side any disruption could spell issues for the company. Disruptions or concerns such as BCE's purchase of Manitoba Telecom Services or Shaw Communications' (NYSE:SJR) purchase of Wind Mobile could quickly chip away at Rogers' market share.
With so much revenues based on wireless, Rogers finds itself less balanced (in terms of revenue sources) than some of its Big 4 counterparts. This will force Rogers to continue to expand its Cable and Media divisions to help hedge the company's revenue streams. On some degree it appears to be slowly working as in the quarter Rogers for the first time in quite a while managed to increase its Home Phone subscription base by 5,000 thanks to aggressive bundling offers.
Rogers also managed to add 12,000 net new internet subscribers and boosted internet revenues by 15%, however there was still a loss of 23,000 net subscribers in the TV division. Rogers is hoping to further offset these TV losses by introducing its "gigabyte internet" beyond its current cap of two million homes to the majority of the country by the "end of the year". It also appears that Rogers is finally about ready to unveil its own in house designed IPTV (internet protocol television) product as a means to curb TV losses as Rogers CEO Guy Laurence declares "With IPTV, we will introduce a differentiated product, positioning us well to reverse the trend of TV subscriber losses" and "We are confident we can start to make a turnaround in cable in 2017".
Sports, go sports go!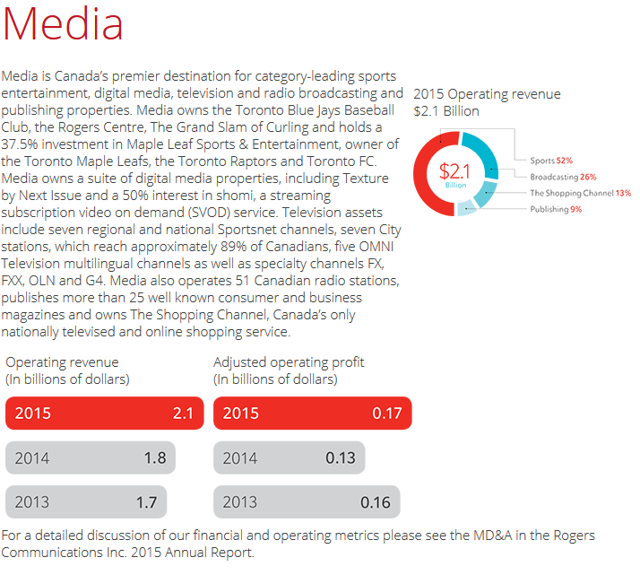 Source as of 2015 annual report
Another driving factor in Rogers' attempt to diversify its revenues is its Media division which is comprised of City TV, Sportsnet, plus a host of other cable and specialty channels, including half of the top 10 grossing specialty channels in Canada. This also includes the broadcast rights to the Toronto Blue Jays, WWE (NYSE:WWE) programming, select NBA games (in partnership with BCE), and most notably the NHL.
While this past spring the NHL posted record low playoff ratings and saw advertising revenues plummet, a strong early push by the Blue Jays and a Raptors playoff run help to offset the losses. As revenues in the Media division rose to C$615 million from C$582 million while operating remained flat at C$90 million. A sizeable accomplishment since operating expenses rose to C$525 million from C$492 million, which led to a sizeable firing spree in its sports division.

Source q2 2016 report
If Rogers is able to turn its next NHL broadcast season around and draw back viewers it still has the potential to undue the fiscal damage from the past spring. Yet the continued trend in lower TV subscriptions and advertising is having a drastic effect on the industry, to the point that even Shaw Communications has recently sold off its own Shaw Media division. With Telus Corp (NYSE:TU) and its refusal to enter the media landscape that just leaves BCE and Rogers among the Big 4 telecoms with an in house media division. The troubling part to all of this is that myself and others had believed that Rogers would use its NHL broadcast rights to bolster its media division to act as a revenue stop gap against the ultra competitive wireless sector.
Churn or burn
So where does that leave us as investors and what should be our best course of action? For many years Rogers has been seen as a top notch dividend producer. It and its three main competitors all tend to suffer from slow and steady stock price growth, leaving the dividend as the key deciding point between them.
| | | | | | | | |
| --- | --- | --- | --- | --- | --- | --- | --- |
| TSX | Price | 52 Week Low | 52 Week High | Average Price Target | Annualized Dividend | Yield | Fwd P/E |
| Rogers | C$56.81 | C$43.30 | C$57.05 | C$57.40 | C$1.92 | 3.37% | 19.47 |
| BCE | C$63.15 | C$51.56 | C$63.19 | C$59.40 | C$2.73 | 4.32% | 18.10 |
| Shaw | C$26.10 | C$22.55 | C$28.77 | C$26.30 | C$1.19 | 4.54% | 22.13 |
| Telus | C$43.96 | C$35.51 | C$45.19 | C$42.60 | C$1.84 | 4.19% | 16.53 |
| | | | | | | | |
| --- | --- | --- | --- | --- | --- | --- | --- |
| NYSE | Price | 52 Week Low | 52 Week High | Average Price Target | Annualized Dividend | Yield | Fwd P/E |
| Rogers | $43.19 | $32.50 | $43.29 | $53.80 | C$1.92 | 3.50% | 14.80 |
| BCE | $47.99 | $31.49 | $48.82 | $54.50 | C$2.73 | 4.43% | 13.69 |
| Shaw | $19.86 | $15.66 | $21.41 | $20.34 | C$1.19 | 4.55% | 16.56 |
| Telus | $33.14 | $24.34 | $34.64 | $43.50 | C$1.84 | 4.33% | 19.24 |
With the current growth and strength at Rogers I still believed that it could play a role in the dividend portion of investor's portfolios. Given its recent gains and capital expansions Rogers is attempting to adapt to the current market. Despite this I don't think it should be your number one Canadian telecom holding at the moment. Recent growth and changes over at both BCE and Shaw offer some quicker paths for those companies to expand their total footprints. With BCE perhaps in the best position as a dividend holding and with Shaw as perhaps the better share price option. Not to mention that their simultaneous and reinvigorated push for the wireless market should keep Rogers on edge, and as your number two pick in the Canadian telecom market.
Author's note: If you enjoyed this article and found it helpful, please "Follow" me on Seeking Alpha to receive notification whenever I publish a new article.
You may also be interested in other recent articles I have written for Seeking Alpha with my Canadian point of view that focus on stocks and stories that I have found compelling. You can also find my previous articles here for further study.
Disclosure: I/we have no positions in any stocks mentioned, and no plans to initiate any positions within the next 72 hours.
I wrote this article myself, and it expresses my own opinions. I am not receiving compensation for it (other than from Seeking Alpha). I have no business relationship with any company whose stock is mentioned in this article.