Yield to Simplicity
By Dr. Paul Price
(I wrote this article as a guest contributer to Lowenthal Capital Partners. It was shared with LCP subscribers on Friday, July 22. To learn more about LCP's newsletter, click here. ~ Dr. Paul Price)
Why own stocks?
It's not about altruism. We buy equities with the goal of making money. Miniscule returns on fixed income and cash have made trading for a living more of a necessity than a choice these days.
Buy and sell decisions, though, can often be complicated affairs. That's why it's nice to find special situations when one factor alone can offer excellent trading guidance.
Shares of executive search firm Heidrick & Struggles (NASDAQ:HSII) have exhibited a series of highs and lows which typically play out over periods of a few months to a couple of years. Buying cheap, and selling on rallies led to a series of 54% to 115% gains over months, not years.
Who wouldn't be satisfied with the size of the capital gains and the modest holding periods shown in the table below?

HSII's profitability has been hard to forecast. The stock hasn't made long-term headway. Heidrick & Struggles' shares exhibit high volatility. Those would be undesirable traits if you were paying up dearly to buy in. That's not the case with the stock today.
Uncertainty makes for opportunity if you're willing to disagree with the crowd.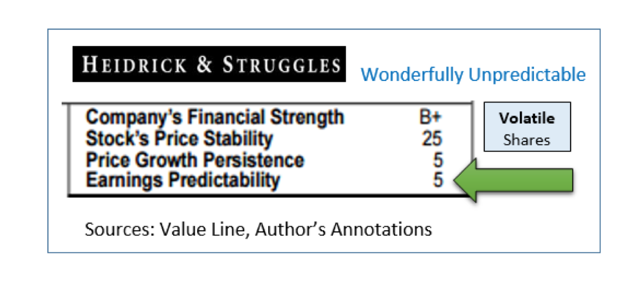 HSII's yield held the key for timing buys and sells.
Management has left the quarterly dividend unchanged, at 13-cents, since 2008. That 52-cent annual rate translated to an average yield of 2.56% during the most recent six and a half years.
As of Friday morning, July 22, 2016, HSII weighed in at $17.53 while sporting a better than typical 2.96% yield. At last December's peak HSII fetched $30.62 along with just a 1.70% payout.
Since 2009, buying when new purchases locked in better than normalized yields (green-starred) has always led to a chance to sell for significant gains. It paid to exit whenever the current yield dipped to 2.1% or less (red-starred).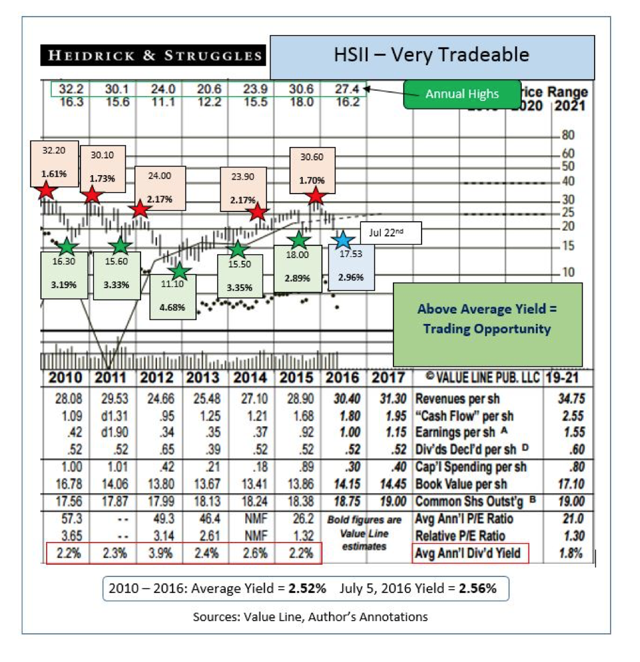 A regression to just a typical yield would support a target price of $20.63. That is almost 18% above the current quote. Getting back to a 2.1% payout would allow for a rise to $24.76. Both goals appear quite achievable.
Heidrick & Struggles hit or exceeded $27 during both calendar 2015 and 2016 YTD. The stock touched $23.90 or better during six of the past seven years.
It's not as if HSII were doing badly. Value Line sees 2016 EPS coming in at $1.00, up slightly from last year's tally of $0.92. That would be the firm's best number since 2008, a year when the shares topped out at $38.
HSII's low price is a gift for those with reasonable time horizons.
Option sellers can get paid very well for committing to buy through Jan. 20, 2017, at strike prices of $17.50 or $20. Based on current bid-ask spreads, worst-case forced purchase would come at levels of about $16.00 or $16.80 respectively.
Heidrick & Struggles has not changed hands as low as $16 since 2014. Owning HSII at $16.80 would get you in south of the absolute low during all of 2015. A two-year chart and the break-even point on the more aggressive, $20 put, is shown below.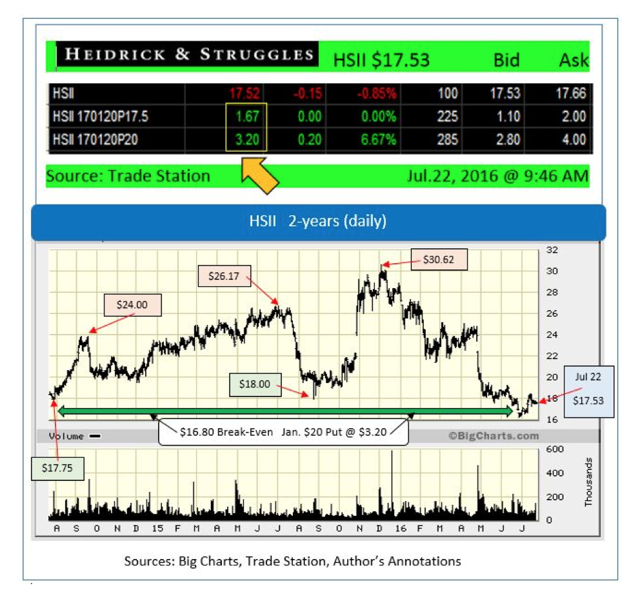 Future price action cannot be guaranteed. We can see, however, that HSII has spent more than 99% of the past couple of years at levels which would have been highly profitable for owners of HSII at prices of $16.00 or $16.80.
Buy the stock, sell some puts or consider doing both.
Disclosure: Long HSII shares, short HSII puts.
Disclosure: I am/we are long HSII.
I wrote this article myself, and it expresses my own opinions. I am not receiving compensation for it (other than from Seeking Alpha). I have no business relationship with any company whose stock is mentioned in this article.
Additional disclosure: I am long HSII stock and short HSII puts.