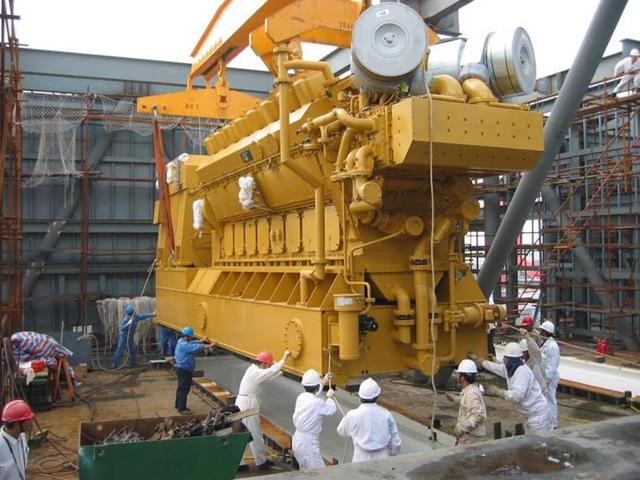 Caterpillar (NYSE:CAT) reports quarterly earnings Tuesday morning. Analysts expect revenue of $10.06 billion and eps of $0.96. The revenue estimate implies a 5.8% increase sequentially. The following are key items investors should focus on.
Will Commodities Rebound Equate To Higher Equipment Spending?
The commodities rout of 2015 brought Caterpillar, miners and mining equipment manufacturers into focus. In January falling commodities send CAT to a 52-week low of less than $57. However, commodities prices have rebounded since then. The Bloomberg Commodity Index is down 13.3% over the past year, but up 13.3% YTD. The rebound created positive sentiment and CAT now trades at around $79.
Though commodities prices may drive sentiment, they might not lead to increased mining activity or an increase in equipment purchases, at least initially. Mining companies are trying to rightsize their balance sheets and cost structures, and might hold off on equipment purchases until prices firm up.
Secondly, when companies are not certain about their business prospects they tend to hold off on acquisitions or capital expenditures. In my opinion, businesses have a right to be concerned. The global economy is in shambles. Global trade fell by double-digits in 2015 -- the first contraction since 2009. China's economy is slowing; some fear China could be one currency devaluation away from sending commodities markets into another tailspin.
In addition, quantitative easing is over. It was after QE ended (or was near ending) in Q2 2014 that trading in oil futures and other commodities fell sharply. As trading volume declined, so did commodities prices. Sans another round of QE commodities prices might not rise much further. That does not bode well for Caterpillar.
The Energy Sector Will Continue To Weigh
Caterpillar's Q1 revenue fell 25% Y/Y. The biggest decliners were Energy & Transportation (down 33%) and Construction (down 19%). Segment profit, prior to restructuring costs, also fell over 50%.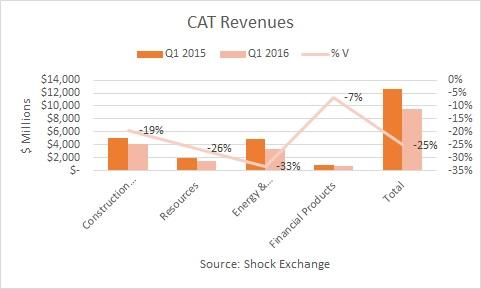 Energy & Transportation represents about 34% of total revenue and in my opinion, its demise will continue for several more quarters. Big oil has cut E&P in order to stem cash burn and shore up their balance sheets. Offshore equipment buyers have canceled contracts as drilling at oil sub-$50 is uneconomical. To garner North America land drilling deals, Caterpillar has to compete with the likes of Schlumberger (NYSE:SLB) and Halliburton (NYSE:HAL) who have used their heft to offer price concessions. Both reported a sequential decline in revenue in Q2 and I expect the same from Caterpillar. Investors should continue to avoid CAT.
Disclosure: I am/we are short CAT, SLB.
I wrote this article myself, and it expresses my own opinions. I am not receiving compensation for it. I have no business relationship with any company whose stock is mentioned in this article.