The 6/1/16 article indicated that the S&P 500 was likely to advance from here (S&P 500's Earnings for 1st Q 2016 (6/1/16); Tactical, Economic, S&P Earnings and Stock Market Internals Will Lead Stock Markets).
However, the article I wrote on 6/15/16, Tactical, Stock Market Internals, Economic And S&P Earnings May All Be Heading Downward. Unfortunately, it was indicated otherwise. This was before the Brexit announcement that Britain was leaving the EU. Of course, this was before the stock market (DJIA) dropped 611 points on 6/24/16 and 260 points the next day. However, DJIA has rallied from that point on.
Interest Rates Go Lower: Obviously, the central banks of Europe (ECB), Banks of England and Canada have kept their monetary policy unchanged. Expectations for the Federal Reserve and the Bank of Japan are expected to follow their peers this week. It has left its forward guidance unaffected stating that it expects interest rates to stay low or go lower. This has lifted U.S. P/E ratios of the stock markets.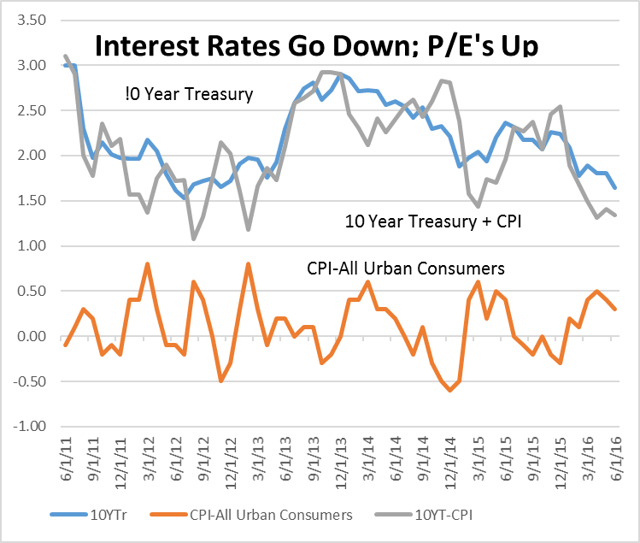 No Bond Yields: There are no bond yields that can compete with the stock markets' yields. Most equity indexes advanced last week--but on thin volume. Stock markets were lifted in part by early earnings reports and U.S. positive economic data. Banks' earnings were good in the second quarter, but the consumers borrowing is worth watching.
Ways of the Stock Markets: I apologize for the errant gesture on which way the stock markets may likely go. Unfortunately, Brexit was the cause.
Disclosure: I/we have no positions in any stocks mentioned, and no plans to initiate any positions within the next 72 hours.
I wrote this article myself, and it expresses my own opinions. I am not receiving compensation for it. I have no business relationship with any company whose stock is mentioned in this article.