I like a sale. What woman doesn't? But unlike a lot of women, I get as excited about stock market sales as I do about shoe sales. Well, almost...
But, I'm also impatient. Sometimes when I want something, I just want it now. And it doesn't matter if it's a handbag or a stock I've been following for what feels like forever, waiting for an entry.
Waiting for sales and being impatient. Those two things don't always go together. And sometimes I end up doing something really silly like buying Disney's (NYSE:DIS) stock at a 12-month high, or a really uncomfortable and expensive pair of shoes.
Three Mistakes I Made Buying Disney's Stock
Mistake 1 - Not Trusting What I Was Seeing
My first mistake with Disney's (DIS) stock came long before I actually purchased the stock. In July 2014, after a 13-hour flight across the Pacific and an hour bus ride on the Disney coach, my family arrived at Disneyland. My daughter was 5 and from the moment we arrived, the magic of Disney was everywhere.
The morning after our first full day in the park, I sat on the balcony overlooking the pools at the resort and googled Disney stock. I'd been to Disneyland 3 times before at 12, 18 and 25 years old, but never looked at it through the eyes of a stock investor (and yes I use that term incredibly loosely).
What I saw on this visit (no, I'm not going to tell you how old I was!) was that Disney is a cross-promoting gold mine; movies, merchandise and parks were intricately entwined to make Disney magic. Of course, I should have already known this given that our household is a testament to Disney's brand and licensing power. But seeing it in action at the theme park and hotel, it was impossible to ignore.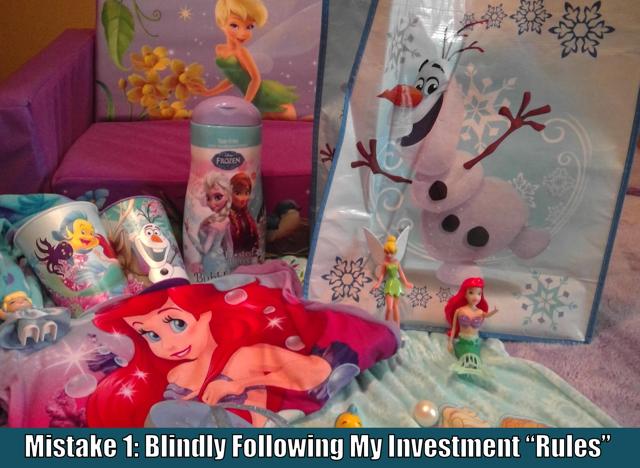 At the time, the stock was in the mid-$80s and paid a dividend only once a year. I quickly pooh-poohed the stock as too expensive and its low yield annual dividend didn't meet my investing criteria for regular income.
So, I didn't buy.
Disney's stock continued on its upward trajectory without me along for the ride. It was pretty clear in not buying I'd made my first mistake.
Mistake 2 - I Just Have To Have It
Finally, in July 2015, desperate to own the stock that seemed to be making everyone but me a killing, I bought a small bundle of Disney's stock through a Sharebuilder automatic investment plan. At $118 and change. For a while, Disney's stock continued into the $120s and I thought I was a genius.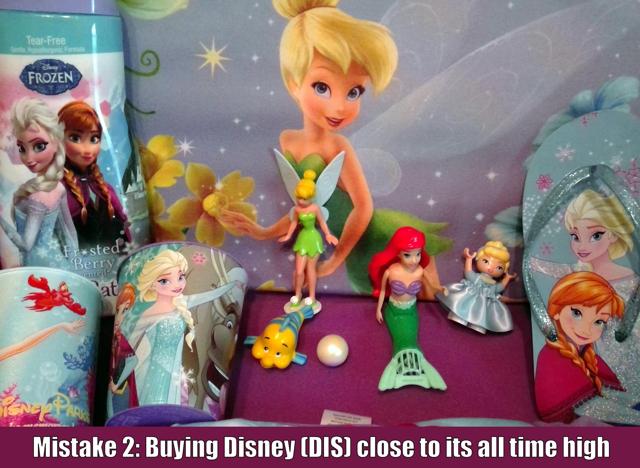 But history now shows that I bought pretty close to the stocks all-time high. That would be mistake number two. Since then the stock price has gyrated like one of the rides in the stocks theme parks.
Impatience overrode my desire for a "sale" price. Fear of making another mistake took over.
Thus was born my "only buy the seriously big dips" philosophy. I made a couple of purchases in the latter half of 2015, and the first quarter of 2016, but not many. My purchases slowed down, and so did my dividend income growth.
Hmm, not what you need when you are trying to build a dividend income stream. Fear and only buying the dips was holding back my progress on a key goal. It was time to reevaluate.
Looking For Answers in History
I love a good hypothetical. And I love other people's success stories. To me, both give hints to the road to financial success. But what they do not take into consideration is emotions.
I know, you're supposed to leave emotions out of investing, but it's something I just can't seem to do. My "need" to own Disney's stock was an emotional one. As was my reaction to buying so close the stocks all-time high. I don't know how to turn my emotions off, so I need to find a way to harness them, keep them in check.
Since my emotional triggers are likely different to everyone else, I use hypotheticals and other people's success stories as motivation. But when it comes to understanding my own emotional investing, I look to my purchase history. That history is tainted with my emotional decision making. For better or worse.
Back to the Very Beginning
Once upon a time, my portfolio consisted of one stock - General Electric (NYSE:GE). Enough said there. You can read my GE story here if you've missed that little tale.
I had one priority. Diversify. Every purchase that took me away from 100% GE was a success from a diversification standpoint. I was concerned with price, but was more concerned about my lack of diversification. So I just bought well established dividend growth stocks hoping that time would smooth out any pricing mistakes.
Here are some of my earliest purchases:
| | | | | |
| --- | --- | --- | --- | --- |
| Year | Stock | Price | Current Price | % Gain |
| 2011 | MO | $29.92 | $68.86 | 130% |
| 2011 | PG | $65.68 | $85.72 | 31% |
| 2012 | O | $39.25 | $70.41 | 79% |
| 2012 | JNJ | $71.19 | $125.03 | 76% |
Price - Purchase Price including brokerage on a per share basis
Current Price - as at closing 22 July 2016
These were small purchases made within 6 months of each other. Each purchase, on a capital basis has turned out okay. And frankly I wish I owned more Altria (NYSE:MO). The point here is that time has made purchases of stocks with a great dividend paying history seem "smart". Of course, the fact that we've had a rising market over that the past 4-5 years does not escape my attention.
It would take a significant market move downwards to wipe out my capital gains on this bundle of stocks. But even if it did happen, I still have the dividends to make me feel okay about my investment.
No market correction is going to take paid dividends away.
Over the past 4 years, I have made additional purchases of these no-brainer DGI stocks. As at today, my holdings of these four stocks, including cumulative dividends looks more like this:
| | | | | | |
| --- | --- | --- | --- | --- | --- |
| Stock | Price | Current Price | % Gain | Dividends | % gain divs |
| MO | $29.92 | $68.86 | 130% | $157.78 | 31% |
| PG | $70.88 | $85.72 | 21% | $95.66 | 13% |
| O | $39.61 | $70.41 | 78% | $150.88 | 21% |
| JNJ | $88.80 | $125.03 | 41% | $112.91 | 7% |
Price - Purchase Price including brokerage on a per share basis
Current Price - as at cost 22 July 2016
% gain divs - cumulative dividends as a percentage of cost of investment (purchase price x no. of shares)
Altria is the standout winner, but I sure didn't know it would be when I bought it. My $504 investment in Altria's stock in December 2011 has generated a 130% capital gain as well as dividends totaling 31% of the purchase cost. None of those four initial purchases turned out awful - at this point in time, anyway. And I have to say I'm downright pleased with the two stocks I bought for their high yields, Altria and Realty Income (NYSE:O). If nothing else changes, the dividends column number will go up every quarter (short of dividends being terminated).
I also bought stakes in Colgate-Palmolive (NYSE:CL), Unilever (NYSE:UL), AT&T (NYSE:T) and Coca-Cola (NYSE:KO) in the same way. Those purchases were made later but none have turned out awful either; just a little closer to break even. Again, the high yielder in that group is the star performer.
| | | | | | |
| --- | --- | --- | --- | --- | --- |
| Stock | Price | Current Price | % Gain | Dividends | % gain divs |
| CL | $66.90 | $74.61 | 12% | $19.53 | 2% |
| UL | $44.40 | $46.60 | 5% | $22.18 | 4% |
| KO | $41.52 | $45.83 | 10% | $49.39 | 6% |
| T | $32.39 | $43.11 | 33% | $69.40 | 13% |
Price - Purchase Price including brokerage on a per share basis
Current Price - as at cost 22 July 2016
% gain divs - cumulative dividends as a percentage of cost of investment (purchase price x no. of shares)
Freezing Then Thawing
I got scared. I made a mistake or two with Disney and I changed my plan of attack to only buy when prices were at their very best. Unfortunately, when they are at their very best, there is also a lot of fear in the market which only served to compound the fear I already felt from buying Disney at its top.
Like the popular Disney heroine Anna (Frozen), I froze. So did my dividend income because I stopped making purchases. Love may have thawed Anna's frozen heart, but the cool clear logic of a couple of spreadsheets filled with the numbers above thawed my investing heart.
Looking at the numbers above, there are a couple of immediate observations.
The stocks I have held the longest, have done the best. While the capital gains in some of the stocks are nice (MO, O, T), they are not the best part of the story. Capital gains are unrealized. They move every day with market gyrations. Until they are realized (that is the stock is sold), capital gains are at risk.
Past dividend payments, however, are never at risk. Once paid, they are an immutable part of your stock investments' history. Every quarterly dividend payment gets me closer to "break-even" on a dividend basis only. Of course, future dividend payments are at risk. They can be lowered or stopped entirely. But if the history of most of the stocks chosen is any indication, they will continue to rise.
So waiting for the optimal "sale" price could be holding me back by virtue of the fact that I am missing dividend payments as I wait. The longer I wait to buy, the better the price has to be compared to today's price to compensate for the missed dividends. This is particularly true for high yielding stocks.
None of this is rocket science or new for that matter. But until I "saw" it for myself in my own investment history, I didn't "feel" it. Now, thanks to some basic math, as of Q2 2016, I'm back in the game; in my own very modest way.
When it comes to dividend growth stocks with a solid track record of raising dividends, time is money.
When I buy, I now do so with the knowledge that each banked dividend payment insulates my position from being a loser on a total return basis. And when those fire sales do occur? The magic of dollar cost averaging can also help "fix" the bad choices I have made along the way. Like Disney.
So, How Have Things Turned Out With Disney?
Mistake 3 - Automatic Investments
A sale of sorts in Disney's stock did finally arrive, in September 2015. And I bought some more stock around the $100 mark. Then I made a third mistake with my Disney holding. This one was just plain stupid.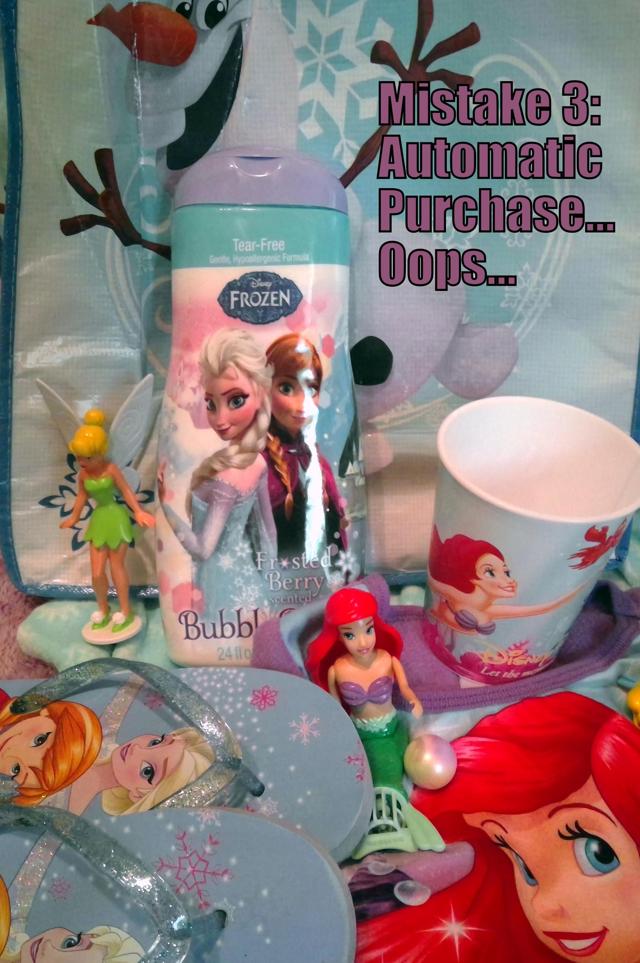 All I can say is if you use Sharebuilder's automatic investment plans, be careful of your settings.
In December 2015, when my account cash balance reached the required level, and with my automatic plan left on, I bought more Disney stock at $112. Ouch. This one I'll wear though, because it also had me buying more JNJ at $104. And that has turned out okay.
With an average cost of just under $108 per share on my Disney holdings and a current price around $98 per share, it will take a few more stock market "sales" to get my average cost price down. And with Disney's low yield, I can't expect too much help on the dividend front to dig me out of the hole I dug for myself.
But that's okay. I'm no longer frozen by my bad choices of the past because it turns out I made plenty of good ones also. And when it comes to stocks and purchase prices, there is plenty I can do to "fix" or at least improve your situation.
Disclosure: I am/we are long DIS, MO,UL,T,CL,PG,JNJ,KO,CL,O.
I wrote this article myself, and it expresses my own opinions. I am not receiving compensation for it (other than from Seeking Alpha). I have no business relationship with any company whose stock is mentioned in this article.