Highly critiqued $36.65 billion streaming service provider Netflix (NASDAQ:NFLX) plunged 13.13% after, according to The Guardian, it "missed second-quarter expectations, announcing that it added only 1.7 million members worldwide and blamed price increase for drop in membership." But the company did not lose subscribers — it is still growing rapidly. As for its high valuation, Amazon (NASDAQ:AMZN) also has a high valuation, very similar to Netflix's numbers. Like Amazon, Netflix had a clear competitive advantage in the past, but does it still have an advantage? Was this plunge an overreaction, and is it now a buying opportunity?

Source: SEC filings.
On Monday July 18, the company reported it added 1.7 million streaming subscribers in the second quarter (July 2016), or about 0.5667 million streaming subscribers per month as shown in the graph above. This was smaller than the 2.5 million new streaming subscribers it expected for the quarter, and much smaller than the 3.3 million streaming subscribers it added in the second quarter of last year (7/15). It was also a big drop from the 6.7 million streaming subscribers (2.2 million streaming subscribers per month) it added in the first quarter (4/16). The company gained about 1.2 million streaming subscribers per month over the last three years. As of last month, Netflix had about 83.18 million streaming subscribers. This does not include those subscribers who opt to get just DVD by mail services. The light blue box is the company's forecasted numbers of streaming subscribers in the third quarter. The company forecasts it will add 2.3 million streaming subscribers in the third quarter (10/16).
Worldwide streaming subscribers seem to peak in the first quarters: (4/13), (4/14), (4/15), and (4/16). So a second quarter (7/16) slowdown should be no surprise. Worldwide streaming subscriber growth from the first quarter of 2016 (4/16) to the second quarter of 2016 (7/16) was 1.68 million. This is almost the same as worldwide streaming subscriber growth from the first quarter of 2014 (4/14) to the second quarter 2014 (7/14), which was 1.69 million. On a year over year basis, quarterly worldwide streaming subscribers have grown almost linearly over the last three years.
International streaming subscribers are increasing more than U.S. streaming subscribers, and could overtake U.S. streaming subscribers in a few years. But both are increasing nearly linear. U.S. DVD subscribers are declining, and its decline is also nearly linear. Currently, the company has 47.13 million U.S. streaming subscribers, 36.05 million international streaming subscribers, and 4.53 million DVD subscribers. According to the graph below, TV cable subscribers was 49.1 million in the first quarter and slowly declining. That means Netflix' U.S. streaming subscribers would soon overtake U.S. cable subscribers. But U.S. broadband internet subscribers was 56.3 million in the first quarter and slowly increasing at about 0.25 million new broadband subscribers per month. Netflix's U.S. streaming subscriber growth averaged about 0.48 million per month, but slowed to 0.053 million per month in the second quarter. There seems to still be plenty of room for the company to grow in the U.S. as long as U.S. broadband subscribers grow faster than Netflix's U.S. streaming subscribers. But it is clear that international expansion will become the main driver of growth in the future.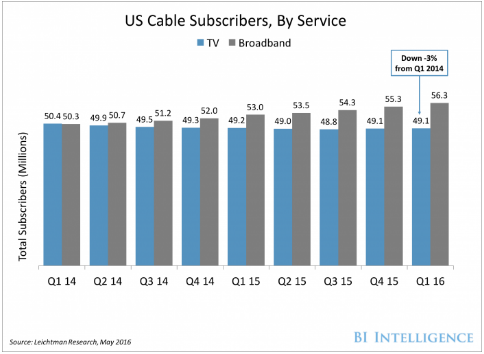 Source: Broadband subscribers continue to climb, while cable sees mixed subscriber trends.
In May of 2014, "Netflix sent an email to subscribers, telling them that only new members would be paying $8.99 a month. Existing subscribers will keep paying $7.99 a month." $8.99 per month was later raised to $9.99 per month in 2015. "The one-dollar raise affects new subscribers in the United States, Canada and Latin America right away. But it won't affect most existing subscribers for a year." Existing subscribers still paid only $7.99 per month. Now all subscribers have to pay $9.99 per month, and that is what seems to be making customers angry. "Netflix said Monday that customers who learned in April that the price was about to increase had begun canceling their subscriptions." But this price hike was already known for two years. Since the hike started in 2014 and 2015, and the company saw a short term slowdown but later recovered, the same thing would probably happen again.
The current situation also resembles the 2011 price hikes when looking at U.S. subscriber growth. In the second quarter of 2016, the company "added just 160,000 U.S. subscribers from April through June," which is the lowest quarterly gain since it split its streaming and DVD by mail services five years ago. In July of 2011, Netflix raised prices for its combined streaming and DVD by mail services from $9.99 per month to $15.99 per month. Then in September, the company split its streaming business and DVD by mail business at $7.99 per month each, allowing customers to purchase the service they choose. However, customers were furious with the 60% price hike for the combined service and caused the company to "cut its subscriber forecast by one million, or 4%." Shares plunged 19%. But subscriber growth recovered, and share prices rose. The same thing would probably happen again. Also as noted above, U.S. subscriber growth seems less and less important compared to international subscriber growth. Growth for the company would be determined by how well it grows internationally.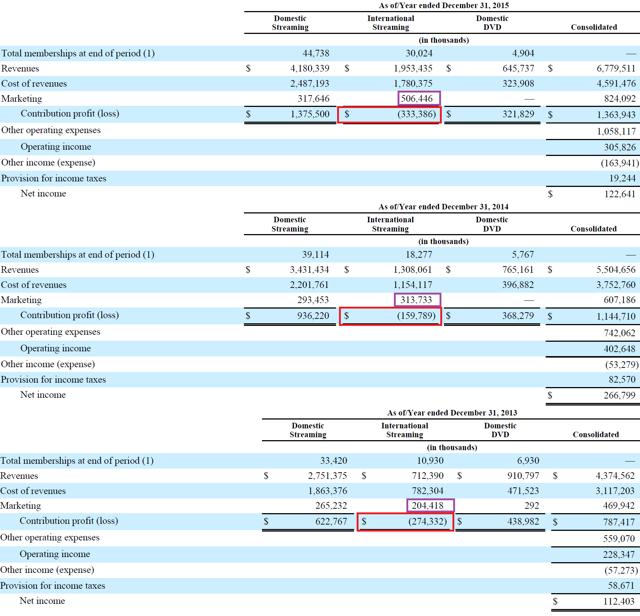 Source: 2015 10-K
However as shown in company's 2015 10-K above, the company lost money from international streaming over the last three years. The good thing is that the loss decreased from 2013 to 2014. But due to an increase in marketing cost, the loss increased in 2015. Both domestic and international subscriber totals include about 4.6% free trial subscribers. Also as noted on page 19 and 20 of the 10-K, average 2015 monthly revenue per paying domestic subscriber was $8.50 and growing, but it was only $7.48 per international subscriber, and that was a drop from $8.34 in 2014. As stated in the 10-K, "the decrease in average monthly revenue per paying membership was due to the impact of exchange rate fluctuations and to a lesser extent the impact of absorbing higher VAT (value-added tax) rates across our European markets beginning January 1, 2015. These decreases were partially offset by our pricing changes and plan mix. We believe international revenues would have been approximately $331 million higher in 2015 if foreign exchange rates had remained consistent with those for the year ended December 31, 2014." Since loss was only $333 million in 2015, that means loss could have been only $2 million. This is very bullish for the company assuming exchange rates become more favorable. In January of 2016, the company's streaming service became available virtually everywhere in the world, except in China and territories where U.S. companies are not allowed to operate.
The poor subscriber numbers overshadowed the company's second quarter report, which beat on earnings and met on revenue. It reported EPS (earnings per share) of $0.09, beating analysts' EPS estimates of $0.02. Revenue came in at $2.11 billion, meeting analysts' revenue estimates. For the third quarter, analysts' estimate EPS of $0.06 on $2.28 billion in revenue. For fiscal 2016, analysts are looking for EPS of $0.28 on $8.73 billion. Below are the revenue and earnings graphs for the past three and a half years with analysts' estimates for the next two quarters. The estimates in the revenue and expense graph are surrounded by an orange box.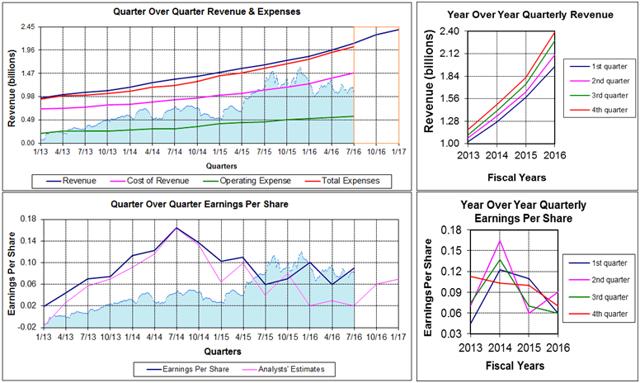 Source: SEC filings
Revenue has been soaring nearly linear and should continue. The difference between revenue and total expenses was greatest in the second quarter of 2014 (7/14) and has been shrinking. This could be a warning sign as earnings may fall. And earnings has fallen since the second quarter of 2014 (7/14), but earnings seems to have hit bottom and may fall back to that bottom as analysts estimate. But looking at the year over year earnings graph, it seems that earnings may beat expectations.
Fundamentally, I see no reason for Netflix to fall. Like Amazon, Netflix created a massive digital library that is easy for consumers to use and sells a service to them at a great price. People go to Amazon not just because it is inexpensive, but because they do not want to spend hours going from store to store to find what they want. Like Warren Buffett said about Amazon, "Don't just satisfy your customers, delight them. Any business with delighted customers has a sales force they won't have to pay." Like Amazon, Netflix delighted customers with its platform and created a loyal following. The time and effort to create that massive digital library in addition to signing deals with content providers and having loyal fans gave Netflix a competitive advantage. Yes, as time went by, competitors narrowed that advantage. But pricing is only one part of the equation. Netflix still has a larger offering than competitors with good quality content.
Below is a list of competitors.
Netflix's cost is $9.99 per month, which ties YouTube Red as the subscription service with the second highest cost. Hulu's ad-free service is the costliest. Netflix offers about 100,000 ad-free movies and TV shows, a little more than twice the size of its nearest competitor, Amazon Prime. While many of the movies and TV shows are old, Netflix offers some of the most popular shows, such as "Orange is the New Black" and "House of Cards."
Some recent deals Netflix signed:
On July 5, it signed a new multi-year content licensing with CW Network, a joint venture between CBS and Warner Brothers Entertainment (TWC), to allow Netflix exclusive U.S. subscription rights of series broadcasted on The CW. Shows available include FREQUENCY, NO TOMORROW; RIVERDALE; the hit DC series LEGENDS OF TOMORROW and SUPERGIRL; ARROW; FLASH; JANE THE VIRGIN; CRAZY EX-GIRLFRIEND; and fan favorites such as THE VAMPIRE DIARIES, THE 100, IZOMBIE, THE ORIGINALS, and REIGN.
Also on July 5, it signed a deal with Comcast (NASDAQ:CMCSA) which lets Comcast subscribers watch Netflix programs on its new X1 voice-controlled cable box. The idea is that by exposing Comcast subscribers to Netflix's content, they may switch to Netflix.
On July 18, it signed a licensing agreement with CBS for the new "Star Trek" television series. "Netflix will be the exclusive premiere home of "Star Trek" in 188 countries (excluding the US and Canada)." Additionally, "all 727 existing episodes of the iconic "Star Trek" television library including "Star Trek: The Original Series," "Star Trek: The Next Generation," "Star Trek: Deep Space Nine," "Star Trek: Voyager," and "Star Trek: Enterprise" will be available on Netflix around the world by the end of 2016."
Netflix will also start benefiting from a deal it signed with Disney (NYSE:DIS) back in 2012. "Beginning in September, Netflix will be allowed to stream all Disney films - including Marvel, Pixar, and Lucasfilm titles - in the same window that they'd typically be made available to HBO, Starz, and other paid TV networks." More importantly, the deal keeps Disney films released after August off Amazon Prime, Hulu, and other streaming services and allows Netflix to be the "exclusive US pay TV home of the latest films from Disney, Marvel, Lucasfilm, and Pixar."
Taking a quick look at the stock's data from Finviz, it is clear the stock has a huge valuation. The trailing PE is 297.20. The forward PE is 85.04. Both match up well with Amazon. Interesting is that Netflix's price to book is lower than Amazon's. A notable difference is that next year's EPS growth rate is estimated at 274.10% for Netflix vs. 83.68% for Amazon. Netflix's PEG ratio is about twice that of Amazon's, but next year's EPS growth rate is more than three times that of Amazon's. Thus, should Netflix demand a higher valuation than Amazon due to higher next year's EPS growth rate?

Source: Finviz

Source: Finviz
Looking to Netflix's graph above, one can see that the stock price bounced below resistance and zoomed to support due to the disappointing subscriber numbers. Drawing my own (black) lines on top of the computer generated technical graph, the price movement has also formed a descending triangle with a price target of $27 above or below the breakout point. I assume that the stock will bounce off of support and break above resistance, leading to a target price of about $124. But if the stock breaks below support, target could be about $58.

Source: Google Finance
However, a move all the way down to $58 seems unlikely, as the stock would have to cross below the $68 long term support line. Also, note that the $68 support line falls on the 200-day moving average. The 200-day moving average provides another level of support at $68.
The graph below seems to show that prices could likely bounce back soon. The Stochastic %K, the W%R, and the RSI (Relative Strength Index) are in or near oversold (bullish) territory. The MFI (Money Flow Index) is halfway between overbought (bearish) and oversold territory. One time when all four technicals (the MFI, RSI, Stochastic %K, and W%R) were at similar levels as indicated by the purple line, the price fell. But another time when all four technicals (the MFI, RSI, Stochastic %K, and W%R) were at similar levels as indicated by the orange line, the price rose. The MACD (Moving Average Convergence/Divergence Oscillator) formed a bearish downward cross sell signal on July 18. In the MACD, a crossover of the red line below the black line indicates a buy signal, while a crossover of the red line above the black line indicates a sell signal. Could it make a bullish upward cross buy signal soon?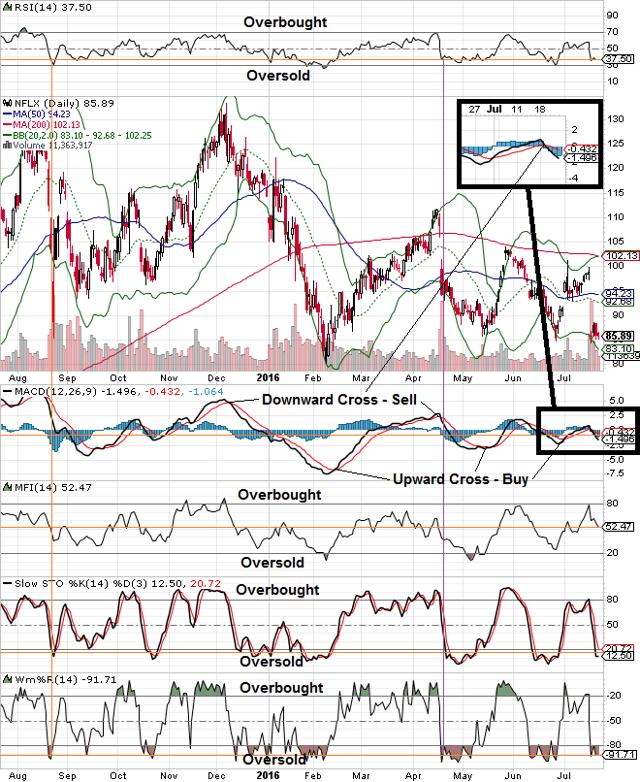 Source: Stockcharts
Conclusion: Overall, Netflix seems to have a bright future, and the pullback seems a buying opportunity. Even though a week has passed since the plunge, shares are still very low and could be ready to head higher.
Disclosure: I/we have no positions in any stocks mentioned, but may initiate a long position in NFLX, DIS over the next 72 hours.
I wrote this article myself, and it expresses my own opinions. I am not receiving compensation for it (other than from Seeking Alpha). I have no business relationship with any company whose stock is mentioned in this article.