Oil (NYSEARCA:USO) is touching new lows. At the time of writing, the September contract is trading at $43.23/bbl, more than 8% lower than just a week ago and the lowest we've seen since May. While I have always remained bearish on oil, the futures market has been begrudgingly telling a different story.
For the past couple of weeks, the spreads between long-term futures and short-term futures have widened significantly.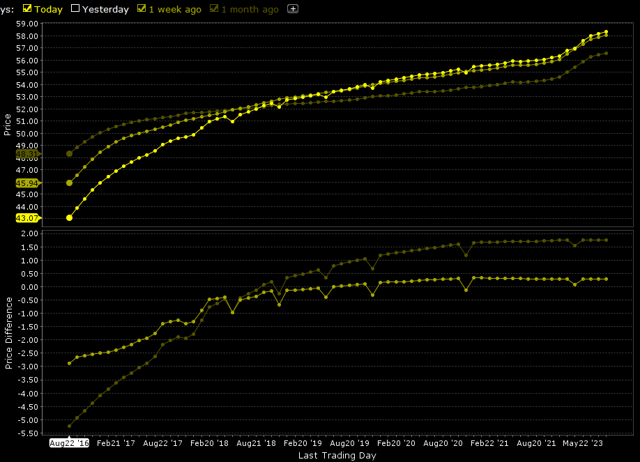 Source: Interactive Brokers
Note how the long-term futures have not lost much value, and past 2018, futures have actually gained value. However, today we are finally seeing some good pressure across expiration dates.
| | | | | | | | | | |
| --- | --- | --- | --- | --- | --- | --- | --- | --- | --- |
| SEP 2016 | OCT 2016 | NOV 2016 | DEC 2016 | JAN 2017 | FEB 2017 | MAR 2017 | APR 2017 | MAY 2017 | JUN 2017 |
| -1.06 | -0.97 | -0.92 | -0.93 | -0.9 | -0.87 | -0.87 | -0.83 | -0.82 | -0.83 |
The market has been telling us that even though the spot price is low right now, oil should be much higher in the future, but the trend is reversing. I explained some of the bullish supporting factors such as consistent inventory draws and shrinking domestic production (read Oil Outlook Deteriorated), and they are misleading; but of course the market only wanted to focus on the positives while ignoring reports of higher rig count week after week and the incentives of international producers to pump more.
Lower long-term futures prices could mean that investors are finally coming to terms with the poor fundamentals supporting a bull thesis. This does not necessarily mean that oil will nosedive (summer driving season), but it does suggest that the market is more willing to accept lower prices as the new norm. The pressure on long-term futures may have come from hedgers rushing in to secure hedges (a great idea in my opinion), or from speculators who have finally conceded that a bull thesis will not become reality. The source of selling is not important, as lower future prices will have important implications for oil producers nonetheless.
We have been seeing rising rig counts week after week. This is no coincidence, as companies are struggling to keep production above water as the result of the natural decline of producing wells. With DUC inventory going down as well, companies must consider drilling more to bringing production back up in the future to pay the bills. Last week we saw a sustained rise in domestic production. It was rather muted, but positive at 9 Mbbl/day. I can't say for certain that this is the inflection point towards rising production, but if we buy into the idea that producers are no longer confident about future prices, isn't the logical idea that they will do all they can to extract value (i.e. pump as much as they can, as quickly as possible)? This will of course contribute to keep oil lower for longer.
Takeaway
I believe that the futures market is reacting in such a way that points to a change in sentiment regarding oil's long-run potential. If producers start to accept that prices won't be going higher any time soon, they will be more inclined to accelerate production, which will only serve to depress the oil price even longer. Rising production and rig counts are the prelude, investors should pay close attention to how producers react over the coming weeks. If rig count and production continue to increase despite lower oil prices, more trouble could be ahead.
Click the "Follow" button beside my name on the top of the page to be updated with my latest insights. To learn more about the V20 Portfolio, whose goal is to compound capital at 20% over the long term, I encourage you to read the introduction to my investment process. Premium subscribers get full access to the V20 Portfolio.
Disclosure: I/we have no positions in any stocks mentioned, and no plans to initiate any positions within the next 72 hours.
I wrote this article myself, and it expresses my own opinions. I am not receiving compensation for it (other than from Seeking Alpha). I have no business relationship with any company whose stock is mentioned in this article.