Overview
Snyder's-Lance (LNCE), headquartered in Charlotte, NC, is an international manufacturer of snack foods. Their core legacy brands include Snyder's of Hanover, Lance, Cape Cod, Snack Factory Pretzel Crisps, and Late July, while additional brands include Tom's, Archway, Jays, Stella Doro, EatSmart, Krunchers and O-Ke-Doke. The recent acquisition of Diamond Brands adds the following to LNCE's portfolio: Kettle Brand, Emerald, Pop-Secret, and Diamond of California.
There is a bevy of competition within the Package Foods industry (Kraft Heinz (KHC), Mondelez (MDLZ), Kellogg (K), ConAgra (CAG), McCormick & Co. (MKC), Tyson (TSN), and others), but Snyder's-Lance has demonstrated a targeted focus to cater to the snacking consumer.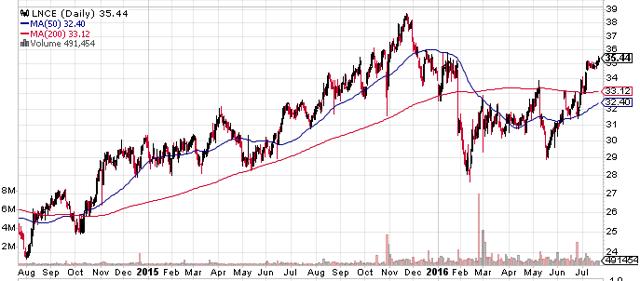 Diamond Brands Acquisition
The company announced plans for a $1.28 billion buyout of Diamond Brands on the morning of October 28, 2015. Shareholders initially expressed hesitation in the viability of this deal due to Diamond Brands stagnating sales, a recent $5 million accounting settlement, and the $640 million of debt that would be added to LNCE's balance sheet.
The deal closed on February 29, 2016 for a total size of $1.938 billion, representing a 17.9x EV/EBITDA multiple. Although this multiple ranged considerably higher than the 2015 average for food & beverage multiples (13.4x EBITDA), the targeted (snacking) consumer for which the acquisition pertains to justifies the premium paid for Diamond Brands.
The main reasons for this deal is to expand the LNCE footprint into the better-for-you (BFY) snacking category and increase their natural food channel presence. Management also expects the acquisition to expand and strengthen their national distribution network, and provide them with a platform for growth in the UK and Europe. These latter reasons for the acquisition could easily be understated due to LNCE's direct-store-delivery network handles all partner brand sales, accounting for 20% of 2015 net revenue.
Also, as Ken Shea of Bloomberg Intelligence recognizes, additional products help a company gain influence with supermarkets and more pricing power. The acquisition is expected to create $75 million in annual cost synergies, and revenue synergies are based around four key drivers:
Geography - leveraging each individual brand's core market.
Channels - as mentioned above, leveraging an extended portfolio to increase influence with retailers.
Categories - expand product offering by leveraging category reach and innovation.
E-commerce - extend current presence and scale.
LNCE has already secured incremental placements with a national retailer due to a strengthened BFY portfolio.
Stagnating sales of a prospective acquire is concerning as a standalone metric, but if the product portfolio is in an expanding category, and the acquiring company has a committed distribution network and committed brand reinvestment ($10 million of the synergies), historic sales of a standalone company don't convey well-rounded revenue projections.
Snacking/BFY snacks
Snacking within the U.S. has exhibited 38.8% growth in the past ten years (approx. $34.2 billion in 2005 to $47.5 billion in 2015); currently, 94% of adult's snack at least once per day, while 50% snack 2-3 times per day. Millennials lead the forefront in the snacking trend, and are much more likely to snack than previous generations while focusing on organic/all-natural snacks that provide additional energy and nutrition. And the trend for Better-for-You snacking has just begun - 60% of those who snack wish there were more health-oriented snack options.
For LNCE, 29% of 2015 revenue came from products considered to be in the BFY category. This is expected to increase to 32% due to the Diamond acquisition, and will increase further as it remains a focal point to growth. Snyder's-Lance demonstrated prudent foresight in the Diamond Brands acquisition, as it broadens their BFY snacking portfolio at a time when the general trend doesn't show any slowing down.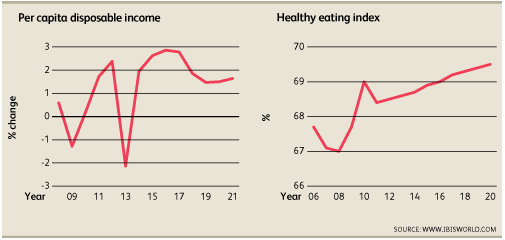 Healthy eating is generally more expensive than the alternative, meaning per capita disposable income is a significant indicator for BFY growth. The healthy eating index is a measure of diet quality based on USDA guidance. Basically, the higher the percentage, the healthier average dietary patterns. This upward trend shows that there is rising demand in a snack category that is already lacking in variety and options. Snyder's-Lance understands these trends, and has shown their focus on health snacking through acquisitions like Babtista's Bakery, Late July, and Diamond Foods.
Margins
In the Q1 earnings call, CFO Rick Puckett (who will retire at the end of 2016) highlighted the improved operating margin, increasing 260 bps from Q1 2015; this came from SG&A cost controls and decreased medical expenses. Gross margin declined slightly due to trade spend, which is understandable, as LNCE has stated the need to increase promotion and help reinvigorate brands.
They have even projected advertising and promotional spend to increase $.11 to $.12. per share. LNCE gross margin has remained steady at 35.7% in 2014, and 35% in 2015, and is expected to be in the range of 36% to 37% for FY2016. In reference to the food products industry (see below), Snyder's-Lance has been able to operate at a lower cost of goods than their peers.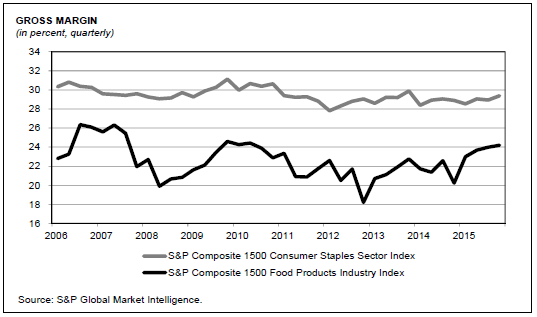 But what should be of concern is whether maintaining a gross margin around 35% is sustainable as LNCE increases portfolio exposure into the BFY category. Anecdotally, most higher quality, all-natural foods are more expensive, and pre-acquisition Diamond Foods operated with much lower gross margins: 26.4% (2015), 24.1% (2014), and 23.8% (2013).
I am confident that Snyder's-Lance will succeed in increasing their footprint with healthier snacks, it just may be with slightly higher costs.
Supporting Documents
Disclosure: I/we have no positions in any stocks mentioned, but may initiate a long position in LNCE over the next 72 hours.
I wrote this article myself, and it expresses my own opinions. I am not receiving compensation for it (other than from Seeking Alpha). I have no business relationship with any company whose stock is mentioned in this article.