Central Federal Corporation (NASDAQ:CFBK) is a savings and loan bank located in the state of Ohio. The bank has $353,351,000 in assets, $292,434,000 in deposits, $300,479,000 in loans and $27,779,000 in cash and cash equivalents. In the most recent quarter, the bank had $1,228,000 in non-performing assets and noncurrent loans to loans equated to 0.47% of total loans. You can view a more in-depth overview of the bank's historical assets, loans, equity and net income growth here.
A Turnaround No One Is Paying Attention Too
Back in 2011, recommending CFBK as an attractive buy opportunity would have been ill-advised. The company had 6.22% in noncurrent real estate loans and 5.21% of total loans classified as noncurrent. Furthermore, 8,301,000 of the bank's assets were in nonaccrual status, just a little shy of the $11,159,000 in 2009. Finally, the company was issued a "Cease and Desist" order, putting a significant amount of constraint on the bank, forcing it to criticize assets, meet growth expectations, comply with deposit restrictions, and forced injunctions on dividends and repurchases.
However, by late 2012, the bank sold 15 million shares of common stock, netting the company a quick $22.5 million. With the equity sale proceeds, CFBK used $13.5 million to improve capital ratios, bringing the company into compliance with the "Cease and Desist" order. With the rest of the capital raise, the bank redeemed its TARP obligations.
By May 20th, 2014, the Federal Reserve terminated CFBK's "Cease and Desist" order. Despite the fact that the order was terminated, the termination required the company to submit a capital plan, eliminate all dividends, abolish stock repurchases and any other likewise capital distributions needed for regulatory approval. The CEO, Timothy O'Dell, stated the following post order termination:
"The lifting of the order reflects the improved performance and capital position of CFBank, for which the company serves as a source of strength. We maintain a good working relationship with the FRB and will continue to work closely with them as we continue to strengthen and enhance our performance going forward. This is an exciting time for CFBank. During the past 18 months our team has worked diligently to improve credit quality, and reposition CFBank."
Finally, on January 8th, 2016, the commitments put in place by the Federal Reserve (regulatory approval before any capital distribution) was lifted.
John Leonard, CFA, wrote the only article I could find on CFBK, which was quite compelling, back in late 2014 - you can find the article here. Leonard's thesis was based upon the ongoing turnaround, top- and bottom-line improvements, and a TBV discount to local peers. I compiled a few statistics from Leonard's article and compared them with the same statistics today:

Based upon the table above, we can conclude that CFBK's metrics have dramatically improved while the valuation on a P/TBV has stayed almost the same. Furthermore, the fall-down in NPL/Total loans suggests underwriting practices have dramatically improved while the drop in the efficiency ratio alludes to better cost containment. Additionally, net interest income has increased ~30%, due to a ~20% increase in deposits and a 21% increase in loans. Finally, ROE increased 294 bps while P/TBV has fallen to 0.85x.
Given the notable improvements, one would think the market would value the company in an upward fashion. Interestingly, since Leonard's report, the stock price has fallen -5.00%. Even more interesting, since the precipitous decline, initiated in 2004-2005, the market has forgotten about this security, classifying it as a "left-for-dead" stock.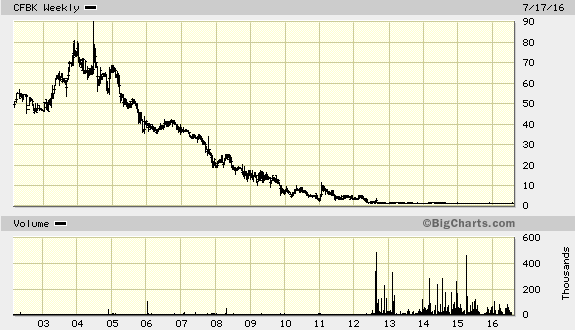 Valuation: Not As Attractive As It Would Seem, Yet Value Can Be Mined
What should be asked is if CFBK is at extreme valuation levels or if the market is right in its current valuation. Based upon Yahoo Finance's Key Statistics, CFBK appears to be sitting in extreme valuation territory - P/E of 6.73x and P/B of 0.57x. Even though Yahoo Finance's "valuation" of CFBK puts the company in extreme valuation territory, the metrics on Yahoo Finance are inherently wrong.
Yahoo Finance does not take into account the dilutive effect of the Series B Preferred stock and the attached warrants that come with it. There are 480,000 Series B Preferred outstanding, which have a conversion rate of 14.29. If 100% wholly converted, we arrive at a dilution impact of 6,859,200 shares. Furthermore, the total warrant dilution increases the common by another 1,152,125. All in all, CFBK has total dilutive shares outstanding of 24,035,535. At a current share price of $1.36/share, CFBK has a market cap of $32,688,327, not the $21,790,000 shown on Yahoo Finance.
With a market cap of $32,688,327 and an equity value of $38,540,000, we arrive at a P/TBV of 0.848x.
In regards to the P/E ratio, Yahoo Finance is using earnings of $3,690,000 in the calculation of the dominator value of the P/E ratio. This is also an inherently wrong figure to use, skewing the P/E ratio in downward fashion.
The reason why the net earnings of $3,690,000 are improper to use is due to the high amount of one-time charges associated with these earnings. Furthermore, CFBK utilized a deferred tax reversal of $3,193,000 in 2015, which pushed earnings for common holders up to $3,620,000. Without the deferred tax reversal, earnings would have been a measly $427,000, putting the 2015 P/E ratio at a high 78.24x.
Given the information above, CFBK is not as attractive as initially perceived. But is the current valuation attractive for the bank investor? That's a tough nut to crack, but let's attempt the crack.
Based upon the recent quarterly results, the company brought in income before income taxes of $466,000 or an 85.65% increase YOY. Pretty impressive if you ask me. However, the company paid its first income tax expense in years of $150,000, pushing net income down to $316,000 from $251,000 YOY - still a 25.89% increase. Finally, the company paid out $214,000 in preferred dividends on the Series B, pushing net income attributable to common stockholders to $102,000 from $37,000 YOY - or a 175% jump YOY.
Going forward, the company will continue to pay income tax expenses - even though it is estimated that it can utilize $163,000 in NOLs per year. Income tax expenses will eat into the bottom line, giving the company less valuable forward looking discounted cash flow valuation. Furthermore, the company will continue to pay $214,000 in dividends on the Series B per quarter or $856,000 per year. The Series B dividend is the biggest "destroyer" of value, which ate into 67% of the net income available to common holders.
Even if the company does $800,000 in net income attributable to common stockholders for the full year of 2016 (which would be an 87% growth rate from 2015's results), at the current market cap, we arrive at a P/E ratio of 41.76x. This is fundamentally too expensive for a bank growing its net interest income at a 9.44% rate (mrq growth).
Management did announce a stock repurchase plan to buy back 3% of the common stock in the next 180 days. There were no specifications on if the 3% planned buy is on the ~16 million "reported" outstanding or the ~24 million fully-diluted outstanding. If based on the 16 million, the company would buy 480,726 shares. Fully diluted, the company buys back 721,066 shares. Assuming the company buys back 480,726 shares, this brings the shares outstanding down to 23,544,809, or a market cap of 32,034,539. Based upon the current equity value, this leaves us with a forward-looking P/TBV of 0.83x.
I would much rather see the company retire the value-destroying Series B Preferreds and their attached warrants. Retiring these would not only lower the fully-diluted share count, but would also give the common holders more net income at the end of the day. I guess when the majority of the Series B Preferred is held by executives and directors, common holders will get the "butt-end" of the stick.
However, when looking at CFBK from a relative perspective, we can easily note that the company is undervalued to its local peers on a P/TBV basis: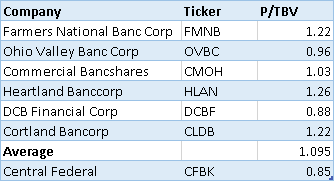 An upside to the peer P/TBV would give the company a quick 28.8% upside.
Given that there is rampant consolidation in the industry, a larger bank could step in, take control of CFBK, eliminate the Series B Preferred, cut out corporate G&A and initially realize a large improvement in earnings. There was a great article written by Evan Weese of Columbus Business First called Ohio Banks Ripe For Acquisition, Investment Bank Says, which should be read in correlation to my article.
The reason why Ohio is likely to see more acquisitions is due to the high volume of lenders, which a good majority are small and undervalued. Moreover, Ohio has more small banks (constituted of assets less than $10 billion) than Indiana, Kentucky, Michigan, Minnesota and Wisconsin. The article further states that the median price-to-tangible book multiple for Ohio banks with assets between $500 million and $15 billion is 112%. Furthermore, deals in Ohio have been ranging at 130% P/TBV. This is much higher than CFBK's P/TBV, suggesting the bank has attractive upside on a takeover perspective.
Richard Hunt, the president and CEO of Consumer Bankers Association, stated the following:
"All eyes in the banking world will be on Ohio in the next several months. People will be waiting to make sure Ohio's two big deals get approved by regulators."
A few banks that could be making accretive acquisitions in the coming months are S&T Bancorp (NASDAQ:STBA), First Commonwealth Financial (NYSE:FCF), Citizens (NYSE:CFG) and Park National Bank of Newark (NYSEMKT:PRK).
STBA has $6,479,162 in assets and has a loan office in Akron, yet no other local branches locally. Buying a small community bank like CFBK would immediately be accretive to earnings and also give the bank four new locations to grow its deposit share.
FCF has $6,699,154 in assets and branches in Chillicothe and Marietta, Ohio. It has had a weak bottom-line growth in the past few years, which could bode for an acquisition. A small bolt-on acquisition could help improve its bottom-line growth and give the bank a better foothold in the state.
Citizens Financial Group bought Charter One Financial back in 2004. The acquisition gave the company access to the Ohio, Michigan, Illinois, Indiana, New York and Vermont markets. The purchase made it one of the largest holding companies in the nation. Moreover, Citizens may continue to clean up the Ohio market, performing bolt-on acquisitions of community banks such as CFBK.
Finally, Park National Bank of Newark has $7,210,199 in assets, an efficiency ratio of 55.61%, ROE of 15.16 and ROA of 1.19%. The bank is also well capitalized and growing at fast pace. The bank has had a significant amount of success doing acquisitions and may do more in the years ahead given its performance metrics: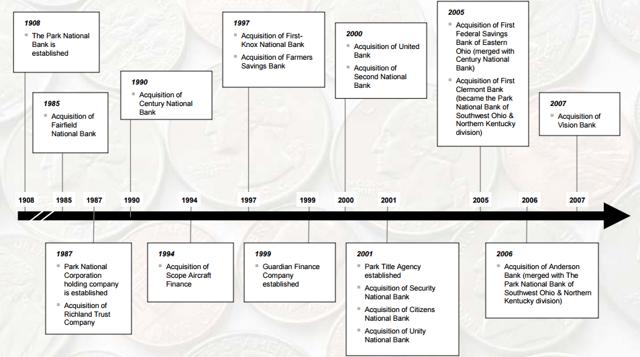 Source: Park National IR Report
I believe that CFBK would make for a good acquisition target given its discount to TBV, its absolute small size and improvements an acquirer could make by ridding the awful share structure right away. Furthermore, an acquirer would eliminate $322,491 in director compensation and $1,564,026 in executive compensation immediately.

Source: Recent Proxy

Source: Recent Proxy
An elimination of the director and executive compensation expense would give an acquirer an immediate $1,886,520 in savings. Furthermore, if the company does $800,000 in net earnings attributed to common holders for FY-2016 and adding the $1,886,520 in savings would give the company a net income of $2,686,520 or a forward looking P/E of 11.92x, which isn't all that bad. In reality, buying CFBK with a P/TBV of 0.85x and an immediate savings of $1,886,520 makes for a compelling case, and I am sure someone will spot the value sooner or later.
Conclusion
CFBK is one of the most interesting community banks that I have analyzed thus far. The company has transitioned through a turnaround, improved all profitability metrics and yet still trades around the same valuation as it did during the "Cease and Desist" time period. Given that the market has left this security for dead, I believe there is limited downside and upside that has not been recognized. Furthermore, the market has not repriced this security from a worst-case scenario to a more hopeful scenario. Moreover, the market is saying the company is worth less than its tangible book value, and all growth going forward has zero value.
If the market does not reprice this security on a more normalized valuation basis, I believe the bank would make for a great takeover target. A larger bank could swoop in, immediately cut minuscule costs and own four new branches that have experienced loan growth. Furthermore, just cutting executive and director compensation would give an acquirer an immediate ~$1.88 million in savings, cutting the forward looking P/E ratio down to value territory.
Overall, I believe that the majority of the non-systematic risk is eliminated and green pastures are on the horizon for CFBK.
Disclosure: I/we have no positions in any stocks mentioned, and no plans to initiate any positions within the next 72 hours.
I wrote this article myself, and it expresses my own opinions. I am not receiving compensation for it (other than from Seeking Alpha). I have no business relationship with any company whose stock is mentioned in this article.
Editor's Note: This article covers one or more stocks trading at less than $1 per share and/or with less than a $100 million market cap. Please be aware of the risks associated with these stocks.