Coffee like many other commodities looks like it might have formed a bottom earlier this year. For the year, Arabica coffee is up over 14% and is currently up over 27% from its most recent low at the current price of $1.426/lb. Arabica coffee trades on the ICE exchange under the symbol KC. Those investors that don't have a futures account can invest in coffee through the iPath Dow Jones-UBS Coffee Subindex Total Return ETN (NYSEARCA:JO). The recent price for JO is $21.45/share as shown on the chart below.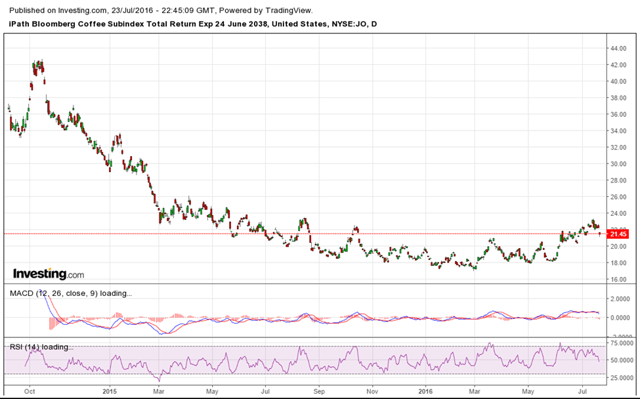 Source: Investing.com
Tighter Supply Demand Balance
World coffee production for 2016/17 has been estimated to increase over 2,400,000 bags over last year to 155.7 million bags. There has been good growth in consumption since 2013, increasing over 1.8% per year. China demand alone, which is currently relatively small, is expected to grow over 50% from 2014/2015 levels. Production, which dropped in 2014/15, has gained momentum again and is running ahead of demand. We will keep a close eye on this production/consumption gap since it has the potential to send the coffee price much higher. This year was saved only by near record Brazilian Arabica production increase of nearly 7.75 million bags. Next year it is estimated that consumption will match this year's production. If there are any production problems at all out of Brazil, production will be below consumption and ending stocks will continue lower.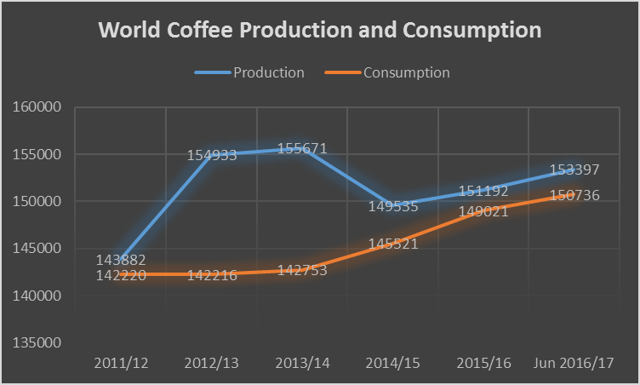 Source: USDA
The green coffee ending stocks saw its first decrease in 4 years in 2015/16. That decrease is expected to continue despite record Arabica production out of Brazil. This will put pressure on prices given any production disruption. Robusta is looking for declines in production from its top 5 producing counties, Vietnam, Brazil, Indonesia, India, and Uganda.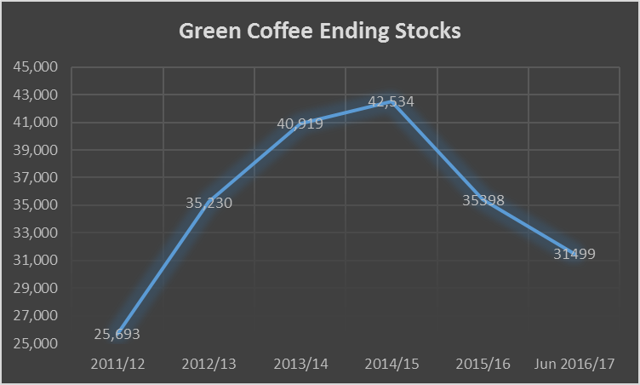 Source: USDA
Brazil is the driving force in the coffee world, producing over 1/3 of the world's coffee. Brazil is #1 in Arabica coffee production and #2 in Robusta coffee production. Brazil coffee is really the tale of two coffees this year. They are looking at near record Arabica production on improved yields. At the same time, Brazil is looking for reduced Robusta production due to above-average temperatures and prolonged dry spells in Espirito Santo, where most of the Robusta is grown.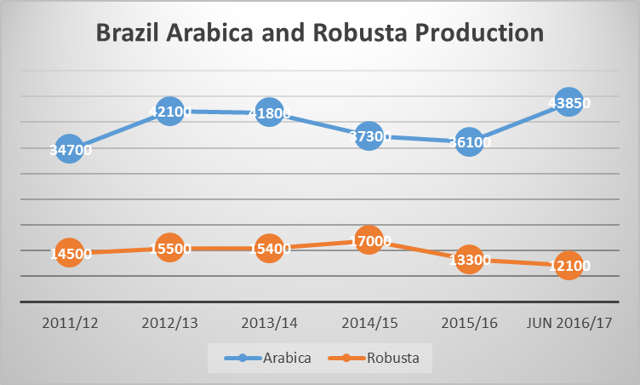 Source: USDA
The other major factor driving up Arabica prices was a 45-day truckers strike in Colombia, the #2 Arabica producer. Colombia is a mountainous country and the vast majority of products are shipped by truck. The truckers strike significantly slowed down exports from Colombia also pressuring the price of the Arabica coffee. The good news is the strike just ended Friday which is one of the reason the coffee price fell over 3% (4.74 cents) in Friday's session. Even though the strike is over, it is expected to take over 1 month before shipments return to normal.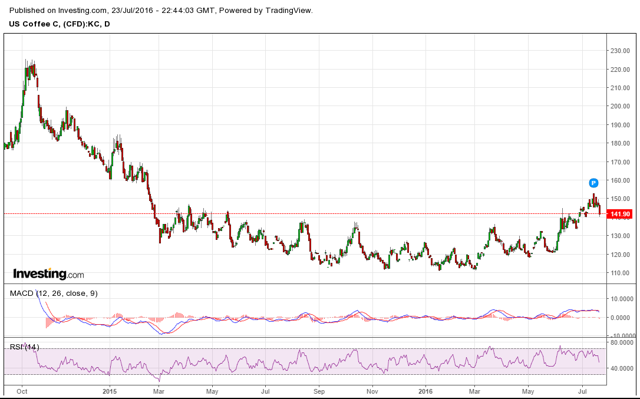 Source: Investing.com
The coffee forward curve remains in a healthy contango. That is the price of deferred futures contracts trade at higher prices than near-term futures contracts. This tends to indicate the market is adequately supplied at the moment.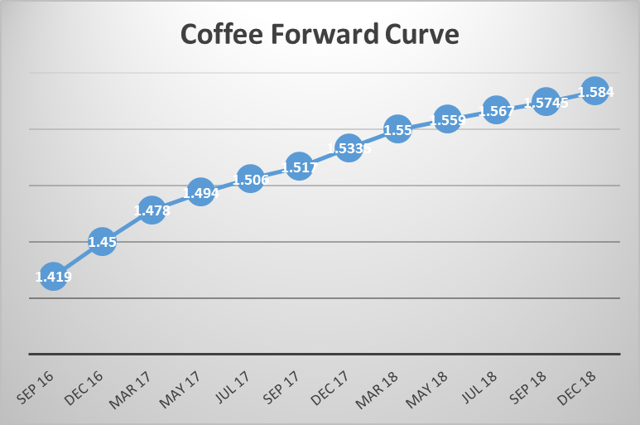 Source: Investing.com
In my prior article, Almost Time for a Cup of JO, I pointed out the inverse relationship of coffee prices to Starbucks' (NASDAQ:SBUX) share price. You can expect any significant rise in the price of coffee to produce some headwinds for Starbucks. Other US coffee outlets such as Dunkin' Brands (NASDAQ:DNKN) and McDonald's (NYSE:MCD) are not directly impacted by changes in coffee prices. For Dunkin', it's the individual franchisees that are impacted by rising prices. Coffee doesn't appear to be a significant enough portion of McDonald's business to warrant a risk warning in its annual report.
Coffee Outlook for the remainder of 2016
I am watching the coffee prices with a close eye. Coffee has sold off hard Friday with the end of the truckers' strike. I would not be surprised if profit taking ensues and the selling continues in the short term. One thing you always get with coffee is volatility so this is not for the faint of heart. I think coffee prices should be higher by the end of the year as estimates start to come in for 2017/2018. At current growth rates, consumption next year should match production this year. This means any production worries should send the expected supply/demand balance negative leading to higher prices.
Cocoa Outlook
Cocoa had a wild ride on Friday. The US cocoa contract had nearly a 100 point range between a high of 2,948 and a low of 2,849 before closing slightly higher at 2,886. US cocoa has been range bound throughout 2016 trading from the lows 2,750-2,850 to the high end of the range near 3,200. In fact, the cocoa price has made the journey from low to high 3 times already in 2016 and we are currently near the low end of the range again. Those that don't have a futures account can trade the iPath Dow Jones-UBS Cocoa Total Return Sub-Index ETN (NYSEARCA: NIB).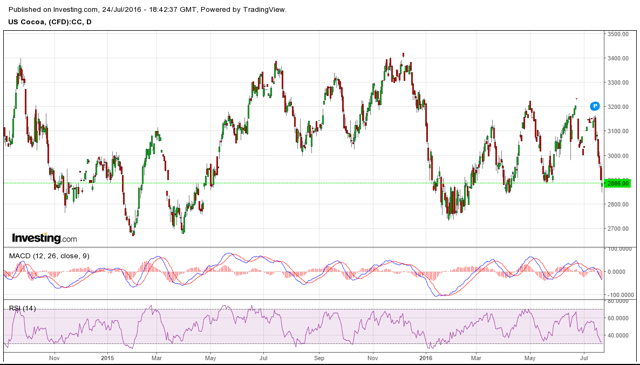 Source: Investing.com
Below you can see the price of the NIB ETN currently trading at $36.53. This closely follows the price of the US cocoa futures. 3 times this year already we have seen the price of NIB rise over 10% trading from near the $36.50 range to near the $40 range only to fall back again.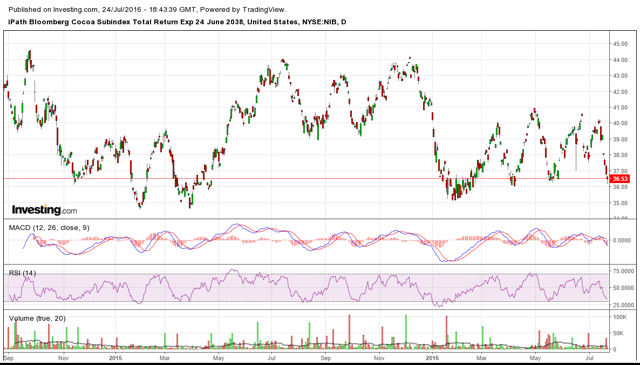 Source: Investing.com
There is a backwardation of the forward curve in cocoa. This means the deferred futures are trading at lower prices than nearby futures. Since the price in subsequent months are cheaper than nearby months, this is a market mechanism to say that market wants beans delivered now. The steeper the backwardation the greater the demand from the market. This is generally supportive of prices.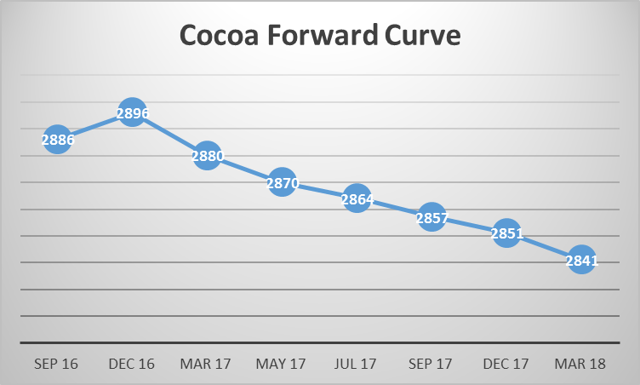 Source: Investing.com
Cocoa was the best performing soft commodity in 2015, rising over 14%. It's not uncommon to find the best performer one year turns into the worst performer the following year. We see that with cocoa. Cocoa is the worst performing soft commodity this year with only a 5% rise.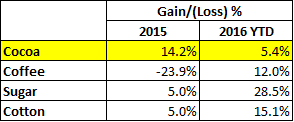 BREXIT Effect
London cocoa is one of the few commodities that are traded in Pound Sterling (GBP). Therefore, when the Brexit vote was official and the GBP fell against most other major currencies, the price of London cocoa shot higher.
Looking at the chart of London cocoa, we see generally rising prices since the 2012 low. The bull side would explain this as a longer term supply/demand imbalance in the cocoa markets. That the supply/demand ratios are very tight and the world longer term is running out of cocoa to meet the demand. Therefore, supportive of the higher prices. The bear side argues though that may be true, there has been a tremendous sell off in the price of all other commodities in the past 2 years. Cocoa has not yet joined in the selloff and therefore is really overdue for lower prices. The bear side thinks that even though higher prices may be inevitable longer term, they should begin from a lower starting price.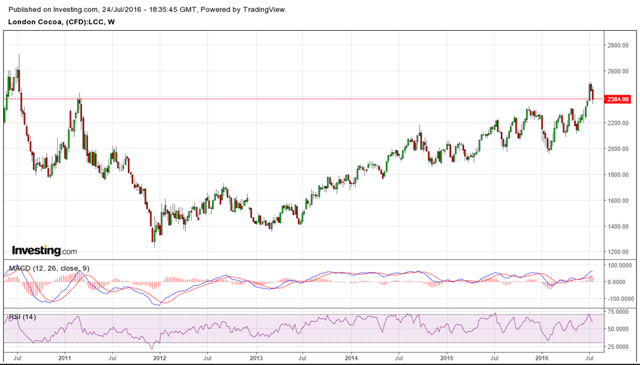 Source: Investing.com
There remains a spread between the US and London cocoa. Last year, the spread averaged $135. Currently, the spread is $100 higher near $239. As seen from the chart below, this spread is near the top of its 2-year range. We expect this spread to tighten, unfortunately we don't know if it's because the US cocoa price moves, London cocoa price moves, or both.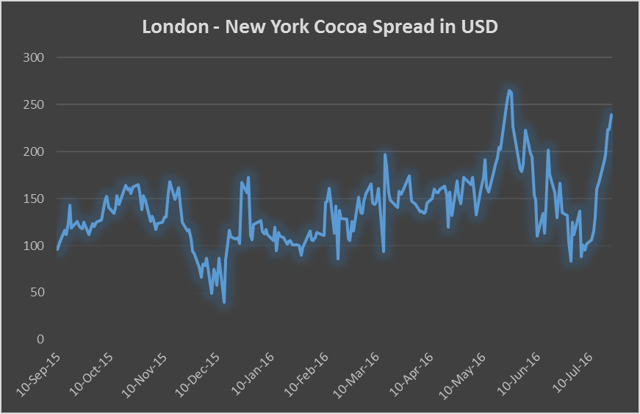 Source: Investing.com
West Africa Harvest
West Africa is the largest cocoa production region in the world, with more than 60% of all cocoa produced in this part of the world. When the Ebola scare came a few years back, it sent the cocoa price higher because of fears of how that would impact the cocoa trade.
Cocoa has two annual harvest seasons in West Africa and we are currently in what is known as the "mid-crop" season. The mid-crop is the smaller of the two harvests and the beans are generally smaller, below export quality. Therefore, most of the mid-crop harvest is generally directed to domestic grind.
The market continues to report of reduced arrivals from the Ivory Coast. This adds to the market worry of another deficit supply year generally supportive of prices.
Cocoa Grind
Cocoa beans are ground into cocoa butter and cocoa powder at a processing plant. Agrimoney reported strong cocoa grind from both North America and Europe. North American cocoa processing rose 3.4% year over year to their highest level in almost two years. European cocoa grind was up 4.9% year over year.
Normally, this is very supportive of price because the market uses grind as a proxy for demand. However, this year it is believed that some processors are moving production from producing countries to consuming countries to save some money.
In any case, world cocoa stocks remain low and there has been some talk of the world running out of chocolate in the coming decades. The rise of chocolate consumption in China is helping to fuel the demand story. As all things with China goes, this story should be long-term supportive of higher cocoa prices.
Cocoa Outlook for the remainder of 2016
I think the reduced arrivals from the mid-crop harvest will add uncertainty to how well the main harvest is progressing. I think this uncertainty coupled with any perceived weather issues in West Africa will be supportive of higher prices by the end of the year. However, from a technical perspective, I am keeping a close eye on price action. The US cocoa is now testing the $2,850 level for the third time this year. If it were to break through this level and the support at $2,750 failed, you could see cocoa prices drop to the 2012 lows near $2,000.
Disclosure: I am/we are long "JO", "NIB".
I wrote this article myself, and it expresses my own opinions. I am not receiving compensation for it (other than from Seeking Alpha). I have no business relationship with any company whose stock is mentioned in this article.
Additional disclosure: The information contained in this article is taken from sources believed to be reliable, but is not guaranteed by AgTrades, LLC, nor any affiliates, as to accuracy or completeness, and is intended for purposes of information and education only. Nothing herein should be considered as a solicitation to trade commodities, equities, or a trade recommendation by AgTrades, LLC. Futures, equities, and options trading involves the risk of loss. Past performance is not indicative of future results.