Say hello to La Nina. After a bit of wrestling in June, sea surface temperatures in the central Pacific finally fell and stayed below -0.5 Celsius.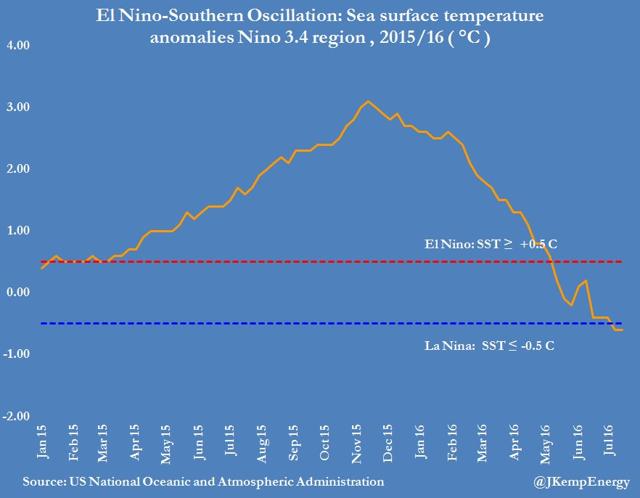 The continuation and strength of the La Nina will have major impacts throughout the world. This is particularly important for the natural gas market as a La Nina event will tend to boost winter heating demand. Given that last year's winter was one of the hottest on record, we should see heating demand meaningfully improve this winter.
There are some commentators out there who believe the current La Nina won't last very long, and that we might experience a weak La Nina over the winter. A weak La Nina tends to make winters colder than normal, so this has the potential to increase heating demand by an additional 10 Bcf/d. We continue to monitor the weather forecasts out there and will update readers right away.
Injection forecasts for this week's release were revised lower across the board. We've seen the average injection estimate move lower by 5 Bcf. We will publish our final estimate on July 26. For the week of July 29, we expect to see injection figures as low as +1 Bcf. One firm we follow, Geckoi Capital, actually thinks we could see a draw for that week, which would shatter the five-year minimum.
Natural gas (NYSEARCA:UNG) prices, however, sold off across the board as August injection figures came in way higher than expected.

Current injection forecasts for mid-August came in the 50s, and that's not bullish at all. In order for prices to rally over $3, we need much lower injections. We are still weeks away, and these injection forecasts could change, so we will update readers as we move closer to August.
Eight- to 14-Day Outlook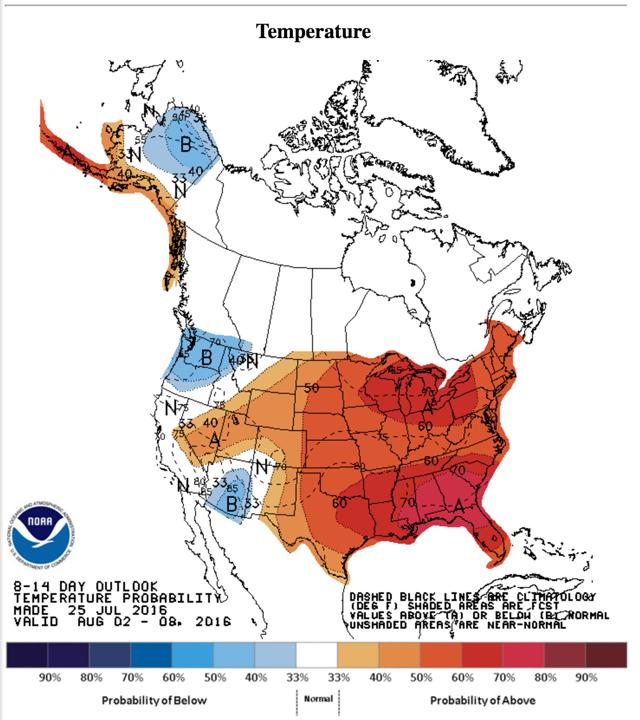 Natural Gas Prices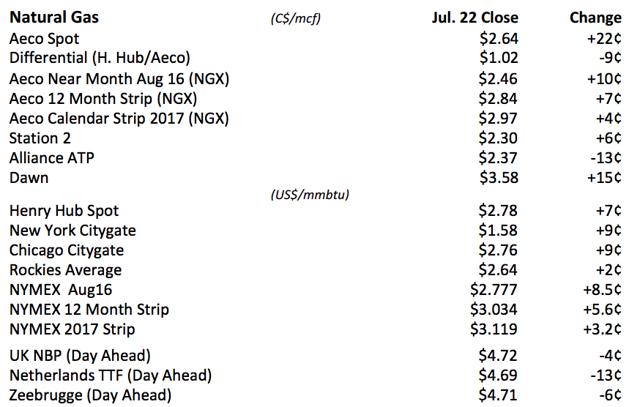 Thank you for reading our Natural Gas Daily article. If you want to read more of our articles, please be sure to hit the "Follow" button above. We also write a weekly HFI portfolio update for premium subscribers. You can read a sample weekly update here and view our delayed one-month portfolio update here. We hope you can join the HFI community.
Disclosure: I/we have no positions in any stocks mentioned, and no plans to initiate any positions within the next 72 hours.
I wrote this article myself, and it expresses my own opinions. I am not receiving compensation for it (other than from Seeking Alpha). I have no business relationship with any company whose stock is mentioned in this article.