One of the bears' thesis on the oil market is that Libya's oil ports would reopen and spike by 200k+ b/d. This would then add to the immediate storage glut, further weakening prices.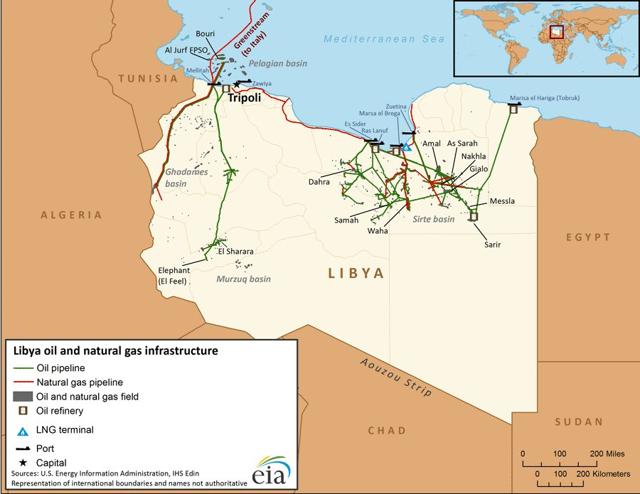 Libya's second- (Es Sider) and third-largest (Ras Lanuf) oil ports were supposed to open within three days after the Tripoli-based Presidential Council agreed to pay salaries to the Petroleum Facilities Guard members at the port. The reopening was delayed, however, as National Oil Corp.'s Chairman Mustafa Sanalla said in a letter to UN Special Representative Martin Kobler that paying security guards at the ports could invite extortion by militias. The oil ports have been closed since 2014.
In the letter, Mustafa said that Ibrahim al-Jedran, the Petroleum Facilities Guard commander, wants unpaid salaries for his members and a one-time lump sum for reopening the ports. This potential arm-twisting could escalate into other types of payments down the road, which would further threaten the stability of Libya's oil production.
Similar to Nigeria, Libya's conflicts have reduced oil production from 1.6 million b/d in 2011 down to 320k b/d today. The lack of unity and the potential for more extortion should have most market participants discount any incoming crude out of Libya, but that's certainly not the case.
As we approach peak gasoline demand, refineries will soon enter maintenance season leading to materially lower demand. Traders are afraid that a prolonged maintenance season could further build storage levels leading to lower crude oil prices. Despite positive news out of Libya that exports will be delayed and Nigeria exports falling thanks to the NDA, the oil markets remain weak.

We think the Libya and Nigeria situation won't improve anytime soon. However, the market will have to work its way out of the refinery maintenance season. What do you think about the Libya situation? Let us know in the comment section below!
Thank you for reading our Oil Markets Daily. If you want to read more of our articles, please be sure to hit the "Follow" button above. We also write a weekly HFI portfolio update for premium subscribers. You can read a sample weekly update here and view our delayed one-month portfolio update here. We hope you can join the HFI community.
Disclosure: I/we have no positions in any stocks mentioned, and no plans to initiate any positions within the next 72 hours.
I wrote this article myself, and it expresses my own opinions. I am not receiving compensation for it (other than from Seeking Alpha). I have no business relationship with any company whose stock is mentioned in this article.