"Smartwatch category and/or products will be discontinued from mainstream retail sales by 2018." There, I've said it. Never seen those words before have you? Maybe you have seen these however, "Keurig Kold will end badly for many." I guess what I'm attempting to offer is that if it is forecasted to be, it can become possible as I've generated predictive forecasts in the past for widely hyped products.
Several months ago, I offered the first mainstream and real visual aid on how poorly Apple's (NASDAQ:AAPL) Apple Watch had been selling.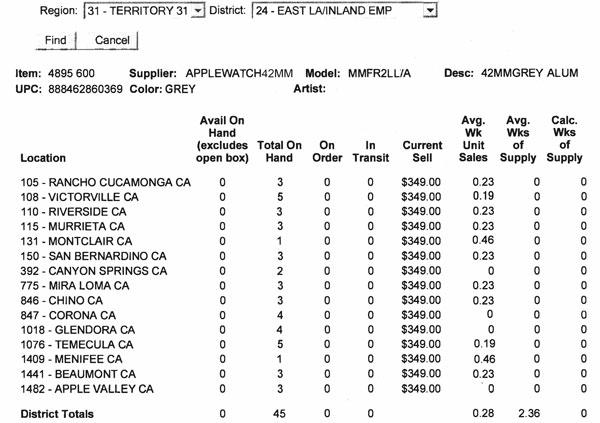 On March 4, I invited readers and investors alike to understand that the smartwatch concept was not ripe for longevity given the many obstacles the device faces. In the article, "Apple Watch Already A Lost Leader," I explained the issues with the Apple Watch and smartwatches in general. These published reports and general analysis all served to better inform readers and investors of the things to come for Apple Watch sales and the smartwatch category as a whole.
As we flash forward to July and prior to Apple reporting its Q3 2016 results, we come to find that IDC has recognized sales for Apple Watch have declined precipitously during Apple's Q3 2016 period. Apple's Q3 period correlates directly to IDC's Q2 period. In IDC's latest dissemination concerning smartwatch sales, the firm denotes that Apple Watch shipments/sell-in has declined by 55% during the period tracked. When Apple reports its sales data on a quarterly basis, the company only reports sell-in numbers, i.e. products shipped. Apple does not report, in accordance with SEC guidelines, sell-through results. However, if it chooses to do so, it can "tip its hat" with additional color surrounding sales on the quarterly conference calls. With this factual understanding of how Apple reports sales, IDC's data tracking is most reliable in terms of trend results. Furthermore, when positioned against my previously articulated and published sell-through declines for the Apple Watch, we come to recognize IDC's latest report is a "no-brainer." In other words, the sell-through results foreshadowed inevitable poor shipment results. From Apple Watch price cuts to poor sell-through results denoted by myself and a variety of other analysts, they meant what they always meant: The product simply is not selling well.
As the Apple Watch products finally came up against an anniversary date, the YOY estimated decline by IDC has proven that Apple has done a great job of loading retailers with an undesirable product and with the weight of a strong brand. Another way to put it is that Apple managed to leverage its strong brand cache to build a distribution channel for the Apple Watch, but the retailers couldn't manage to sell the product quickly enough to end users. This all results in smaller replenishment cycles and/or YOY shipments.
For the smartwatch category as a whole, the only growth that has ever come from the three-year old category has been by way of timing product shipments. Those product shipments have generally come by way of second-generation products and or new iterations being shipped. Regardless of which vendor we discuss in the smartwatch category, the sell-through has always been poor. IDC's Top Five smartwatch vendor list is noted below. The list finds my previous forecast in error, as I will explain.
Top Five Smartwatch Vendors, Shipments, Market Share and Year-Over-Year Growth, Q2 2016 (Units in Millions)

Vendor

Q2 '16 Unit

Shipments

Q2 '16 Market

Share

Q2 '15 Unit

Shipments

Q2 '15 Market

Share

Year-Over-

Year Growth

1. Apple

1.6

47%

3.6

72%

-55%

2. Samsung

0.6

16%

0.4

7%

51%

3. Lenovo

0.3

9%

0.2

3%

75%

4. LG Electronics

0.3

8%

0.2

4%

26%

5. Garmin

0.1

4%

0.1

2%

25%

Others

0.6

16%

0.6

11%

-1%

Total

3.5

100%

5.1

100%

-32%

Source: IDC Worldwide Quarterly Wearable Device Tracker, July 21, 2016
On May 27, I recognized IDC's Q1 smartwatch and wearables reporting as somewhat flawed due to the newly introduced Fitbit (NYSE:FIT) Blaze smart fitness watch device. In the first few weeks of the product's introduction, Fitbit sold over a million Blaze devices. Of course, when I say sold I do mean shipped. In my publication titled, "Apple Watch Positives Remain Few And Far Between," I offered the following forecast:
In short and come IDC's Q2 reporting period, the firm will likely update its vendor list to show Fitbit as either number 1 or number 2 with regards to top smartwatch vendors. Furthermore, what the grand takeaway from these general sales statistics is that we are talking about less than 4mm smartwatch units shipped. Can you imagine how long it would take to supplant or even draw even with smartphone sales? Numbers don't lie and the rate of adoption for smartwatches is just not there to achieve a status of "the next great thing" by any smartwatch manufacturer.
Since that issued forecast, which falls into the IDC Q2 tracking period, Fitbit has likely sold several hundred thousands if not another million Blaze devices worldwide. I offer this estimate given the broad international distribution network established by Fitbit and the development of its distribution in China. If forecasted accurately, Fitbit's Blaze would be expected to surpass the Apple Watch during IDC's latest reporting period. This has been my forecast since the Blaze was launched and I'm quite confident it has been achieved. Having said that, IDC has made a choice with regard to Fitbit and the Blaze product.
IDC has decided that the Blaze product does not fall into the smartwatch category. Their reasoning is as follows: "Data only includes smartwatches capable of running third party applications on the device itself. Examples include Apple Watch, Moto 360, Gear S2. Devices like the Fitbit Blaze and Withings Activité are excluded since IDC considers these as "Basic Wearables" that do not run third party applications." How convenient for IDC to eliminate Fitbit Blaze from its list of smartwatch vendors. In doing so, most obviously my previous forecast that would have found Fitbit to be the top selling smartwatch vendor will be unachievable. Given IDC's decision to eliminate the Blaze device from category recognition, I would be of the opinion that Fitbit will make an effort to disseminate its position in the smartwatch category when the company reports its Q2 2016 results in August.
IDC is generally proven to forecast product sales inaccurately and mostly by overshooting actual reported sales results by vendors. Like many firms, data tracking agencies and analysts, IDC often gets wrapped-up in the coolness and early adopter phase of product introduction. This phase is generally where the greatest velocity of sales is found to take place. With this in mind, I have previously offered that IDC will be found to continuously need to revise their lofty forecast for smartwatch and wearable sales. And it doesn't matter what time frame you utilize, they will all need to be revised by IDC. Here is what IDC offered in March with regards to wearable devices and smartwatches.
"FRAMINGHAM, Mass. March 17, 2016 - Worldwide shipments of wearable devices are expected to reach 110 million by the end of 2016 with 38.2% growth over the previous year. According to the International Data Corporation Worldwide Quarterly Wearable Device Tracker, an expanding lineup of vendors combined with fast-growing consumer awareness and demand will generate double-digit growth throughout the 2015-2020 forecast period, culminating in shipments of 237.1 million wearable devices in 2020.

"Although smartwatches like the Apple Watch or Android Wear devices capture the spotlight, they will only account for a quarter of all wearables in 2016 and will grow to about a third by 2020," said Jitesh Ubrani, Senior Research Analyst for IDC Mobile Device Trackers. "It's time to start thinking about smarter watches - traditional watches with some sort of fitness or sleep tracking but are unable to run apps-built by classic watch makers. These devices have the potential of making the technology invisible while still integrating themselves within day-to-day activities.
Now let's take a look at what IDC has offered when they updated their forecast in June of this year.
FRAMINGHAM, Mass. June 15, 2016 - Worldwide shipments of wearable devices are expected to reach 101.9 million units by the end of 2016, representing 29.0% growth over 2015. According to the International Data Corporation Worldwide Quarterly Wearable Device Tracker, the market for wearable devices will experience a compound annual growth rate (CAGR) of 20.3%, culminating in 213.6 million units shipped in 2020.
Notice how IDC has reduced their wearable device shipments heavily between the month of March and June. This reduction in estimates will worsen over time and with recognized sales reporting in the future. As I've always said, "IDC will have to reduce their estimates and enthusiasm for the wearables category." I hate being right about all the wrong things. But the worst is yet to come with regard to IDC's forecast that is delivered through erroneous analysis by Jitesh Urbrani, Senior Analyst for IDC Mobile Device Trackers. The worst will come by way of my forecasted discontinuation of mainstream retail smartwatch sales.
Apple Watch 1, 2, 3 or 4 and the advances in its core set of technologies won't make one iota of difference to sell-through of the device. Generally speaking, sell through gets better for useful devices that maintain or advance their intrinsic utility. A smartwatch lacks intrinsic utility other than to do what watches do tell time. As such, tethered or untethered, the Apple Watch or any other smartwatch is destined to fail because it simply lacks the greater utility found in the smartphone. As I've articulated in the past, the smartphone usurped sales of watches because of providing consumers with the greatest of utility in one device. Some of the most utilized functions of the smartphone are telecommunications, photography and gaming. Unfortunately, the smartwatch lacks these highly utilized functions, and even more unfortunately, there is little in the way of technology to address this issue, as the main problem is the form factor itself. A smartphone allows for the greatest of dexterity regarding a mobile, smart device. A smartwatch offers far less dexterity and it is for this reason that photography and gaming are virtually eliminated for usage through the smartwatch device. Apple and Samsung (OTC:SSNLF) can upgrade and add new features whichever way they desire to their respective smartwatches, but what they can't do is change the form factor. Logic dictates that the continued lack of utility of these devices will continue to breed worsening sales long term and until the products are ultimately discontinued.
But look at Samsung's latest results, Seth! While Samsung's latest smartwatch results seem great on the surface and on a YOY basis as reported by IDC, what they fail to recognize is that they have been nearly cut in half since the original launch of the Samsung Gear back in 2013. This is the clear and undeniable evidence that sell-through of the device has never equaled the level of sell-in. Not only is Samsung on its third attempt with the smartwatch, it is on its third attempt with declining sell-through results and with greater distribution of the product. The original Samsung Gear that launched in 2013 sold over 1 million units during the launch period. Even with more retailers selling the latest Samsung Gear S2 device, the numbers are nearly cut in half since 2013. If the product had greater utility, shouldn't sales continuously climb YOY? Retailers are not likely to give the company more than one more opportunity for the Samsung Gear smartwatch device. The Samsung Gear sell-through has been so poor that the company and its retail partners have issued the smartwatch for free with the purchase of the Samsung Galaxy S7 product line during the months of May, June and July. Retailers like AT&T (NYSE:T) are willing to do this in order to capture another wireline monthly charge and connection fee for the device. Samsung is far larger in size and scope than Apple and can afford to take losses for extended periods of time with a product as a strategy to impede Apple's sales if it desires to do so. In pushing the distribution and consumption of the Samsung Gear S2 smartwatch the way it has been over the last several months, it is likely taking aim directly at the Apple Watch.
When Apple launches its next iteration of the smartwatch, it would likely serve to boost sales for the device sequentially and possibly YOY. This is only because of greater distribution for the device and because of downward sloping sales that followed the launch of the first Apple Watch - it will not be because of strong sell-through. But not much of what the Apple Watch 2 will offer can achieve long-term sales growth, and as such, the product will likely find reduced orders from retailers in the future.
In previous publications, I outlined two specific reasons that the Apple Watch or any smartwatch would never disrupt the smartphone market. These articles also serve to identify why sales for smartwatches continue to fall and will eventually find the products discontinued. In the article, "Apple Watch Will Not Disrupt iPhone... Ever," I outlined how the Apple Watch can't provide optimal photography functions. In the article, "Apple Watch Will Not Disrupt iPhone…Ever Part 2", I outlined how the Apple Watch can't provide optimal gaming functions and how Apple best understands this through the billions of sales generated through the Apple app store in downloaded games. Within part 2 of this now concluded series concerning the Apple Watch, I also offered a third reason to outline as to why the smartwatch will never disrupt the smartphone market. So here it is folks… privacy in telecommunications.
This should have been the most obvious reason as to why the smartwatch, like mobile blue-tooth earpieces, will be discontinued by and large. The form factor of a smartwatch doesn't permit privacy during phone calls and for that, there is just no solution. For all the duplicated smartphone applications offered in a smartwatch, the most often used applications aren't optimized for use on the smartwatch, and with that easily recognized by consumers it's been extremely difficult to sell these things for retailers. When adding on the hefty price tag and necessary additional wire line charges to smartwatch devices, the task of selling smartwatches is rapidly becoming burdensome to retailers. When sales for smartwatches prove to worsen over the next 12-18 months, retailers will make the decision to reduce inventory and/or discontinue sales of the smartwatch device altogether. That is the way retailing works and it doesn't work any other way. The smartwatch is exhibiting every single sales characteristic that all discontinued products exhibit - poor demand. The reasons for the poor demand don't seem to be addressable and as such my forecast for the category is an eventual discontinuation of mainstream retail sales. The products themselves may still exist and sell through other retail channels including the Apple Store, but mass-market and specialty retailers will likely discontinue the products in favor of the next tech gadget. Some retailers may continue to offer the Apple Watch on their e-commerce site only.
Apple is far more than a smartwatch company, fortunately. But when the company reports results on Tuesday after the closing bell, it will likely show that not only has "Other" sales declined, but iPhone, Mac and iPad sales will have also declined. But this is the expectation by and large and the stock has performed relatively well since reporting underwhelming results in Q2 2016. As an investor and trader, I will continue to avoid shares of Apple as I can't forecast a "light at the end of the tunnel" for sales presently. Without a new product introduction that can achieve mass-market adoption, sales will continue to decline for Apple up until they become low enough to where the company can leap over a low base. If that is to be the forecast for the company, investors are left to rely on the company's balance sheet to produce greater dividend yields to maintain the current valuation, which is entirely possible. As a fundamental investor though, I would rather see greater sales than hopeful dividend increases.
Disclosure: I am/we are long FIT.
I wrote this article myself, and it expresses my own opinions. I am not receiving compensation for it (other than from Seeking Alpha). I have no business relationship with any company whose stock is mentioned in this article.
Editor's Note: This article discusses one or more securities that do not trade on a major U.S. exchange. Please be aware of the risks associated with these stocks.