I recommend go long on GrubHub (NYSE:GRUB), an online and mobile platform for restaurant pick-up and delivery orders. It is also the owner of Seamless. From late last year to early this year, the stock price has been depressed due to concerns on growth and competition. However, the company has proven quarter after quarter that its future is bright. I believe the three big drivers for share price growth are: 1) market leader position building stickiness into the business and strengthening growth; 2) revenue expansion through the company's own delivery system and M&A; 3) competition fear eases, leading margin expansion.
Investment Thesis
1) Market Leader Position Building Stickiness into the Business and Strengthening Growth.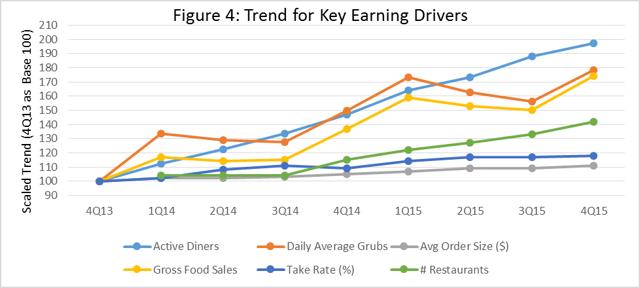 GrubHub has been a pioneer in the restaurant delivery service, and its market dominance took 12 years to build organically and via M&A. The company's large scale has served as a deep competitive moat. As Figure 4 shows, even though there are seasonal weaknesses in Q2 and Q3, all key earnings drivers are in a strong, upward trend. Most notably, active diners nearly doubled from 4Q13 to 4Q15. Additional stickiness is built through a rapid restaurant penetration rate. Its own delivery system helps expand food options across the spectrum, from fine dining to fast food chains. Such comprehensive platform makes it more difficult for competitors to find niches. The first-mover advantage and continued innovation have proved to be key to sales. Roughly 90% of GRUB's orders are from repeat sales. A diners' survey conducted by RBC in 3Q15 cites that brand recognition is a huge factor in diners' choices. Reviews on Google Play and iTunes indicate GRUB beats out competitors on both quantitative (number of reviews) and qualitative (rating) metrics, with a total of 72,000+ reviews and an average of 4.5 stars. The closest competitor in number of review is Eat24 (NYSE:YELP) with 41,000+ reviews. Most players average 3.5 stars. A similar survey of restaurants finds that restaurants see switching costs (out of GRUB) to be high due to the scale of the platform and the seamless technical integration.
2) Revenue Expansion Through Its Own Delivery System and M&A
Given that GRUB has a history of consistent disciplined cost control, revenue expansion becomes crucial to the growth of EBITDA and, ultimately, share price. I believe there is revenue expansion potential in both total orders and take rate (commission GRUB charges per order). Regarding total orders, the company has been expanding the number of restaurant offerings and new markets. Its own delivery program enables addition of restaurants that were not able to participate in GRUB due to lack of delivery offers. These restaurants tend to skew to the mid to upper end or in the chain category. The high-quality nature of this supply is particularly significant from a demand generation standpoint. The company has been actively expanding into new markets. In 2015 alone, it went from being in ~20 markets to almost 60 markets by year end. In December 2015, GrubHub announced the acquisition of Delivered Dish to bolster key markets in the northwest and southwest (added 7 cities).
Not only is the total orders increasing, but the take rate that GRUB charges is also climbing. The average take rate climbed 8% from FY14 to 15 as the company scaled up. This trend should continue. In addition, its own delivery system enables faster revenue growth. Figure 5 shows take rate jumps because restaurants are paying a "premium" to have GRUB take delivery service off their hands. At a 20% take rate, it is an increase of $1.31 per order. This is likely still cheaper than the cost of hiring delivery personnel. With its own delivery system, GRUB also pockets the delivery fee/tips (assuming 10% $AOV), which brings it to a total $4.15 increase in revenue per order. I don't believe that cost will exceed this gain, especially since there are synergies to a centrally managed delivery system by the ordering platform. As of 4Q15, GRUB's own delivery consists of 8% of total revenue. As the delivery system takes off, revenue will grow at a rapid pace.

3) Competition Fears Ease, Leading Margin Expansion
Since 2H15, competitor activities have instilled fear in investors, which resulted in the tumbling of the share price. I believe the competition fear has been exaggerated. Investors should buy in now and take advantage of the positive price momentum as the fear eases. There are three commonly believed categories of competitors: experiments by tech giants, grocery-esque deliverers, and private, direct competitors.
The first category, experiments by tech giants, refers to UberEats (UBER) and food delivery by Amazon (NASDAQ:AMZN), launched in 2Q and 3Q15 respectively. Those large players' entrances may be concerning, since they have "nearly limitless capital." However, one should also be mindful that these giants have own competitor worries for their core businesses. Therefore, it is highly unlikely that they go all-in on the food delivery service, where there exists a large, established player such as GRUB. Being only in a few markets (~10 for Uber and 22 for Amazon; all in GRUB's core, saturated markets) and having a small number of restaurant partners, the two players offer very limited choices and differentiation from GRUB. In busy metropolitans, such as NYC especially, UberEats's alleged biggest advantage - fast delivery by cars - may also be its pitfall due to traffic patterns and parking policy. Furthermore, both UberEats and Amazon charge delivery fees on top of the take rate, which make the food more expensive for consumers. Hence, I don't expect Uber or Amazon to have large a impact on GRUB's growth. The second category, grocery-esque deliverers, should really not be factored into valid competition, in my opinion. These players include Blue Apron, Hello Fresh and Instacart, and they deliver groceries. People who order restaurant take-outs are often those who, for whatever reason, can't make their meal. Therefore, they would not be getting uncooked ingredients anyway.
The remaining category contains the more comparable, private, direct competitors. Fundraising activities have slowed drastically since 2015. For DoorDash's latest round, the company's initial target was a $1B valuation, but it had to lower valuation due to lack of VC interest. The muted interest in the private companies is most likely attributed to these start-ups' limited success. DoorDash is predominantly California-focused. With GRUB's established national footprint, growth for DoorDash is narrow. Also, the company incurs high costs to acquire its diners. Its spending on Google-generated paid search last year is estimated to double that of GRUB's. DoorDash also has outstanding lawsuits with restaurants for its inappropriate use of restaurant names. Postmates, while boasting a presence in 40 markets, postponed its target profit date to 2017. Moreover, both companies charge a premium for their delivery: $6 per order for DoorDash, and $4 + 9% Service Fee per for order for Postmates). The higher costs are/will be major deterrents to attracting and keeping diners.
Separately, we saw in GRUB's recent earnings that competition had very little effect on the company growth. Recall Figure 4 above, which showed that all key earnings drivers are seeing tremendous growth, despite the widely believed heightened competition. As investor confidence returns with the ebbed competition threat, the share price should soar.
Conclusion
GRUB is in a unique position. As the industry leader, it has crafted a competitive moat to benefit from the first-mover advantage and its brand. Growth has been central to the company's strategy, through both M&A efforts and organic growth. This is especially important in the food delivery market, because scale, selection and efficiency matter. Last but not least, I believe the competitive threats are overblown, and they have not and will continue not to have large impacts on GRUB's profit.
General disclaimer: The content contained in this blog solely represents the opinions of the author. None of the analysis or opinions is reflective of her employer or her clients. The commentary in this blog in no way constitutes a solicitation of business or investment advice. In fact, it should not be relied upon in making investment decisions, ever. It is intended solely for the entertainment of the reader, and the author. In particular this blog is not directed for investment purposes at US Persons.
Disclosure: I am/we are long GRUB.
I wrote this article myself, and it expresses my own opinions. I am not receiving compensation for it. I have no business relationship with any company whose stock is mentioned in this article.