The headline of Starbucks' (NASDAQ:SBUX) earnings report ("ER") and conference call ("CC") was that, for the first time since the beginning of 2010, global and US comps dipped below 5%. While this might seem meaningless for most investors, we argue it could be the beginning of significant multiple compression for the stock.
SBUX's premium valuation is based on the company's resilient performance over time. If that resilience wavers, there is significant valuation risk. In Q3, the resilience wavered, and we think the soft comps will continue in Q4. The valuation, however, remains rich. We think this implies significant valuation risk for investors.
The stock has really been range-bound for the past 12 months, with today's price being only 1% higher than the price one year ago. This flatness isn't a factor of poor markets, as major US indices are up 4-5% in that time frame.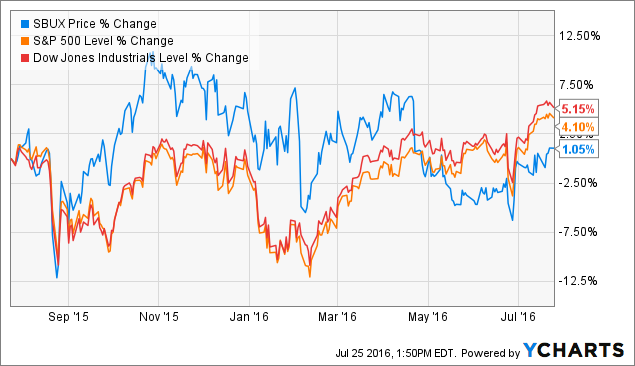 We think the stock's relative "flatness" is a result of a capped valuation. Throughout 2015, SBUX benefited from significant multiple expansion. In 2016, though, those multiples have compressed some. Still, the current valuation is pretty rich relative to where it has been.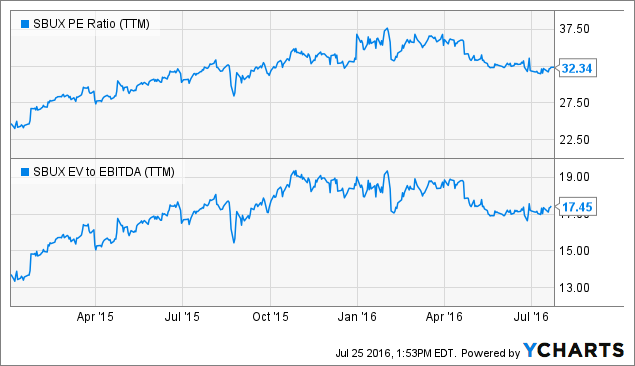 SBUX PE Ratio (TTM) data by YCharts
The 5% comp run started in FY10. According to Morningstar, the trailing P/E multiple has varied from the low 20s to the low 30s during that time, while the EV/EBITDA multiple has fluctuated from the low double digits to the mid-teens (excluding an anomalous 2013). The longer the 5% comp run lasted, the more the multiple expanded. It has essentially been a steady upward trend in valuation since 2010. Today, the stock trades at a low-30s P/E multiple and a high-teens EV/EBITDA multiple.
The 5% comp run, though, is over. We argue that the stock's multiples, which have been flat/down slightly over the past year, will either stay flat or compress further if the company can't get its comp back above 5%. Why? Because one quarter below 5% may simply be an anomaly. Two quarters below 5%, though, is the beginning of a trend.
We think the company will comp below 5% next quarter. Management blamed two things for the underperformance this quarter. The first, a change in the Loyalty Program from rewarding transaction frequency to rewarding transaction amount in an attempt to avoid strategic bill "splitting" by the consumer, is a near-term headwind that will undoubtedly fix itself over time. The company launched a Loyalty program, some consumers found a loophole in the program, the company fixed the loophole, and then some consumers got mad they couldn't cheat the system. Despite the change, the Loyalty program still grew its member base by 33% YoY. Granted, that amounted to only 300,000 new members over the past 3 months, but that follows 1.8 million net adds over the past 2 quarters.
The second issue deals with civil unrest disrupting consumer spending at large. Dunkin' Donuts (NASDAQ:DNKN) data seems to affirm that civil unrest is playing a factor in lower coffee sales as DNKN comps also slowed dramatically this quarter. While reasonable, this is a cause for long-running concern for SBUX. CEO Schultz commented on the uncertainty surrounding the US election having an adverse affect on sales. If true, this adverse affect will persist over the next several months. Moreover, a recent Munich shooting and failed Turkish military coup ensure that near-term geopolitical headwinds in EMEA persist. Several shootings in the US recently will likely accelerate such headwinds in the Americas.
If indeed geopolitical headwinds played as big a role in Q3 as management said they did, then Q4 comps aren't set to be much more glamorous. Loyalty program growth has slowed, and we do not think growth there will be enough to offset persistent geopolitical headwinds. We think domestic and global comps come in right around 4% again next quarter.
What does that mean for the stock? Investors might begin to question its premium valuation. At 32x trailing earnings, the stock is trading at a 30% premium to the market. While we have voiced concerns over valuation before, we acknowledge the premium is warranted because the stock has consistently comped above 5%. If that trend breaks (more than a single quarter anomaly), we see significant valuation risk. We think this valuation risk far outweighs the upside of a stock which has been sideways for 12 months.
Disclosure: I/we have no positions in any stocks mentioned, and no plans to initiate any positions within the next 72 hours.
I wrote this article myself, and it expresses my own opinions. I am not receiving compensation for it (other than from Seeking Alpha). I have no business relationship with any company whose stock is mentioned in this article.