Sometimes the management of an oil and gas company is a little more patient than the market would prefer. Especially when the company had a great growth record in the past and then suddenly goes very quiet.
Contango Oil And Gas Company (NYSEMKT:MCF) is a company that has transitioned to a new management. The old management had quite a track record before the passing of the president. Not many companies can change from one great management team to another, but this company appears to be trying.
Source: Contango Oil And Gas Company Overview, April 2016
When the president passed away, the company had the offshore Gulf gas production. The company had successfully grown that production over the years and done well with it as an area of expertise. However, the new management did not have the level of expertise that the president had, so after trying to drill one well offshore (and having a bad experience), the company determined that no more wells would be drilled offshore. Instead, the company would concentrate on the other three areas shown in the first slide. These areas were part of the merger with Crimson Exploration. However, the returns on the current properties as shown above in the second slide are just not that great at the current time. So management has determined to wait out the current industry environment by maintaining the producing wells it has, and using the cash to either pay down debt or for acquisitions.
So management has scaled down the activity level to bare bones activity. They drilled one well in the first quarter in Wyoming. So far, management does not appear to be excited about the results.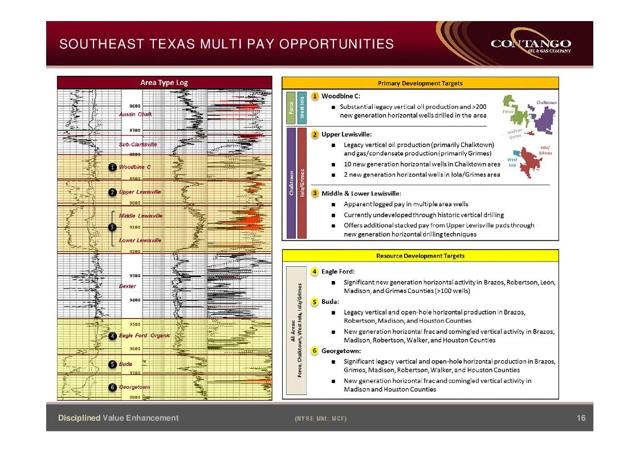 Source: Contango Oil And Gas April 2016, Corporate Presentation
The company has not gone completely idle. As noted above, management is watching the new completion techniques and is impressed by some of the preliminary results. But this is a conservative management, so they will probably wait to see a multi-year history before they go jumping on any bandwagons and gear up the activity levels. Sometimes wells start out great but then stop producing before an adequate return has been realized. This management tends to be very thorough, plodding, and deliberate.
But when there is a deal to be had, this management pounces.
"purchase one-half of seller's interests in approximately 12,100 gross undeveloped acres (~5,000 net acres) for up to $25 million in the Southern Delaware Basin of Texas, currently one of the most active and economically attractive oil and gas basins in the United States.

'The purchase price is comprised of $10 million in cash at initial closing and $10 million in carried well costs expected to be paid over the next 14 months. Certain additional contingent payments upon success would increase total consideration to $25 million. The purchase is subject to finalization of title due diligence and customary closing conditions and adjustments with an initial closing expected later this month. Specifics of the purchased acreage are as follows:

Located in western Pecos County, Texas.
Primary focus is three benches (Wolfcamp A, Wolfcamp B and emerging Bone Springs formations), all of which have proven to be productive in the area by offset operators, thereby providing us with the equivalent of 36,000 "effective" gross acres over the three formations.
Average Wolfcamp interval of approximately 400 feet and Bone Springs interval of approximately 2,000 feet.
Acquiring operated average working interests of approximately 41% (32% net revenue interest).
157 gross potential locations spread over the three potential formations that are estimated to generate average individual well returns of 54%, at current strip prices and current estimated drilling and completion costs using internally estimated average production type curves based on offset operations data and assuming drilling of 10,000 foot laterals.
Additional upside exists in future downspacing and additional zones being delineated within the thick Bone Springs section and/or Middle and Lower Wolfcamp intervals.
Acreage is adjacent to and surrounded by current horizontal Wolfcamp activity.
Active offset operators included Samson Oil & Gas, J. Cleo Thompson, Brigham Exploration, and Concho Resources, among others.
Existing infrastructure in place to service development of asset.
No significant near-term expirations.
Drilling of initial wells is expected to commence as soon as practical after closing."
The wells on this acreage has a potential return of more than 50% as noted above. A 50% return is desirable enough to move fast and lock up the deal. In the current industry environment, the Delaware Basin is a desirable place to operate. There is infrastructure to get the production to market and 158 potential well spacing is not that bad. Plus Contango will likely operate the property. This acreage has better prospects than much of the company's own acreage. So management will start drilling on this acreage as soon as possible.
Another key part is that only $10 million of the $25 million will have to be paid immediately. That will allow the company to drill wells and begin receiving production income from those wells while it drills other wells. So the out-of-pocket costs to the company could be considerably less than the $25 million purchase price. Cash flow is everything especially when depressed commodity pricing shrinks cash flow.
The company is going to fund this new venture conservatively. Management announced the sale of 5 million shares of common stock to fund the venture. For a company with about 19 million shares outstanding, that was a considerable amount of dilution. But with no real prospects on the current acreage, management is not really diluting anything. This acreage has a future, and the new shares will ensure that the future becomes reality with far less risk than leverage.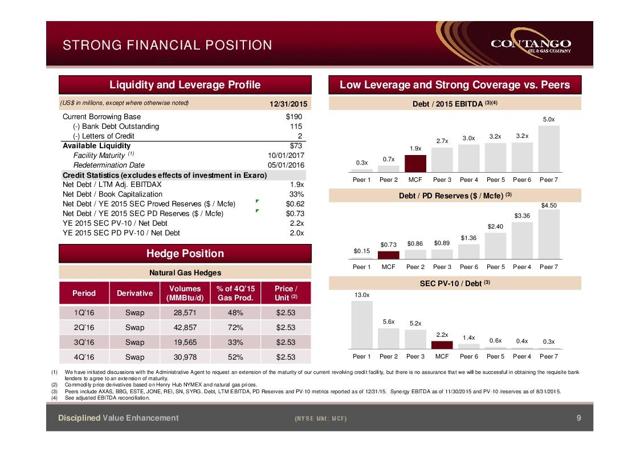 Source: Contango Oil And Gas April 2016, Company Presentation
This management is used to a fairly strong financial position. In fact, this company usually had no debt at all until the Crimson acquisition. The bank did a redetermination in May and reduced the credit line to about $140 million. The maturity date was extended out to 2019, and the interest rate was increased. However, this management was always concerned with good terms rather than begin leveraged to the hilt, so should a suitable deal come along, expect some sort of stock and debt deal to finance it, or more stock. As the current technology revolution continues to produce production improvements and better resource recovery, the older leases may again become viable. But this management is very concerned with financially "getting there." Therefore, don't expect much financial leverage in the future.
The first quarter cash flow was roughly $8 million. This was a significant drop from previous quarters. Without drilling, the company's unconventional oil projects showed some significant declines. Therefore, the gas production was a larger percentage of the total production. That accentuated the drop in commodity pricing. Still management could have laid off more people to increase margins, but chose to retain key people and look for bargains.
This is a management that has noted all the bankruptcies and was willing to wait for their specific criteria before they began purchasing properties. Frankly, this first deal, though small, looks like a very good deal. A few more of these and the company will be very busy just like the boom times of the past few years. Back in 2014, the company kept multiple rigs busy. A few good deals could have the company back on a multiple rig program in no time.
Mr. Market does not appear to be impressed. The news of the stock sale sent the common stock tumbling. Yet the proceeds will be deposited into the company's revolving line. This company keeps no cash on hand, which distorts a few ratios. Still, it will save on the interest charges and make the company's debt ratios look good to have the bank keep the money until it's needed.
The annualized first quarter cash flow would be about $33 million. The long-term debt to cash flow ratio would then expand to close to 4:1. While that is a workable figure for most companies, it is unheard of for this company. So management is acting to bring the ratio back in line with historical norms.
The established production will provide cash for more purchases or development activities depending upon what management chooses to do. The lower levels of debt will ease lender concerns. By the time the company re-borrows the money, there will be more production (and maybe profits) to support that level of debt. With no new production, the company management cut the reported losses in half when compared to a year ago before hedging gains and losses, and impairment charges. That is an accomplishment that few companies can claim. So the company was well on its way to breaking even before this deal came along.
In any event, the sale of stock protects the company in case the acreage turns out to be less than expected. Debt must be repaid whether the deal is successful or not, and the management has noted all the industry bankruptcies lately from too much financial leverage (debt). This management has no intention of joining the bankruptcy crowd.
The market is not expecting more deals from this management, but if history is any guide, this management will be making more opportunistic deals, now that the first deal is done. Shareholders should expect this management to be plodding, thorough, and very certain before they do a deal. However, that also makes the stock much safer at the current price of $9.49 (at the close of the market on July 22, 2016. The market likes certainty and clarity. Both are currently lacking with this company, but there is a long established tradition of conservative operation that should more than make up for that lack of future clarity right now.
The transition to the new management was made harder by the commodity price drop and the change to onshore from offshore emphasis. However, this first deal is an encouraging sign, as is the fairly strong balance sheet.
Disclaimer: I am not an investment advisor and this article is not meant to be a recommendation for the purchase or sale of stock. Investors are advised to review all company documents, and press releases to see if the company fits their own investment qualifications.
Disclosure: I am/we are long MCF.
I wrote this article myself, and it expresses my own opinions. I am not receiving compensation for it (other than from Seeking Alpha). I have no business relationship with any company whose stock is mentioned in this article.