There is a myth that most public cloud data centers are tucked away in Iowa cornfields.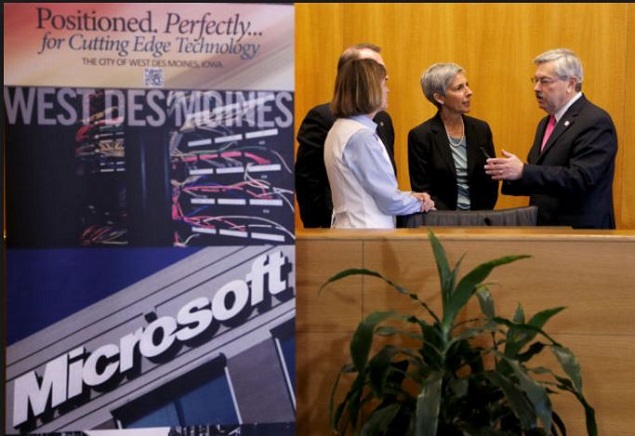 Source: Image - qctimes.com
While there are a few massive state-of-the-art data centers located in Iowa, the public cloud land grab actually reaches around the globe.
There is also a common belief that all of these data centers are owned by hyperscale providers like Amazon.com (NASDAQ: AMZN), and Alphabet (GOOG, GOOGL).
While that may have been true in the past, the competition for B2B public cloud market share has heated up in recent months, and it includes a huge leasing component.
In the case of Microsoft (NASDAQ: MSFT), a quick glance at its cloud data center and network fact sheet reveals a dynamic program which is market-driven. According to the company:
"Microsoft Corp. delivers more than 200 cloud services, including Bing, MSN, Outlook.com, Office 365, OneDrive, Skype, Xbox Live and the Microsoft Azure platform. These services are hosted in Microsoft's cloud infrastructure composed of more than 100 globally distributed datacenters, edge computing nodes, and service operations centers. This infrastructure is supported by one of the world's largest multi-terabit global networks, with an extensive dark fiber footprint, that connects them all."
Microsoft uses both owned and leased datacenter capacity to support customers in regions throughout the world.
Microsoft - Data Center REIT Leasing Bonanza
The Microsoft Azure cloud expansion has had a profound effect on the availability of data center REIT space in several key markets as the company accelerated its cloud data center spending during the past few quarters.
It sometimes takes a bit of detective work to piece together the leasing picture because of industry non-disclosure agreements and a competitive environment to land large data center deployments.
According to a recent Data Center Knowledge article:
... spending increased 65% year-over-year in the first calendar quarter of 2016, and Microsoft has more cloud data center locations than any of its competitors.

The second calendar quarter's results show that the investment is justified. Revenue from Azure, its cloud platform, doubled when compared to the same quarter last year, according to Bloomberg. Its annualized commercial cloud revenue was more than $12.1 billion in the quarter.

Microsoft Azure today is being served out of 26 data center regions, and asked whether that meant the company was going to slow down its infrastructure expansion sometime soon, Nadella said there wouldn't be a cap on the number of data center locations.

"We're not taking these positions of which regions to open and where to open them well in advance of our demand," he said. "If anything, I think our cycle times have significantly come down. So it will be demand-driven, but I don't want to essentially put a cap, because if the opportunity arises - and for us it's a high-ROI decision to open a new region - we will do so."
Clearly, leasing and colocation is a major component of the Azure cloud strategy. In fact, Microsoft's infrastructure group has recently shifted from data center container design in order to ramp up the company's cloud in data centers leased from third parties.
Sharing The Wealth
Big winners have included publicly traded REITs Digital Realty (NYSE: DLR), DuPont Fabros (NYSE: DFT), and CyrusOne (NASDAQ: CONE), as well as privately held Vantage Data Centers.
During 2015, notable Microsoft leases included:
10.4 MW from DuPont Fabros, in Ashburn, Virginia
10 MW from Vantage Data Centers in Santa Clara, California
7.2 MW from Digital Realty Trust in Franklin Park, Illinois
During Q1 2016, North American Data Centers reported these Microsoft deals:
22 MW from Cyrus One in Ashburn, Virginia
9 MW from Cyrus One in San Antonio, Texas
16 MW from DuPont Fabros in Santa Clara, California
According to Data Center Knowledge, Microsoft has continued to pursue additional large MW deals in Northern Virginia during Q2 2016, and the July NADA report also indicated the company is evaluating a major deployment in the Chicago market.
This level of leasing activity by a single public cloud provider is unprecedented.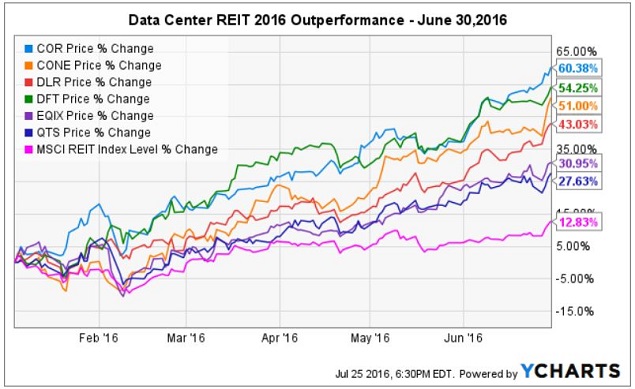 Data center REIT shares have risen ~50%, on average, through the first half of 2016, as shown above.
The public cloud land grab led by Microsoft has been a significant contributor to record leasing announced by several of these data center REITs.
Microsoft Azure - Big Picture
Currently, Microsoft Azure is available in 26 regions around the world, and the company has announced plans for eight additional regions.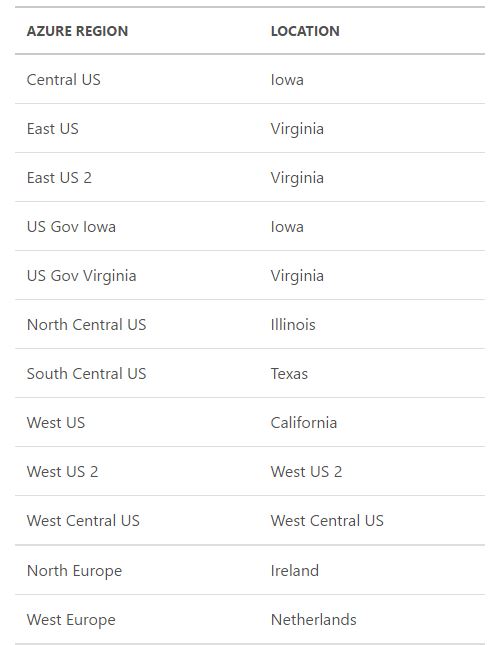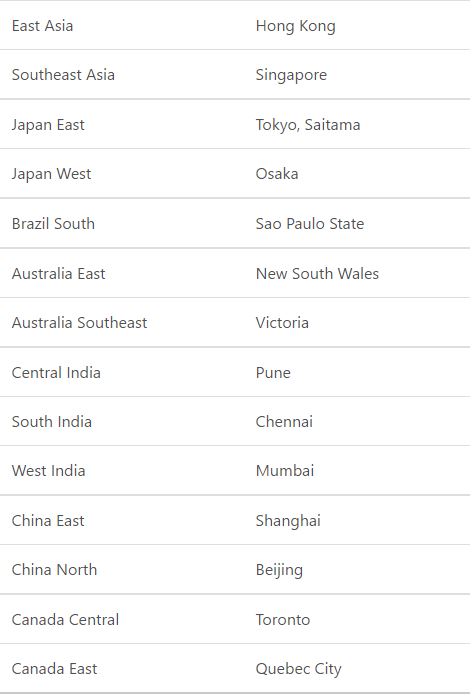 Source: Microsoft, July 2016
Data Sovereignty - Drives Global Footprint
In addition to reducing lag time for high-performance applications by caching content closer to users, many companies have preferences regarding data location. Navigating strict data sovereignty laws is another driver for the global Microsoft cloud footprint.
"In Germany, Azure will be available via a new data trustee model whereby customer data remains in Germany under control of T-Systems, a Deutsche Telekom company, acting as the German data trustee," according to Microsoft.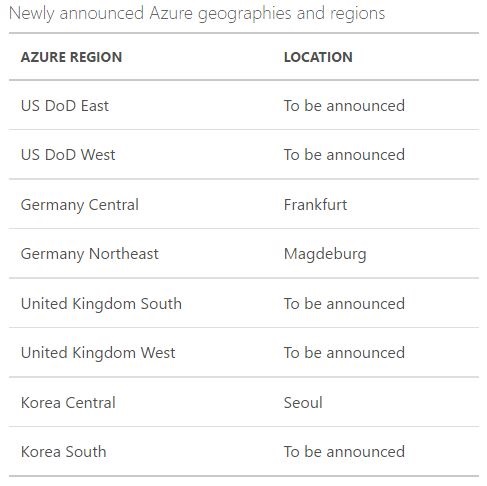 Source: Microsoft - July 2016
Because of their large global footprint, Digital Realty and interconnection giant Equinix (NASDAQ: EQIX) appear to be well positioned to benefit from these trends and future Microsoft global deployments.
In addition to large "wholesale" cloud compute and storage deployments, connectivity-focused data center REITs like Equinix, Digital/Telx and CoreSite Realty (NYSE: COR) provide locations for interconnection and high-speed network access for colocated enterprises in multi-tenant data centers to access public clouds.
While these are smaller leases, the network-dense and fiber-dense locations help to create valuable ecosystems which are leased at much higher "retail" rates. These are located in the middle of densely populated urban areas and where continents are linked together by undersea fiber connections.
US Army, DoD and Microsoft
Additionally, Microsoft may have a software edge when it comes to capturing federal government sector business.
According to a recent US Army update, "Army Aims For The Cloud," while the "milCloud" is housed in a DoD facility, hybrid cloud deployments can include approved commercial cloud service providers.
The article describes how the US Army is part of a DoD-wide initiative to migrate IT systems and programs over to Microsoft's Windows 10 operating system. This could give the company an advantage when it comes to growing its cloud revenues and help to seed the future US DoD East and US DoD West cloud regions.
According to a mid-July federalnewsradio.com report by Scott Maucione, DoD Chief Information Officer Terry Halvorsen told reporters that he and key allied leaders will be meeting with West Coast technology companies, including Microsoft, Amazon and Oracle (NYSE:ORCL).
Halvorsen said cloud services are part of what he will be discussing with the companies.
"As we go to visit the companies that we are already doing business with... we're looking at what are those companies doing that might benefit us in the future, how are they maturing their products," Halvorsen said. "At Microsoft, we are certainly going to talk about what they see as the vision of cloud computing we're all interested in cloud computing. Microsoft is doing 365 cloud, it's doing well in the Fortune 100, so we want to know about that."
Cost savings is a huge driver behind the Federal Data Center Consolidation Initiative. Windows 10 and Office 365 may help Microsoft to grow its cloud at the expense of its rivals.
Gartner - Trend Is Your Friend
The enterprise paradigm shift toward investing in distributed hybrid cloud IT architecture is still in the early innings.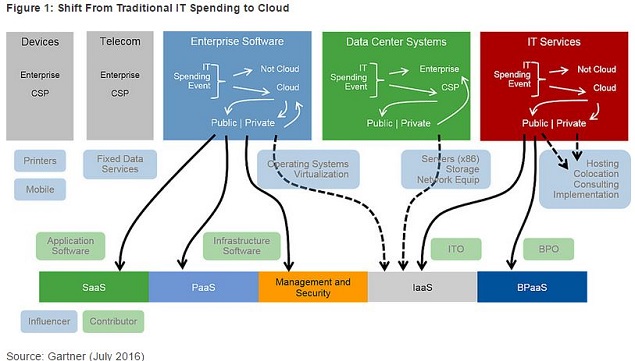 Leading IT research firm Gartner expects a $1 trillion shift in enterprise IT spending from legacy applications over to cloud service providers from now through 2020.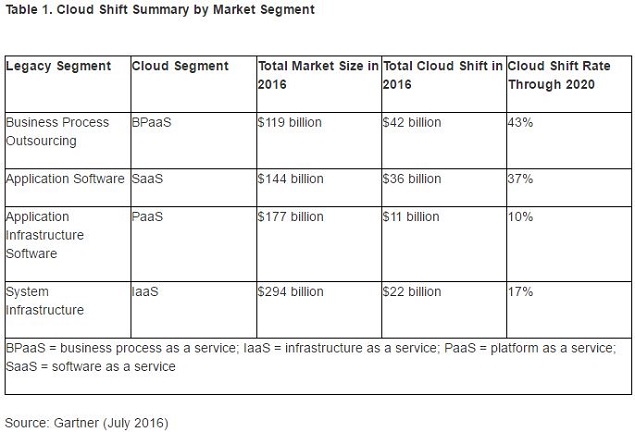 Microsoft Q4 2016 Cloud Highlights
According to Microsoft's earnings report for the quarter ended June 30, 2016, cloud was the one bright spot:
Revenue for Azure, the company's enterprise cloud platform, increased by 102% with double the compute usage YoY.
Office commercial products and cloud services revenue grew 5% (up 9% in constant currency), driven by Office 365 commercial revenue growth of 54% (up 59% in constant currency).
Notably, 70% of Office Enterprise renewals are in the cloud.
Office consumer products and cloud services revenue grew 19% (up 18% in constant currency), with Office 365 consumer subscribers increasing to 23.1 million.
Moving forward, cloud initiatives and synergies will help grow the Microsoft's enterprise CRM and professional network marketing offerings from the pending LinkedIn (LNKD) acquisition.
According to CEO Satya Nadella on the Q4 2016 earnings call:
"Lastly, with Office 365 and Dynamics 365, we have the opportunity to connect the world's professional cloud and the world's professional network with our pending LinkedIn deal. Overall, the Microsoft Cloud is winning significant customer support. With more than $12 billion in Commercial Cloud annualized revenue run rate, we are on track to achieve our goal of $20 billion in fiscal year 2018. Also, nearly 60% of the Fortune 500 companies have at least three of our cloud offerings."
One of the most important takeaways from the earnings call was how Microsoft cloud benefits as manufacturing and industrial customers such as Boeing (NYSE:BA) and General Electric (NYSE:GE) are evolving into digital businesses.
Essentially, as large manufacturers develop their own cloud-based intellectual property, they will be selling these software solutions to their customers. Nadella said:
"Just yesterday, we announced Boeing will use Azure, our IoT suite, and Cortana Intelligence to drive digital transformation in commercial aviation, with connected airline systems optimization, predictive maintenance, and much more. This builds on great momentum in IoT, including our work with Rolls-Royce, Schneider Electric, and others."

"Simply put, businesses will not just use digital technologies, but they will become digital companies. This generates enormous opportunity for Microsoft and our partners. We are the ones who can empower digital transformation across all industries, companies, and geographies with our technology and platforms."
Earlier this month, General Electric announced it was adopting Microsoft's cloud for its Internet of Things (IoT). These types of deployments should help grow the Azure cloud by leaps and bounds over time as multinational companies develop additional cloud-based applications for their own installed customer base. Nadella summed it up:
"... that one of the phenomena now is that pretty much anyone who is a customer of Azure is also in some form an ISV, and that's no longer just limited to people who are "in the classic tech industry" or the software business. That's the same case with GE. It's the same case with Boeing. It's the same case with Schneider Electric or ABB or any one of the customers we are working with because they all are taking some of their assets and converting them into SaaS applications on Azure. And that's something that we will in fact have distribution agreements with."
Fortune 100 customers have become vendors as they offer SaaS as part of their digital transformation, creating second- and third-level demand for hybrid IT solutions.
Bottom Line
The accelerating growth of Microsoft Azure, Office 365 and other cloud-based initiatives is great news for MSFT shareholders.
However, it may even be better news for data center REIT investors. The current wave of Microsoft cloud leasing activity has created a rising tide that has helped to lift the entire sector.
Amazon Web Services is already a large data center REIT customer and is not going to give up market share without a fight.
Last quarter, Google announced a major push to expand its global cloud data center footprint as part of a bigger push to strengthen its position in the enterprise cloud market. The plan includes adding 12 cloud availability regions in both company-built and leased data center facilities around the world.
I believe the most direct way investors can benefit from the tectonic shift to cloud computing is through owning the data center REITs.
I will be listening closely to the upcoming Q2 earnings calls in order to learn if there has been another round of record leasing activity, or if all the good news is already priced into the data center REIT shares.
I relentlessly hunt for diamonds in the rough and rising stars, in addition to closely following data centers, covering REIT blue chips and breaking news. Please consider following me as a Seeking Alpha author if you would like to be notified when my future articles are published.
Disclosure: I/we have no positions in any stocks mentioned, but may initiate a long position in MSFT over the next 72 hours.
I wrote this article myself, and it expresses my own opinions. I am not receiving compensation for it (other than from Seeking Alpha). I have no business relationship with any company whose stock is mentioned in this article.