The stock market has been on a tremendous run since the February 2016 lows. The SPDR S&P 500 ETF (NYSEARCA:SPY) has now risen nearly 20% from that washout level and recently hit fresh all-time highs. Second quarter earnings have largely been well-received, economic data is solid, and the Fed doesn't seem in a hurry to spoil the party.
Those who have stayed the course have been rewarded for their complacence. The tandem strength of both stocks and bonds has created an upwelling of momentum, confidence, and even performance satisfaction.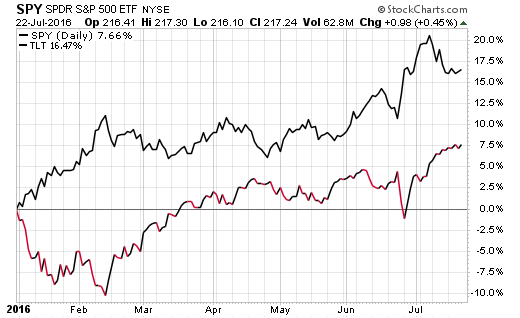 Conversely, those who were scared out at the lows may be feeling the overwhelming urge to try and make up lost ground. They are now seeing prices take off without them and will likely make undisciplined allocations for fear of missing out on even greater rewards.
Back in January and February all you heard about was how you need to be managing risk. Sell your stocks, buy more bonds, hedge your positions, prepare for a recession. These were the types of recommendations that were paraded on TV and in the financial news cycle.
Remember the "markets in turmoil" specials that were running on CNBC over the course of numerous blood-red evenings? The timing of these events are always comical. They tend to create more turmoil than they solve.
How much money or opportunity has been lost by panic selling as banners flash about plunging markets?
Now with several major indexes at new highs, virtually no one is preaching a sense of risk management. The only real warning that is mentioned in passing is how the CBOE VIX Volatility Index (VIX) is getting plowed back to over-sold levels. However, too many have been burned by trading volatility in the past to perceive this as a meaningful indicator of a peak.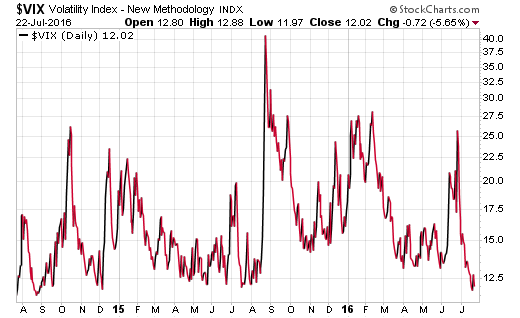 After such a strong move in the markets and with the confirmed reduction in volatility, I am becoming cautious in the near-term on stocks.
That doesn't mean I'm selling anything right this moment. I don't own any complicated hedges, nor am I trying to call a top. I'm simply urging patience over undisciplined greed.
In my opinion, the biggest risk lies in becoming overly complacent in this rally or adding fresh capital to broad market ETFs or mutual funds that appear stretched. Those are the types of behavioral missteps that are looked upon with regret weeks or months down the line. They can also lead to further mistakes as you seek to unwind ill-timed trades.
The best form of risk management at this point may be abstaining from an overly bullish mindset and realizing that we are due for a natural pullback. Patience will likely be a greater virtue than assuming the current trend will extend indefinitely into the future.
I always like to point out that trends can extend much further than anyone thought possible. That can certainly occur in this instance as well. My philosophy includes the use of core positions that are left untouched regardless of price, sentiment, or opinion. Raising a little cash or tightening stop losses can't hurt. However, you most likely should always have some level of minimum correlation with stocks, bonds, or commodities to keep you out of trouble.
It's been my experience over the last several years that a counter-intuitive mindset is your greatest ally in generating meaningful returns.
Disclosure: I/we have no positions in any stocks mentioned, and no plans to initiate any positions within the next 72 hours.
I wrote this article myself, and it expresses my own opinions. I am not receiving compensation for it. I have no business relationship with any company whose stock is mentioned in this article.
Additional disclosure: David Fabian, FMD Capital Management, and/or clients may hold positions in the ETFs and mutual funds mentioned above. The commentary does not constitute individualized investment advice. The opinions offered herein are not personalized recommendations to buy, sell, or hold securities.