By Parke Shall
Everybody knows that stocks move the most on their highest volume days. This is not only true for individual equities, but it is also true for the market overall. More volume usually means more liquidity, but it also means that more money is coming into the market and that the market is susceptible to move faster and harder in any given direction. Money is what drives the markets, therefore volume is extremely important.
This is often why the dog days of summer are usually ignored by investors; volume slumps, the market has a tendency to stay parked, and once July earnings are out of the way it's generally 6 weeks of silence until September.
This year, we predict, will be slightly different because its an election year. We know the market usually rises during election years, but we think this year will be different. Have we ever seen a ticket like Trump vs. Clinton in American history?
It should be no surprise to those who read us frequently that we believe the market is going to see a 10% to 15% correction over the next few quarters.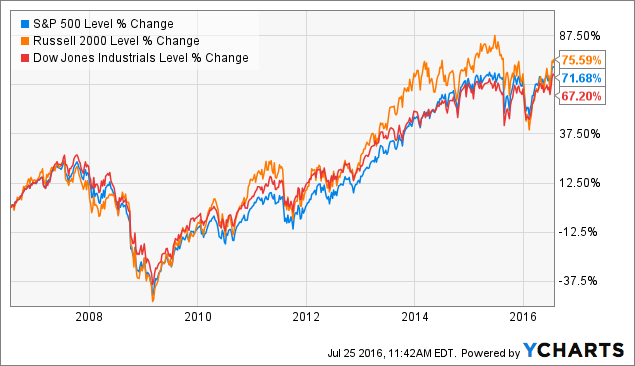 We believe the market is relatively overbought and that equities will need to cool off in light of Central Banks running out of options, volatility heading into the election, and general global economic turmoil.
We are at a very unique part of economic history, with interest rates as low as they are across the globe and many major European countries yielding negative rates to spur economic growth.
If these stimulus measures at some point fail in the near future, we are going to see a real correction based on fear of Central Banks not being able to control the markets anymore, at which point confidence will start to be lost and we're going to have a problem the likes of which we've never seen.
Volume will play a key part after summer as well, we thin.
This chart shows volume dissipating from the markets over the last few months.
, source)

What we want to convey in this article is that once volume does come back into the markets after the summer, that may be when we start to see a marked move to the downside.
Traditionally, two things happen after the summer ends. Volume again starts to pick up in all major indices and money managers return from summer in the Hamptons and start to reevaluate their respective portfolios for tax loss selling near the end of the year.
Many bulls start to think about the "Santa Claus rally" at the end of the year as soon as summer ends. We think this year is going to be different, as we think there is a relatively perfect storm of events that has taken place over the course of the last few months that will lead to severe volatility and markets moving lower after this summer.
The world is in the most fragile economic state that has been in a long time, despite equity markets being at or above all time highs. Even though equity markets around the world are still performing well according to historic levels, Central Bank intervention has risen to new levels.
Central Banks have little to no methods left to stimulate markets and Central Banks' failure to return markets to normalcy after an 8 year run, specifically here in the US, will turn into that much more pain when the tide turns on unsuspecting investors.
Markets dodged a bullet when the United Kingdom left Europe. Central banks were able to keep the confidence of those around the globe and convince people that they would do anything necessary to prop up equity markets. At some point, that narrative is going to fail.
When it does, you are going to want to be hedged.
The fact that the most historic US election in history is going to be taking place in November, right around the same time as volume starts coming back into the market, makes us think we'll see a very shaky end to this year.
The summer has been great, but as we can ease into August and then start to get September, we expect a surge in volume, a surge in volatility, and we are still predicting our 10% to 15% decline in equity markets before the end of 2016.
Disclosure: I/we have no positions in any stocks mentioned, and no plans to initiate any positions within the next 72 hours.
I wrote this article myself, and it expresses my own opinions. I am not receiving compensation for it (other than from Seeking Alpha). I have no business relationship with any company whose stock is mentioned in this article.