Some investors may not be aware of eBay's (NASDAQ:EBAY) small but growing online classifieds business. The classifieds business operates around the world and provides online listings to connect buyers and sellers at a local level. Think of it as Craigslist updated for modern times. eBay conducts the Classifieds business outside the US under a number of brand names, including Gumtree in the UK, Ireland, Australia and South Africa, Mobile.de in Germany, Kijiji and eBay Classifieds in Canada, Italy, Hong Kong and Taiwan, and Marktplaats in the Netherlands. The full list can be found here. Classifieds generates revenues through advertising and listing fees (most but not all product categories are free). The business has been a winner for eBay and has generated consistent double-digit constant currency revenue growth in recent quarters. However, it is still a relatively small piece of eBay's overall business at just 8.6% of total revenues over the last twelve months.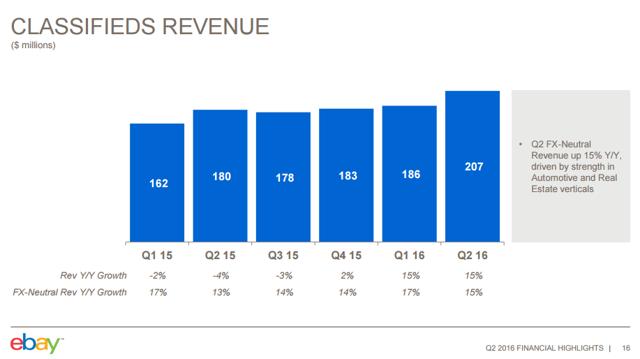 Even though it is a small part of eBay's business today, it is experiencing growth well in excess of the core marketplace growth rate. So the company should and will continue to allocate sufficient resources toward it to nurture its growth. Again, the revenue derived from the Classifieds business comes entirely from outside the US. In the US, Craigslist dominates the market for local trade of goods and services. It has enjoyed this market leading status for the past 15 years. However, with the proliferation of mobile internet and apps, cracks are beginning to show in Craigslist's armor. This is all self-inflicted, principally due to the company's refusal to adapt to a mobile first world. Craigslist has no official mobile apps. It has never meaningfully upgraded the platform since it first went live across the country in 2000 - preferring to keep expenses low and milk the platform for every last dollar for as long as possible. Craigslist could be so much more if it invested for the future, however the company refuses to invest meaningfully in platform upgrades and the development of first party apps with added features consumers are asking for. That has left the door open to competitors in this new mobile first world. There are several apps that have garnered market share on mobile, including Close5, letgo, wallapop, offerup, and saily. All of these apps act like a modern day, mobile first version of Craigslist. They also have added features, like user verification and in-app chat functions. Here is a look at Google search interest in the apps since 2014.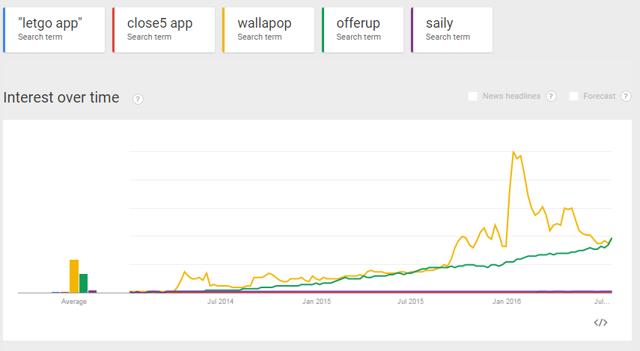 Wallapop and offerup are the clear leaders. Comparing just letgo and Close5, you can see that letgo has pulled ahead in 2016 - no doubt due to its aggressive marketing campaign.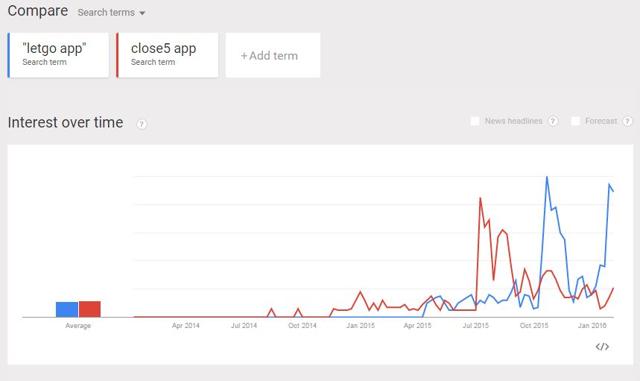 I'm not sure how much one can read into the market from this information - as it is just one data point. For instance, letgo is the only app showing up in the top 100 free apps in the app store. It is also the one that is most heavily advertised. None of these apps are monetizing their platforms in any meaningful way today. The strategy is to first build an audience, then grow revenue through advertising and certain listing fees. All of these platforms are a long way from profitability.
eBay owns Close5 and has put some capital to work in this market. Here is what the CEO said about the app when asked about it on the Q3 2015 earnings call.


eBay's management recognizes the potential if they can win in this market. There are also opportunities for synergies and cross-selling between classifieds and the core marketplace business, which the company is just beginning to exploit outside the US. If eBay is going to win in the US classifieds market, it needs to start by making a bold move. letgo and Wallapop have fired the first shot across the bow at competitors, announcing a merger and a $100M capital raise. Clearly the majority of the capital will be used to continue the marketing campaign designed to build a large audience. The companies themselves run pretty lean in terms of headcount and technology. I see multiple commercials for letgo on cable television each night. This is not a cheap way to build an audience, but clearly it is working with letgo the only one of these apps in the top 100 in the app store.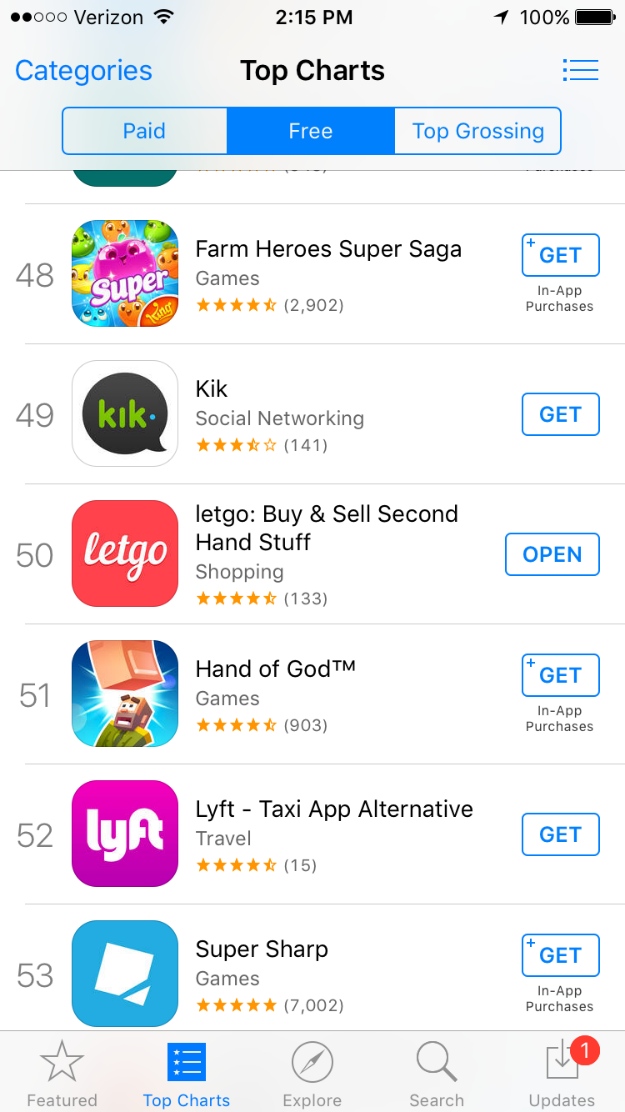 The combination of letgo and Wallapop and its significant marketing budget is a threat to eBay's close5. It is time for eBay to make a bold move in its US classifieds business if it wants to be a part of the new wave that displaces Craigslist. The most logical move to counter the letgo, Wallapop merger would be to purchase offerup and then put some of eBay's significant resources behind the new efforts to continue to grow the audience. Any purchase would likely not come at a low price tag, however, considering the capital being raised in this space currently and the big name investors already in the company. However, eBay has plenty of cash, and I believe the market would view the purchase as a long-term positive. Absent a bold move like this, I do not see how the company can win with just Close5 if it is not going to invest significantly more to drive adoption.
Conclusions
Clearly Craigslist still holds a dominate position in the market for local goods and services.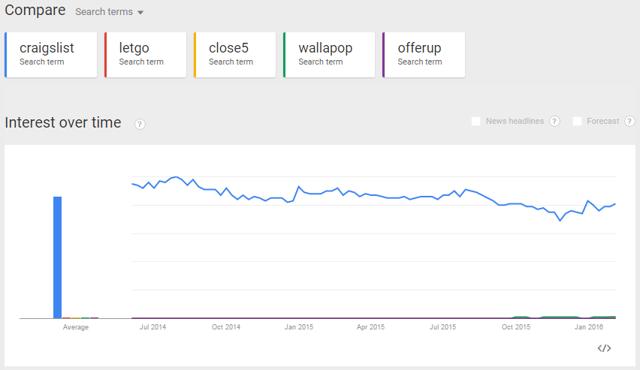 As you can see the others barely show up on this chart. But interest in Craigslist is on the decline (it peaked in 2013). As these apps gain popularity and Craigslist continues to ignore the mobile user experience, I expect its dominate will continue to wane. Now is the time to capitalize on this situation and invest for the future, as others are already doing. eBay needs to be especially careful as local, mobile trading of goods could also begin to erode sales on its marketplace business. By making a move today, eBay would send a strong signal to this market that it is here and willing to invest heavily to win. By combining with offerup, it would garner a much stronger position in the new wave of mobile first online classifieds and have a fighting chance of beating the competition in this market. While investing more in this business would be a near-term drag on the company's overall performance, there is clearly an established revenue model for it - one that eBay has massaged and enhanced over time. It has the experience its rivals do not. In time, monetization would occur and value would accrete to shareholders. Buying a rival soon and increasing marketing spend to grow the audience would be a solid, long-term strategic move for eBay.
Disclosure: I am/we are long EBAY.
I wrote this article myself, and it expresses my own opinions. I am not receiving compensation for it (other than from Seeking Alpha). I have no business relationship with any company whose stock is mentioned in this article.