One of these two camps of risk assets is sending the wrong signal: Emerging markets and junk bonds, or commodities – and more particularly, oil. While crude oil and commodities in general have weakened notably in July, both emerging markets and junk bonds finished on a high note last Friday.
Emerging markets can be replicated in the MSCI Emerging Markets Index, while commodities can be measured by the CRB Commodity Index or by the price of crude oil as the most important commodity. In this chart, the Emerging Markets Index (in red) roughly replicates the oil price (black line) until the last month.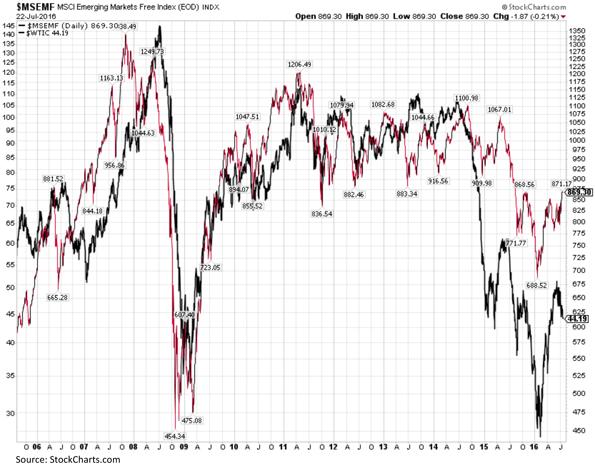 Graphs are for illustrative and discussion purposes only. Please read important disclosures at the end of this commentary.
The correlation between emerging markets and commodities in general is not surprising as a great many emerging markets are commodity-driven economies. Most of Latin America, Russia, and Indonesia come to mind. Strong commodity markets and a strong oil price used to be a sign of concerted global economic growth. I suppose the opposite is also true, where many global economies are now weak and the U.S. has emerged as a relative island of safety.
This is why when the MSCI Emerging Market Index and the price of oil and other key commodities move opposite to each other (as in the month of July; see chart, above), I am a bit puzzled. Divergences between correlated assets happens in financial markets all the time – I am in the camp that believes markets are not efficient – but the key is how to interpret those divergences, and what's most important, how to exploit them profitably. In this case I think that risk assets like emerging markets and junk bonds are wrong and risk assets like commodities in general (and oil in particular) are right.
The same is true for junk bond prices and crude oil. While the correlation is not as tight as it is with emerging markets, if we look at the price of the SPDR Barclays Junk Bond ETF (NYSEARCA:JNK) and the price of crude oil, we see the same divergence where junk bonds rallied in July while crude oil weakened notably.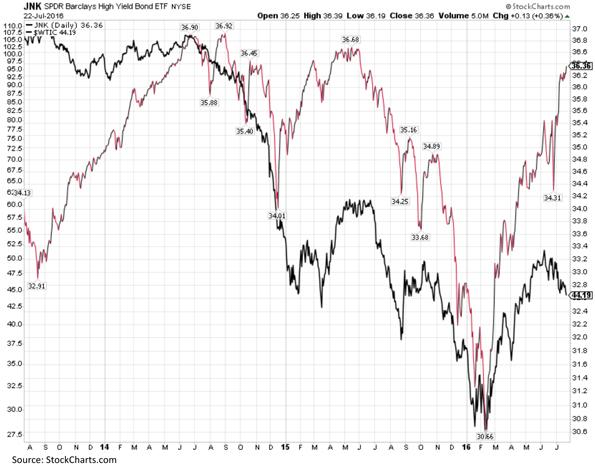 Graphs are for illustrative and discussion purposes only. Please read important disclosures at the end of this commentary.
Keep in mind that a large part of the junk bond market is energy-related and junk bond defaults are rising with the present default rate at a six-year high, led by the energy sector. U.S. junk-bond defaults spiked to 5.1% of the total outstanding in the second quarter, up from 4.4% in the first. The global high-yield default rate could finish the year at 4.9%, with the U.S. default rate as high as 6.4%, according to Moody's, who also forecasts the default rate for metals and mining at 10.2% and oil and gas at 8.6% over the next 12 months. Fitch estimates that with present junk bond defaults over $50 billion in 2016, the number can reach $90 billion by year-end (source: July 12, 2016 Bloomberg article, "Energy Failures Push U.S. High-Yield Default Rate to 6-Year High").
That type of surge in junk bond prices when the correlation between junk bonds and crude oil prices has never been as high as in 2016 (before July) is rather puzzling. Either junk bonds know something crude oil traders don't know, or one of those two is wrong.
Keep in mind that the surge of better than 50% in annual crude oil production in the U.S. was financed via high-yield debt. Also, a lot of that new crude oil production in the shale space is very high cost – in some cases, well north of $50/bbl – so many high-cost producers were producing at a loss for a while in order to make their junk-bond payments.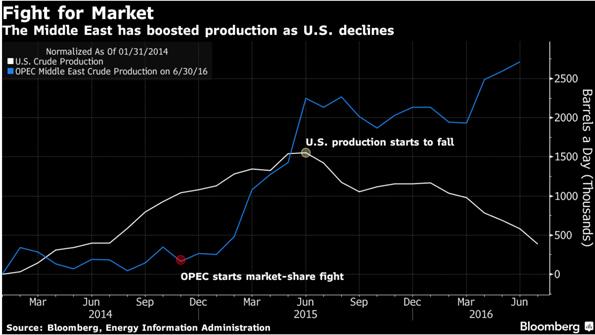 Graphs are for illustrative and discussion purposes only. Please read important disclosures at the end of this commentary.
While U.S. crude oil production is down to 8.494 million barrels a day for the week ending July 15 – or 1.06 million barrels a day lower than a year earlier – what many are not reporting is that the U.S. supply decline has been absorbed by rising Middle Eastern oil production resulting from Iran coming back onto the global market after the end of their nuclear sanctions.
Also, the number of U.S. rigs has been rising for four straight weeks, which is a sign that domestic producers have changed their minds and are taking advantage of the oil price rebound since February, suggesting that U.S. crude oil production may not continue to fall as Middle East crude oil production is ramping up (see July 22, 2016 Marketwatch: "Largest U.S. oil-rig spike of 2016 is bad for prices, good for oil-service firms").
I am not surprised to see crude trading down to $43.74 on Friday on the September 2016 WTI futures contract, down from $52 last month. I have suspected all along that this rebound in oil was seasonal in nature. Crude oil demand tends to go up in March and weaken in September as there are simply more people living in the Northern hemisphere than in the Southern hemisphere.
In 2015 we had a strong seasonal rebound of crude oil prices in March and April, flattening out in May and June, and coming down aggressively in July. This year the rebound started in February, but the weakening is right on schedule.
I think that ultimately in this bear market for energy we may be headed to $20 or lower as a factor of surging global production and weak global demand. I am not aware of many crude oil producers factoring a coming economic hard landing in China – the world's #1 consumer of oil – into their forecasts.
That economic hard landing may come in 2017 as Chinese authorities seem to be encouraging accelerating lending into a busted credit bubble, which for the time being is postponing the unravelling. This may delay the outcome, but I sincerely doubt that China can avoid a hard landing. (See February 3, 2016 Marketwatch article, "Something Broke in China in 2016.")
If I had to pick who is right in the emerging markets/junk bond and commodity/oil price divergence, I would pick crude oil.
Post-Brexit Highs for the Dollar with a Boost from Weak Oil
We are meeting major "resistance" at 100 on the U.S. Dollar Index, so sooner or later I expect to hear that "the strong dollar is pushing down oil prices."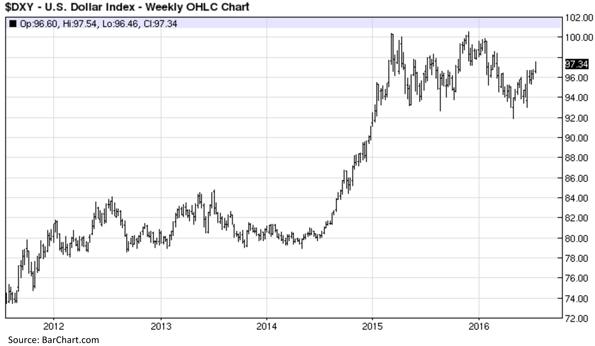 Graphs are for illustrative and discussion purposes only. Please read important disclosures at the end of this commentary.
While the dollar may have a marginal effect on oil prices, in my opinion crude oil supply and demand is far more important than the dollar. While there aren't many commodity-driven currencies in the U.S. Dollar Index, the Broad Trade-Weighted Dollar Index contains many commodity- and oil-driven currencies.
These currencies tend to weaken when oil prices are weak and the Broad Trade-Weighted Dollar Index tends to strengthen. There is no denying that there is some Soros-defined reflexivity in play here between crude oil and the dollar, but supply and demand is the more important factor, in my view.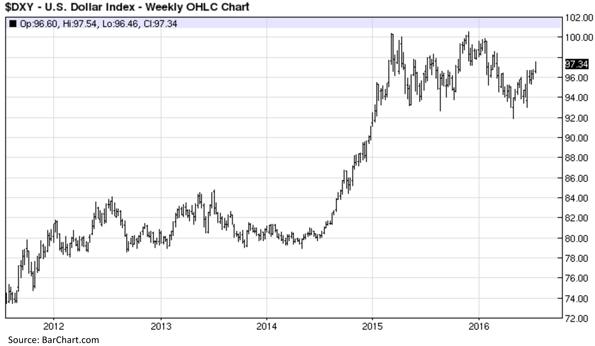 Graphs are for illustrative and discussion purposes only. Please read important disclosures at the end of this commentary.
Therefore, it is not surprising that as crude oil prices have weakened in July, the Broad Trade-Weighted Dollar has strengthened. This broad index includes the Euro Area, Canada, Japan, Mexico, China, United Kingdom, Taiwan, Korea, Singapore, Hong Kong, Malaysia, Brazil, Switzerland, Thailand, Philippines, Australia, Indonesia, India, Israel, Saudi Arabia, Russia, Sweden, Argentina, Venezuela, Chile, and Colombia. It is trade-weighted, while the headline U.S. Dollar Index is not trade-weighted and includes only the Euro area, United Kingdom, Japan, Canada, Switzerland, and Sweden.
Clearly, the Broad Trade-Weighted Dollar gives a better picture of what is going on with the greenback. The dollar is getting a major boost from weak crude oil prices, in addition to Brexit-accelerated deflationary trends in Europe and the coming deflation in China, which will be accelerated if and when the Chinese decide to devalue the yuan more aggressively, which is only a matter of time in my view.
Disclosure: *Navellier may hold securities in one or more investment strategies offered to its clients.
Disclaimer: Please click here for important disclosures located in the "About" section of the Navellier & Associates profile that accompany this article.