Shares of Atlas Resource Partners (NYSE:ARP) plummeted 67.8% on July 25th after news broke that the firm has decided to pursue a Chapter 11 bankruptcy restructuring. This actually came just 5 days after I, in my last article on the company, said that, absent a miracle asset sale, it was highly probable that the company would file bankruptcy within the following 30 days. In what follows, I want to go over what this means not just for shareholders but for bondholders as well.
What debtholders will receive
This bankruptcy filing is quite interesting in my opinion because of how ownership in the new entity will be divvied up. According to management, the firm will sell its oil and natural gas hedges (they did not specify all of them but that seems probable) and pay the firm's credit facility debt down to $440 million. Of this, $30 million will be considered a non-conforming tranche, which means that it's above the amount that's permitted to be borrowed and the company must come up with this difference sometime between now and May 1st of next year, the same time that it will face its first credit facility redetermination as a new enterprise.
What intrigues me about all of this is that credit facility lenders are receiving no ownership in the revived entity but will get, instead, some of their debt repaid from the sale of hedges and will also maintain their seniority on their debt. I'd imagine these lenders would receive at least some portion of the equity but that wasn't the case. On an interesting side note, the company's general partner will receive an economic interest of 2% and I suspect that this will be done on a pro rata basis when it comes to taking this from debtholders.
Second Lien holders, who had debt outstanding with Atlas of around $250 million, will see that debt stay in place but the interest expense will be fixed at 2% per year, plus they will receive 9% per year paid-in-kind. What this means is that they will receive 9% of the $250 million per year (or $22.50 million) worth of stock in the enterprise until the agreement is either restructured in Atlas' favor or until the debt is paid off. On top of all of this, these lenders will receive 10% ownership in the common equity of the business.
Finally, we arrive at the owners of the Senior Notes. These lenders are going to have all of their notes wiped out entirely but this will be replaced by equity that accounts for a 90% ownership in the business. It really depends how much the company is valued once Atlas exits bankruptcy as Titan Energy, LLC that will determine the value these investors will receive but if Atlas does manage to thrive, then the upside here could be meaningful.
What about preferred and common investors?
I wish I had some good news for the owners of common and preferred units but I don't. According to management, these investors will receive nothing as a result of the restructuring, other than a potential tax bill. Preferred shareholders are not liable for taxes for the business but the holders of the common units will be hit with $668 million worth of CODI (cancellation of debt income). Without factoring in any other changes that may help or hurt income, this should total around $6.52 per share.
For any investors in the common units who sold and are no longer on record as of the Plan Effective Date (the effective date of a plan of reorganization confirmed by the courts), there will be no CODI income impact. However, from what I read in its bankruptcy document, the Plan Effective Date should be no earlier than the later of 15 days of certain documents being submitted to the courts and September 30, 2016. This suggests, to me, that investors may still have time to avoid all CODI implications if they sell soon, but I recommend they confirm this with a tax professional.
Can Titan Energy be successful?
One thing that seems odd to me about all of this is that the most senior lenders are getting nothing in terms of equity ownership while the most junior lenders are getting the most. In a bankruptcy filing like this, I would suspect that credit facility lenders would want some slice of the pie so that they can easily monetize it when its shares are sold publicly again in the future. However, after revisiting the financial picture of the company, I believe I have a reason behind the approach lenders are taking.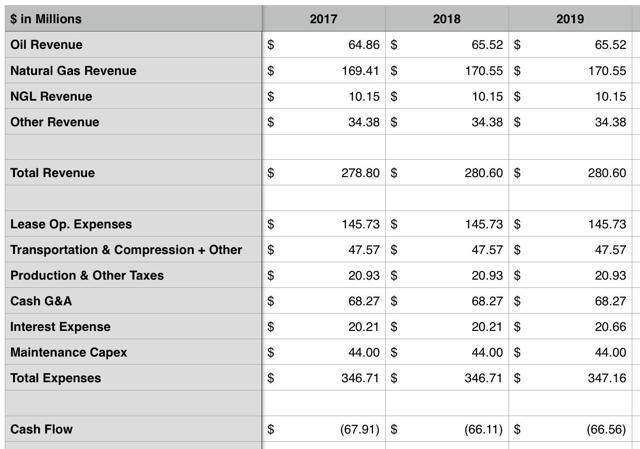 In the table above, you can see what the financial picture should look like for Titan Energy for 2017 through 2019 if we assume that oil prices average $43.14 per barrel and natural gas prices average $2.707 per Mcf in perpetuity. This table also assumes that all hedges are being sold off in order to pay down the credit facility, and that the business's cost structure (other than interest expense, which will fall considerably) remains unchanged from Atlas as it was prior to filing for bankruptcy protection.
Based on these findings, it's doubtful whether Titan will be able to survive once it exits bankrupcy unless its cost structure outside of interest expense improves dramatically and/or unless energy prices rise materially. In 2017, these assumptions would lead to a cash outflow of $67.91 million. In 2018 this improves slightly to an outflow of $66.11 million, followed by an outflow in 2019 of $66.56 million. However, when you keep in mind that management will need to find $30 million to pay down its credit facility early next year and when you consider that a business can't survive on negative cash flows for a long period of time (especially one without cash on hand), the picture looks very, very ugly to me.
Takeaway
Right now, what's happening with Atlas is quite interesting but I don't have a lot of hope for the business (post-bankruptcy) unless something can change dramatically. The current structure makes me feel as though the credit facility lenders are preparing for the worst to happen a second time because holding onto nothing but the most senior debt will protect their interests in the long run no matter what happens. Ultimately, we will need to site by the sidelines a bit and wait matters out, but investors in the Senior Notes should be careful after the company exits bankruptcy, while current holders of its common and preferred units should very strongly consider exiting their positions.
Disclosure: I/we have no positions in any stocks mentioned, and no plans to initiate any positions within the next 72 hours.
I wrote this article myself, and it expresses my own opinions. I am not receiving compensation for it (other than from Seeking Alpha). I have no business relationship with any company whose stock is mentioned in this article.