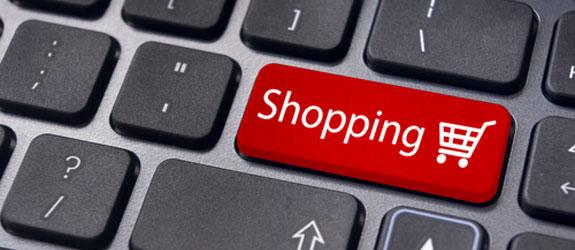 When I first came across the Amplify Online Retail ETF (NASDAQ:IBUY), I must admit that the fund immediately piqued my interest. The meteoric rise of Amazon (NASDAQ:AMZN) attests to the inexorable change that is taking place across the retail landscape: from brick and mortar to online. Online sales have been growing at 20% per year in the U.S., while global online sales are expected to more than double by 2018. Jane Edmondson, co-founder of EQM Indexes which licensed its Online Retail Index to Amplify ETFs, has made the case for investing in online retail in a recent Seeking Alpha article here.
While there are a number of retail or consumer ETFs on the market, IBUY appears to be the first ETF focused exclusively on online retail. This article aims to perform an analysis of IBUY, and as a benchmark I will be using the Consumer Discretionary Select Sector SPDR ETF (NYSEARCA:XLY).
Methodology
From the methodology document, for a company to be included in the index, it has to receive 70% or more of its revenue from online sales as opposed to brick and mortar and/or in-store transactions. Online retail includes these three business segments: online retail, online travel and online marketplace.
Importantly, there is a requirement for a minimum market capitalization of $300M and a minimum price per share of $5, which should act to weed out risky microcap or nanocap stocks.
Non-U.S. companies can be held in the portfolio, with ADRs being the preferred mode of investment. If ADRs are not available, then local shares can be purchased, with the qualification that those domiciled in emerging market countries or small regional exchanges are ineligible. The total allocation to non-U.S. countries should not exceed 25%.
Interestingly, IBUY is equally weighted rather than capitalization weighted. This prevents giant cap stocks from dominating the performance of the portfolio. For example, a whopping 12.3% of XLY is in AMZN stock, while the top 5 holdings of XLY account for 37.6% of the total weight of the fund (the other four are Home Depot (NYSE:HD), Comcast Corporation (NASDAQ:CMCSA), Walt Disney (NYSE:DIS) and McDonald's (NYSE:MCD)).
There does not appear to be an upper limit to the number of stocks that can be held.
The portfolio is rebalanced twice a year, once in May and once in November.
Basic statistics
Basic fund statistics are shown below (Morningstar).
| | | |
| --- | --- | --- |
| | IBUY | XLY |
| Yield [ttm] | n/a | 1.49% |
| Expense ratio | 0.65% | 0.14% |
| Inception | Apr. 2016 | Dec. 1998 |
| AUM | $2.6M | $10.2B |
| Avg. Volume | 2.7K | 7.3M |
| Morningstar rating | n/a | **** |
| No. holdings | 43 | 87 |
| Annual turnover | n/a | 6% |
As we can see from the table above, IBUY is a relatively tiny fund at only $2.6M in assets. Its daily volume is also quite low at only 2.7K. Therefore, investors in this fund should be aware of the higher bid-ask spreads that they may encounter when buying or selling this ETF, and use limit orders as necessary.
The expense ratio of IBUY of 0.65% is a bit on the high side for a passively managed ETF. A justification of the higher fee might be the fact that IBUY invests in small-cap as well as international stocks.
Recent performance
In its short lifetime of just over 3 months, IBUY has returned +2.96%, compared to 2.62% for XLY. Both funds have slightly underperformed the broader U.S. equity market (NYSEARCA:SPY) (+4.04%).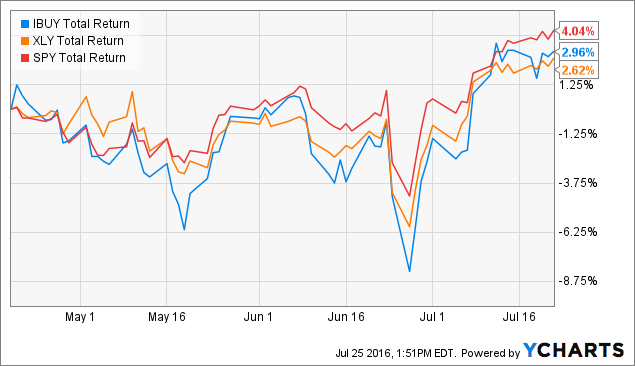 IBUY Total Return Price data by YCharts
Holdings
As IBUY is equally weighted, the top 10 holdings simply reflect the 10 stocks that have performed the best since the last rebalancing period. Leading the way is eBay (NASDAQ:EBAY) at 3.82% weight. AMZN ranks 15th with 3.09% weighting.
| | | |
| --- | --- | --- |
| Stock | Ticker | Weight |
| eBay Inc. | EBAY | 3.82% |
| GrubHub Inc. | (NYSE:GRUB) | 3.79% |
| 1-800 FLOWERS.COM, Inc. | (NASDAQ:FLWS) | 3.62% |
| Etsy, Inc. | (NASDAQ:ETSY) | 3.51% |
| Blue Nile, Inc. | (NASDAQ:NILE) | 3.46% |
| Copart, Inc. | (NASDAQ:CPRT) | 3.45% |
| RetailMeNot, Inc. | (NASDAQ:SALE) | 3.35% |
| Overstock.com, Inc. | (NASDAQ:OSTK) | 3.32% |
| IAC/InterActiveCorp | (NASDAQ:IAC) | 3.24% |
| Shutterfly, Inc. | (NASDAQ:SFLY) | 3.23% |
Size distribution
Because IBUY is equally weighted, it is tilted towards small-cap stocks. In fact, microcap stocks make up the greatest weight of IBUY, at 29%. In contrast, XLY as a capitalization-weighted index is geared towards giant-cap companies. Therefore, investors in IBUY should be comfortable with taking on the risks of small-cap stocks.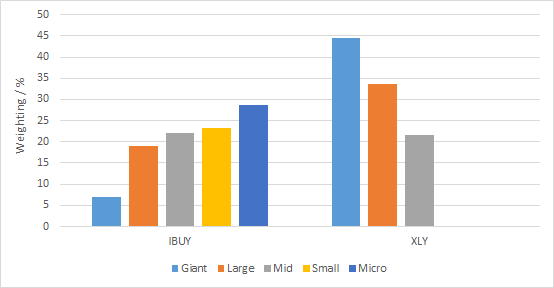 Valuation and growth
Aggregate valuation and growth metrics are shown below (Morningstar).
| | | |
| --- | --- | --- |
| | IBUY | XLY |
| Price/Earnings | 31.29 | 18.35 |
| Price/Book | 2.94 | 4.41 |
| Price/Sales | 1.04 | 1.42 |
| Price/Cash Flow | 15.01 | 10.14 |
| Dividend Yield % | 0.58% | 1.85% |
| | | |
| Projected Earnings Growth % | 15.12 | 12.03 |
| Historical Earnings Growth % | 3.13 | 11.89 |
| Sales Growth % | 13.14 | 6.18 |
| Cash-flow Growth % | -6.79 | 15.48 |
| Book-value Growth % | 2.63 | 1.71 |
We can see that IBUY is more expensive than XLY on P/E and P/CF bases, but cheaper on P/B and P/S bases. While the 30 P/E ratio of IBUY may give some investors pause, this may be understood on the basis that these companies are relatively faster growing compared to the average.
Geographical distribution
While XLY is 100% U.S. focused, IBUY has a significant international component, as shown in the chart below.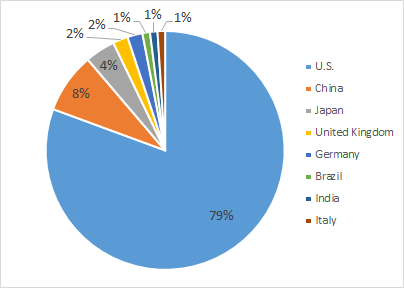 After the U.S., which accounts for 79% of IBUY's weight, the largest countries are China (8%) and Japan (4%). An example of a Chinese company in IBUY is JD.com (NASDAQ:JD).
Discussion and conclusion
As the first online retail ETF, IBUY appears to fill a niche in the ETF universe. IBUY may be a good choice for investors who wish to profit from the continual expansion of online shopping, but feel uncomfortable with picking individual stocks. The expense ratio of 0.65% is relatively high, but could be palatable considering the uniqueness of the product.
Investors should be aware that IBUY has a small-cap tilt, and additionally, it is allowed to own up to 25% of non-U.S. companies.
Personally, I quite like IBUY, and may consider purchasing it in the future. However, one feature that I do not fully agree with is the equal weighting methodology. Now, I understand the benefit of equal weighting - the portfolio will necessarily trim from winners and add to losers every time it rebalances, which is essentially "buying low and selling high." Seeking Alpha author Ploutos has shown that an equal-weighted version of the S&P 500 has historically outperformed the cap-weighted S&P 500 over long periods of time.
However, is equal weighting the right methodology for the online retail space? Large retail companies such as AMZN may be able to harness savings from economies of scale, such as logistical or distribution networks, that just aren't available to smaller companies. Moreover, in this cut-throat online sector, momentum is everything and losers quickly fall by the wayside - the recent sale of Yahoo (YHOO) to Verizon (NYSE:VZ), rightfully being deemed as the end of an era, is a poignant reminder of just that fact. When it comes to the online retail space, instead of "buying low and selling high," I would rather "cut losers and let my winners run." If IBUY were to add a momentum tilt and/or a market cap tilt (not necessarily fully market cap weighted), I think I would like it even more.
If you have enjoyed my article, please consider clicking the "Follow" button next to my name to be alerted to my new content!
Author's note
I have just recently launched the Cambridge Income Laboratory, a Seeking Alpha marketplace offering focused on high yield ETFs and CEFs. If you have found my articles useful in the past, please consider subscribing to this newsletter to receive my best trade ideas (including ETF/CEF arbitrage) in advance, view my personal ETF/CEF income portfolio (targeted at 8% yield), request ETF/CEF analysis, and be alerted to possible fund misbehavior (e.g. alleged "frontrunning").
Disclosure: I/we have no positions in any stocks mentioned, and no plans to initiate any positions within the next 72 hours.
I wrote this article myself, and it expresses my own opinions. I am not receiving compensation for it (other than from Seeking Alpha). I have no business relationship with any company whose stock is mentioned in this article.