We all know the "Fed put." But with stock prices having soared to historically high prices AND valuations amid the second longest bull market ever, it seems that the long running "Fed put" has evolved into a "Fed collar." The upcoming Fed meeting this Wednesday will reveal how much further the Fed is willing to allow asset prices to rise before making the call to exercising their option to raise interest rates.
Sideways Trading Pattern
Despite all of the buzz about stocks breaking out to new all-time highs, the reality remains that stocks have effectively been stuck in a sideways trading channel for nearly two years. Sure, they have soared over the past week, but they are still only +3% above where they were in late 2014. Stocks as measured by the S&P 500 Index (NYSEARCA:SPY) have soared since 'Brexit' in late June, but they also soared even more impressively from their October 2014, September 2015 and February 2016 lows. Conversely, they also plunged notably from their September 2014, May 2015 and November 2015 highs. In short, it has been a wild ride to squeeze out three percentage points in price return over the past couple of years.
One of the forces that has accompanied these wild market swings has been similarly reactive words from the U.S. Federal Reserve. Gone are the days when the Federal Reserve would spray liquidity on the markets like a fire hose each and every trading day. The nozzle started getting turned off all the way back in December 2013 and the monetary water was shut off for the first time starting in October 2014. Not coincidentally, stocks have effectively traded sideways for the two years since.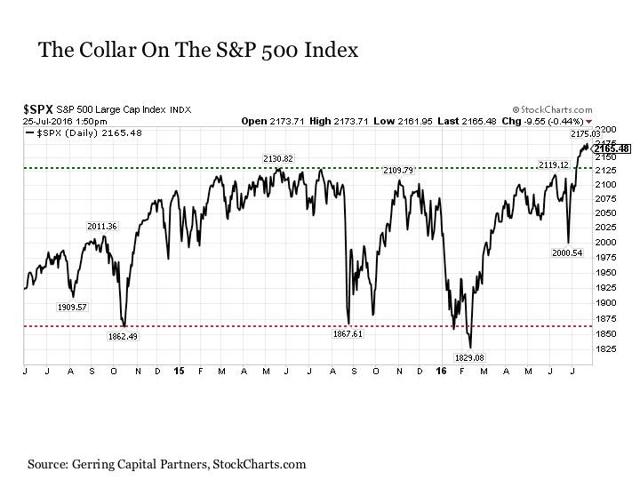 As a quick aside, how has the rest of the world fared during this time period? For unlike in the U.S., many of these major developed markets across Europe and Asia continue to get drenched with their own central bank liquidity fire hoses daily. Put simply, these markets have not fared well at all.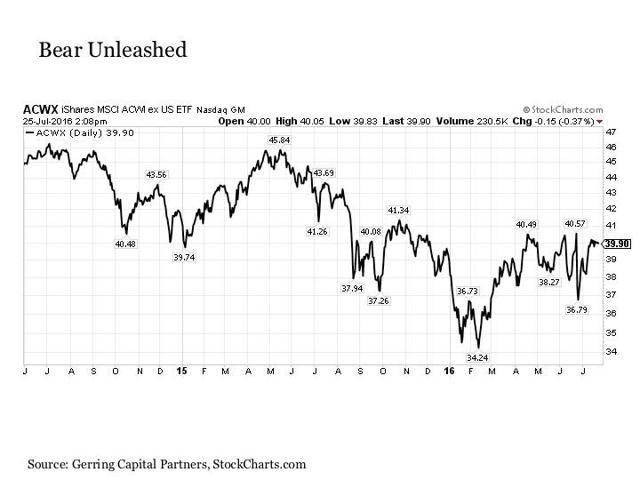 The rest of the world outside of the U.S. has been down as much as -25% since the Fed spigot was first shut off. So much for not fighting your friendly neighborhood central bank.
But let's return to the U.S. After all, the S&P 500 Index is the headline benchmark index for the U.S. and the entire planet, so if the S&P 500 Index still lives, then so too do the bulls.
The Fed Collar
These feelings won't go away
They've been knockin' me sideways
They've been knockin' me out lately
Whenever you come around me"

--Sideways, Citizen Cope, 2002
One of the primary reasons that the market has entered into a sideways trading pattern over the past couple of years has been an evolutionary twist on the "Fed put."
What exactly is the "Fed put" anyway. First introduced by Fed Chair Alan Greenspan during the stock market crash of 1987, it involved the Fed responding to any major and sustained declines in stock prices by lower interest rates and injecting liquidity into financial markets to encourage risk taking and put a floor under stock prices. This strategy supposedly worked beautifully until the bursting of the tech bubble and the financial crisis revealed its limitations. But the post crisis period has shown that the Fed can still put on a rousing stock market rally with increasingly higher put strike prices when desired.
So what is the new twist we are seeing on the "Fed put?" The Fed finds itself in a bind after so many years in the post crisis period. It has clearly succeeded in increasing asset prices without a doubt since the markets collapsed so many years ago now. Unfortunately, it was never able to revive the economy in nearly the same way.
Thus, the Fed now finds itself in a bit of a pickle. It does not want asset prices including stocks to fall, as it would threaten to unleash a potentially new wave of destabilizing forces for the global financial system. In short, the "Fed put" is still very much in play.
But at the same time, the Fed also recognizes that they have inflated asset prices well beyond what would normally be implied by the underlying economy. While they understandably do not make mention of this point directly, they have said enough to demonstrate that they at least recognize what so many in the market place have been howling about for years about artificial asset price inflation and unsustainable valuations. As a result, they also do not want to see asset prices spiral out of control to the upside, as they must still remember how well that worked out for the global economy when they allowed tech, media and telecom stocks to do so a couple of decades ago.
Perhaps more importantly to the Fed, they also have the dilemma of interest rates remaining stuck at near zero percent so many years on from the financial crisis. This is a problem because they have essentially left themselves without monetary fire power to fight the next recession and/or bear market if and when it finally arrives. Thus, they have an incentive to try and gather as many quarter point interest rate increases that they can going forward when the markets are providing them with a window to do so.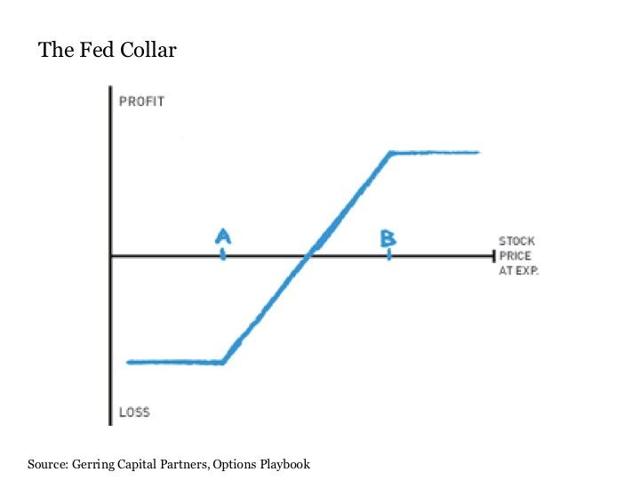 Hence, the "Fed collar" is now in play. They continue to sell a "put option" to investors to provide them with support on any sharp downside moves. But they are also now buying a "call option" from investors that is likely to place a limit on exactly how much stock prices will be able to rise from here in the ongoing bull market.
Exercising The Fed Call Option
So how exactly is the Fed exercising its call option at any given point in time? The same way they utilize the put option to keep a floor under stock prices. And the past two years have provided a repeated demonstration of the Fed's strategy in this regard. What hasn't changed over the past two years? The general sluggishly positive direction of the U.S. economy. What has changed repeatedly over the last two years? The Fed's plan for interest rates around the economy. What has dictated these repeated changes? The up and down swings in the U.S. stock market.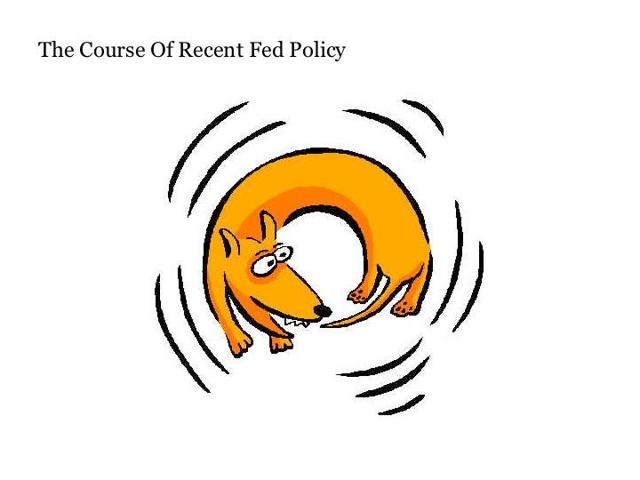 First, when stocks have been humming along at peak levels, the Fed has been using the opportunity to warm up the market to the idea that interest rate hikes will be coming sooner rather than later. For example, in May 2015, when stocks were trading at all-time highs, the Fed was out vocally working to prepare the market for the first interest rate increase in September 2015. And when stocks were back to near all-time highs in November 2015, they were setting up the markets for what ended up being the first rate hike in December 2015 along with what was supposed to be four more rate hikes in 2016. And when stocks were once again back to near all-time highs in April/May 2016, they were rolling out the idea of an interest rate hike as early as June or July.
Of course, stocks have shown the inability in the post QE period of hanging on long enough for the Fed to follow through. For on the other hand, when the markets are plunging as they were in October 2014, August 2015 and January 2016, monetary policy makers have first talked down the idea of interest rate increases any time soon. And if declines continue, they may eventually start talking about how they are prepared to provide additional stimulus if necessary. And just like a Pavlov's dogs at the ringing of a bell, stock investors come running the moment they hear another serving of monetary support is being served whether it is in the form of more stimulus or simply more time until the next interest rate hike is on its way.
This, of course, was a primary source of reassurance for investors in the wake of the 'Brexit' vote in late June. No sooner were the final votes cast than the market effectively did the work for the Fed, deciding that there was no way the Fed would be raising interest rates until early 2018 at the earliest. Markets were not only reassured but found the strength to rally strongly driven at least in part by the prospect.
So where do we find ourselves today? Stocks have since advanced beyond what were previous all-time highs. And while the outcome of the 'Brexit' vote will take some time to play out, its immediate impact appears largely contained. In short, all is reasonably well and the window is once again wide open for the Fed to start talking about raising interest rates.
Of course, the Fed next meets this Tuesday and Wednesday, July 26-27. And if recent indications from notable Fed sources such as the Wall Street Journal are any guide, the Fed is increasingly thinking about trying to raise rates again as soon as their next meeting with a press conference on September 20-21. In short, we are very likely about to see the "Fed call" option start to be exercised with more blatant hints about a September rate hike as soon as this Wednesday once the statement is released following its two-day session.
However, it seems that the market has yet to truly wake up to this possibility. According to the CME Group 30-Day Fed Fund futures, investors as of Monday are only pricing in a 19.5% probability for a quarter point rate increase in September. This is up from 14.7% last Friday, but it is still assigning an only one in five chance of a rate hike by then. As for the next meeting with a press conference on December 13-14, markets are only pricing in a 40.3% chance of a rate hike, which is only barely higher from Friday's 38.5% reading.
Bottom Line
Putting this together, the Fed is gearing up to take another shot at a rate hike in September, but much of the market is either not buying it or hasn't even picked up on it yet.
Perhaps, they won't follow through in September at the end of the day, but what is the force that is likely to cause the Fed to pull back? Will it be the economy? Probably not, as it continues to slowly and sluggishly churn along. Instead, it will much more likely be the market that would give the Fed pause. And if stocks continue to rise in the face of a rate increase by the Fed in September, it only increases the probability that they will go for another hike in December.
Maybe the market will react differently than it has throughout the post crisis period in the face of interest rate increases from the Fed. It would be a good sign if it did. But until it does, investors should be prepared for the likelihood that the Fed is about to begin exercising its "Fed call" in looking to snatch another rate hike while it can.
What assets are likely to be impacted more than others with this latest call option exercise? In addition to an overdue short-term correction in the broader market S&P 500 Index, it will likely be those same assets that have recently soared amid expectations that interest rates were going to stay low forever, or at least until 2018. This includes high dividend (NYSEARCA:DVY) and dividend growth stocks (NYSEARCA:SDY), particularly in the consumer staples (NYSEARCA:XLP) and utilities sectors (NYSEARCA:XLU). Treasuries (NYSEARCA:TLT), gold (NYSEARCA:GLD) and investment grade preferred stocks (NYSEARCA:PFF) are also likely to receive a sting to the downside. Does this mean that investors should scurry out of these more defensive, higher quality names in advance of such a pullback? From my perspective, no outside of highly selective profit taking among those names that have gotten way ahead of themselves (see Hormel Foods (NYSE:HRL) from earlier this year, which I'm watching with greater interest with each successive downtick back to reality), for as long as the scales of the global economy are tilted toward slow growth and deflation, these are the assets that are likely to continue to hold up well despite any notions of a more robust and sustained economic expansion that might crop up along the way. Thus, any sustained pullbacks may end up being attractive buying opportunities to add to selective names that have proven elusive in recent months.
Disclosure: This article is for information purposes only. There are risks involved with investing including loss of principal. Gerring Capital Partners makes no explicit or implicit guarantee with respect to performance or the outcome of any investment or projections made. There is no guarantee that the goals of the strategies discussed by Gerring Capital Partners will be met.
Disclosure: I am/we are long TLT, PHYS.
I wrote this article myself, and it expresses my own opinions. I am not receiving compensation for it (other than from Seeking Alpha). I have no business relationship with any company whose stock is mentioned in this article.
Additional disclosure: I am long selected individual stocks with a focus on defensive names in the consumer staples and utilities sectors.