From an investment point of view, Home Depot (NYSE:HD) is attractive for a number of reasons. With 2,275 stores in the U.S., Canada and Mexico, it is the biggest player in the home improvement market and its outlook looks strong for 2016 and beyond.
I for one view HD as a solid dividend growth stock. While from a dividend yield perspective HD might not look terribly appealing right now, I believe its 1.9% yield shouldn't deter dividend investors.
A lot of investors naively fall for high yielding stocks that offer alluring income today but disappoint in future. Because a dividend yield is merely dividends expressed as a percentage of stock price, stable yields are better than yields that are increasing because stock price is on the decline. The fall in the stock price is usually for a good reason; a looming dividend cut may be one of them as a result of declining sales and declining cash flow. In my opinion, a company's dividend yield history is just one part of the equation and it is extremely important to assess how a company is growing its dividends each year and whether the dividends are sustainable or not. A growing dividend in absolute terms is better than one growing in relative terms for the aforementioned reasons. The latter scenario is usually a sign of things to come.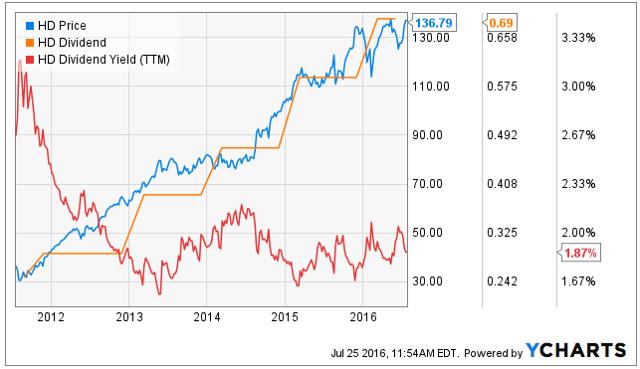 If you look at the chart above, you can see that the steady rise in HD's stock price has not 'destabilized' its yield. This tells me that HD's dividends have actually increased in proportion to the gains in share price. Will the yield ever rest above, say, 3% for 'long periods'? I don't think so because HD furnishes capital growth together with dividend growth for your portfolio.
But still, isn't HD's ~1.9% yield too low to maximize one's total dividend return? Well, the answer is a resounding no at least if you are targeting the "Chowder Number" i.e. 12% total dividend return. In the last 5 years, HD's annual dividends have risen from $0.94 to $2.36, representing an astounding CAGR of 20.2%. The average dividend per share growth during these years was 20.9%. Now if we combine 20.2% with the apparently 'lousy' dividend yield, it is clear that HD passes the famous "Chowder Rule" with flying colors. By choosing HD, you clearly aren't relying on capital appreciation inordinately to achieve high total return.
HD, undoubtedly, has a fantastic history of raising dividends. The question is, though, for how long can HD keep increasing dividends before hitting a no-go barrier? This is a very broad question whose answer primarily lies in HD's ability to generate free cash.
Below, I have plotted HD's cash dividend payout ratio, which shows the proportion of FCF devoted to dividend obligations. At present, HD's FCF coverage of the dividend is nearly 39%, having risen gradually from 30% in FY2011. I consider this to be pretty reasonable.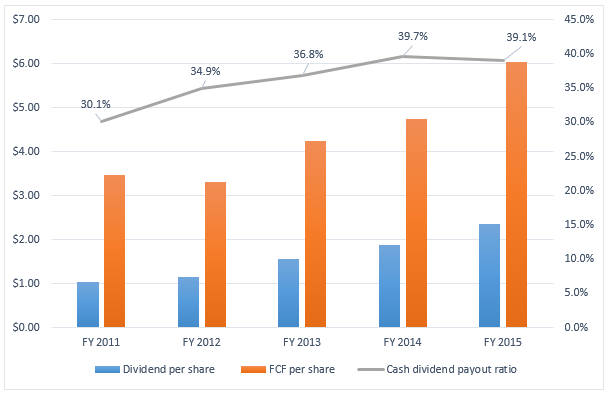 (Source: Morningstar, author's calculations)
From here onwards, even if FCF were to grow by 10% per annum, which is conservative considering HD's annual FCF growth during the past three years has been roughly 22%, a y/y dividend increase of 20% can be sustained for several years. According to my calculations, if this does happen, HD's cash dividend payout ratio will balloon to 60% by FY2020 (no less!). Thus, it is reasonable to conclude that there is ample room for further dividend increases.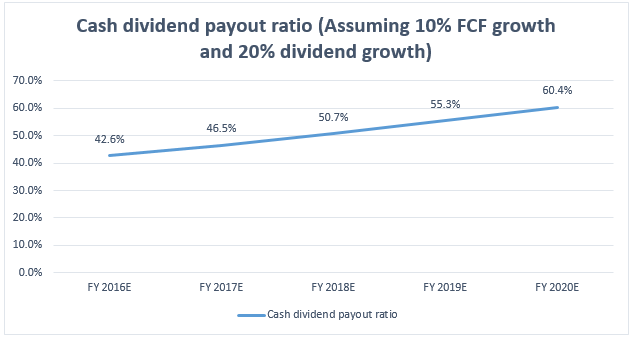 (Source: Author's estimates)
As a DG investor, I find it insightful to take into account any factors that might erode a company's cash. A rise in interest rates, for example, can push fixed costs upwards by increasing the cost of debt leading to reduced cash available for dividends. HD's management has been trading equity for debt in a low interest rate environment to lower its cost of capital and drive shareholder value. This is something that they can afford to do so given HD's proven ability to generate free cash. Currently, for every $100 sales, HD generates ~$9 free cash which is why it can not only service additional debt, but also keep rewarding its shareholders. By the end of this year, I expect HD to have repurchased $5 billion of outstanding shares.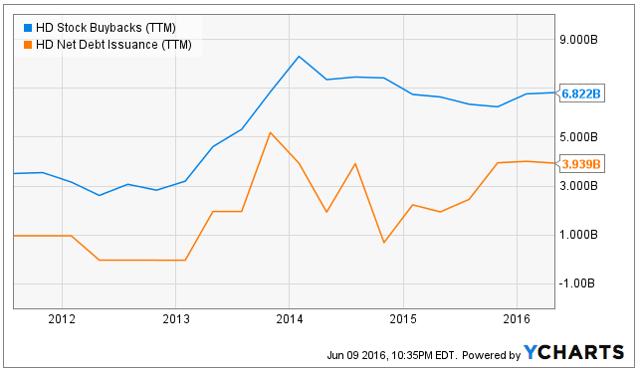 Anyway, going back to the point about interest expense leading to cash erosion. Doubtless, HD has become more leveraged compared to its industry peers like Lowe's (NYSE:LOW) because of the buybacks. Does that put a question mark on future dividend reliability? I've already mentioned that HD generates a lot of free cash but to answer this question more accurately, one could express cost of debt as a fraction of cash available to pay for it. In other words, I am interested in knowing how much of the company's operating cash is being eaten up by interest expense.
As it turns out, HD's fixed interest expense as a percentage of cash from operations (inclusive of interest expense) has been declining since Q3 FY2015, and in the previous two years, has stayed below 20%. In fact, barring third quarters of FY2014 and FY2015, this metric has not even exceeded 10% in ten quarters. In HD's case, it is fair to say that the additional interest expense is generating sufficient new CFO. Therefore, I am not worried and cannot see HD encountering serious cash flow difficulties in future, given of course the business continues performing reasonably well.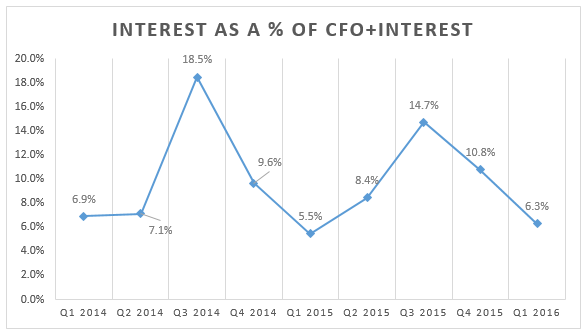 (Source: Morningstar, author's calculations)
It is worth mentioning that in recent quarters, HD has benefitted from growth in the housing industry. Although economic growth was far from stellar in the first quarter, housing market recovery did not stall as existing home sales increased by 5.1% to an annual rate of 5.33 million units in March, beating economists' consensus estimate of 3.5% growth. In 2016, home prices are expected to surge at least 5%, which is highly likely to boost home improvement sales. All these trends will have a positive impact on HD this year. In the long run, broadly speaking, as consumer credit flows along with consumers' purchasing power strengthen existing home sales will continue climbing and current homeowners will continue buying important products from HD. An economic downturn leading to a fall in home sales obviously hurts HD's top-line and stock. Thus, as a shareholder, I like to keep a close eye on existing home sales because they correlate most strongly to the remodel sector where HD operates.
Conclusion
All in all, HD's dividends are poised to increase in coming years. The company is a leader in the home improvement retail market and should continue to expand its customer base by offering multiple omnichannel choices to consumers. Considering both capital appreciation and dividend payments, a great deal of money can be made on this company in the long run.
Disclosure: I am/we are long HD.
I wrote this article myself, and it expresses my own opinions. I am not receiving compensation for it (other than from Seeking Alpha). I have no business relationship with any company whose stock is mentioned in this article.