I have been carefully watching JinkoSolar (JKS) now for the past year with volatility uncharacteristic of what appears to be a very solid company. With research, one will find that JKS reported 58.1% Quarterly Revenue Growth and 8.2% Operating Margin which is 46.13% and 67.11% above the industry average respectively in the past 12 months. While those numbers alone don't support any solid reason to justify investment, there are plenty others. I hope to discuss some of the reasons this company experiences such high volatility since the beginning of 2016, and examine some of the antagonists driving the noted volatility.
Disclaimer
The topic of which I wish to discuss can be heavily debated. I wish to simply point out some key indicators that I feel have had, and will continue to have, a big impact within the company. If you disagree or wish I would have covered more in depth the specified areas, please feel free to leave a comment.
Some History
The past two quarterly reports have gone from good to great as shown in the image below. Much of this is attributed to additional sales of electricity to China connecting approximately 1,000 Megawatts of solar power projects to the grid. Q1 reported that their EPS reached $1.44, 73% higher than the anticipated $0.83. Undoubtedly so, the positive report issued in May was in correlation, due in part to the added sales, as the stock peaked reaching a four month high of $23.75/share. Also worth mentioning is the bid granted to JKS in Mexico marking it their first expansion into overseas project development. It has since returned to roughly mid-$18/share because of talks of reform reaching their final stages concerning Feed-in Tariffs which I will cover later.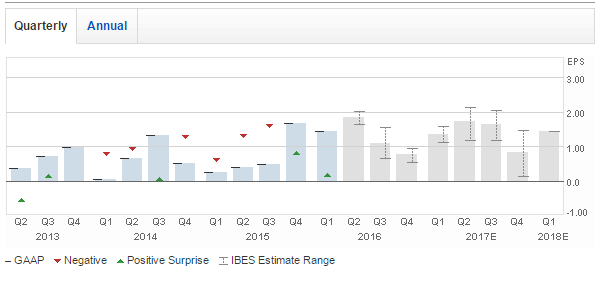 Source: Merrill Edge
The Uncertainty of Government Subsidy Sustainability
The National Development and Reform Commission (NDRC) has been attempting adjustment concerning the reduction of solar power tariffs for more than six months now. The NDRC is one of the most powerful strategic planning departments in China. As government backing decreases so will the return on investment for many companies relying on these subsidies. They are what make solar a more affordable option for average consumers. Though Deputy Director General Mr. Liang Zhipeng did reassure that they will continue to provide subsidies, they are subject to change. It is because of the global demand that cuts can be expected, as these government aids would not be sustainable at current growth rates.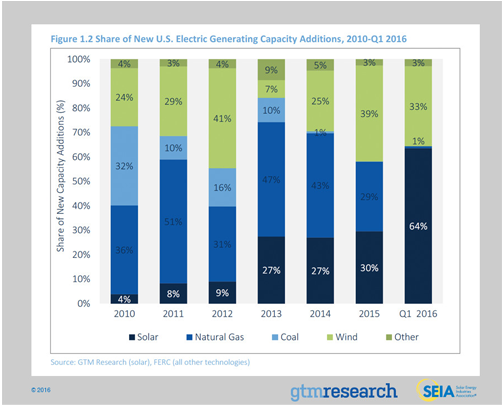 The instigator known as the Feed-in Tariffs (FiT for short).
Shown in the image below is the expected FiT rates adjustment in China ranging from 11%-5% decreases. In my opinion these adjustments, which will be necessary, are creating a lot speculation within the solar market and is the catalyst for the recent downward trend (-23% since May). We do however have this consolation that these adjustments are more than likely going to be cyclical as the demand for PV product increases over the next 4-5 years.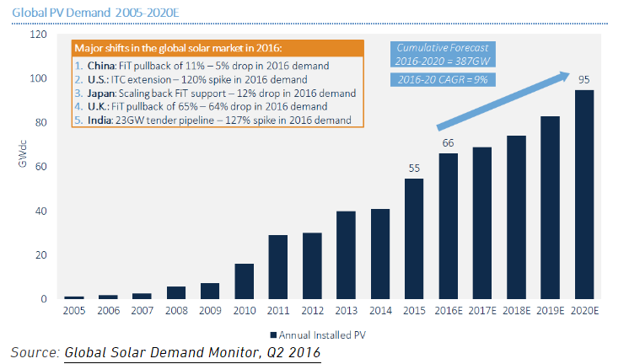 Mark Twain is credited for the saying that history doesn't repeat, but it does rhyme. If the demand for solar remains at its constant pace there is plenty of opportunity for profitable positions to be taken. One must only listen the rhythms of the beat. In the past 12 months, JKS has gone from the high $18/share to (+)$21.50/share three different times. If one were to take a long position every time it hit the $18 range and sold in the $21 range they would make +15% three times a year. Solar demand will continue its pattern of growth for the next 3-4 years and JinkoSolar will be one of the top companies supplying the needs in China and most likely in various other parts of the world.
Disclosure: I/we have no positions in any stocks mentioned, but may initiate a long position in JKS over the next 72 hours.
I wrote this article myself, and it expresses my own opinions. I am not receiving compensation for it (other than from Seeking Alpha). I have no business relationship with any company whose stock is mentioned in this article.