By Gary Alexander
"June is Bustin' Out All Over!
The sheep aren't sleepin' anymore!
All the rams that chase the ewe-sheep
Are determined there'll be new sheep
and the ewe-sheep aren't even keepin' score!"
-- From Rodgers & Hammerstein's "Carousel" (1945)
The economic statistics for June have been almost unanimously positive. On July 8, we learned that the economy added 287,000 new jobs in June. That goosed the stock market to new highs. Last Tuesday, the Commerce Department announced that housing starts rose 4.8% in June to an annual rate of 1.19 million. Then on Thursday, the National Association of Realtors announced that existing home sales reached an annual rate of 5.57 million, the fastest annual rate since February of 2007. Also on Thursday, the Conference Board announced that its index of 10 leading economic indicators (LEI) rose by 0.3% in June.
As a result of these rising numbers, the S&P 500 is up 3.63% for July as of last Friday's close, reaching an all-time high of 2175. Year-to-date, the S&P is up 6.4% and the DJIA is up 6.6%. That's a far cry from the dismal situation on February 11, when the S&P 500 was down 10.5% in the first six weeks of 2016. Putting those numbers together, the S&P is up 19% since February 11 – not bad for a scary year.
The recovery on Wall Street has a lot to do with the recovery on Main Street. The economic statistics are beginning to look far healthier than they were last winter. According to economist Ed Yardeni, in his morning briefing last Monday ("Fairest of them All," July 18), the Citigroup Economic Surprise Index has "gone vertical" – up from a low of -55.7 on February 5 to +25.1 last Monday, the highest reading since January 13, 2015.
As of July 19, the Atlanta Fed's GDPNow projects real second-quarter GDP at 2.4%, more than double the upwardly-revised 1.1% growth rate for the first quarter of 2016. (The first official estimate of second-quarter GDP comes out this Friday from the Bureau of Economic Analysis.)
Not to claim that we see everything in advance here, but I boldly predicted a much higher second-quarter growth rate by looking at history (see my April 19 Growth Mail, "There Will be Growth in Spring"). In that column, I charted GDP growth by quarter over the last 10 years, showing that the winter quarter was nearly always weak, while the second quarter was much stronger. From 2006 to 2015, the first quarter averaged an anemic 0.15% growth rate while the second quarter was 16 times healthier, averaging +2.4%.
The pickup in business may not be visible if you haunt the malls of America. More and more of us are buying through the Internet – for superior selection, easier price comparisons, rapid delivery, and a chance to avoid the drudgery (to most males, anyway) of haunting the aisles of a store looking for what we want.
According to Ed Yardeni (in the same July 18 briefing), the percentage of General Merchandise, Apparel and Accessories, Furniture and Other Sales (GAFO) attributable to e-shopping in May hit a record 27.6% of total GAFO merchandise, up from a 10% market share in 1999 and 20% in 2011. Pretty soon, that number will hit 30%. Amazon's (NASDAQ:AMZN) second annual "Prime Day" sale on July 12 saw global orders surge over 60% (year over year), "exceeding Black Friday as the retailer's busiest day of the year." Amazon said it sold more than 90,000 TV sets, over 215,000 rice cookers, and over three times as many Amazon devices.
In short, a recession is not on the near horizon. In the Freedom Fest (July 13-16), Barron's economics editor Gene Epstein argued against those predicting "economic Armageddon" (an exact quote from an opposing panelist). He told the audience there that each of the recent recessions was preceded by (1) an inverted yield curve and (2) a spike in new unemployment insurance claims. Neither is happening now.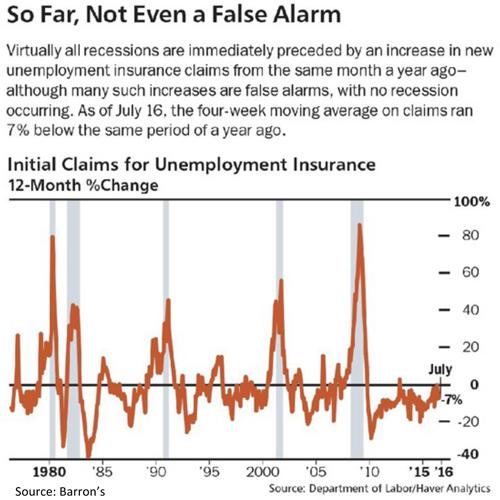 Graphs are for illustrative and discussion purposes only. Please read important disclosures at the end of this commentary.
The current yield curve is flatter but positive, with the 10-year Treasury note yields 125 basis points more than three-month T-bills. The U.S. stock market has risen lately, Epstein says, because it remains the best place in the world to place your money for income or growth. He wrote in this weekend's Barron's edition that
The yield on the WisdomTree Dividend Index, which covers the nearly 1,400 companies that pay cash dividends, is at 3%, even though the yield on the 30-year Treasury bond has plunged to 2.3%.
With July nearly in the books, it's time to weigh the outlook for August, at least in historical terms.
August is a Good Month for Stocks – Unless Disaster Strikes
August is the start of hurricane season – in nature and in the markets. Last year, we saw a pretty scary August (down 6.3% in the S&P 500), based in part on a collapsing market bubble in China. Five years ago, we saw the worst correction in this bull market as August began with an S&P downgrade of U.S. debt ratings and Congress ending their month-long highly-contentious debate over the debt-ceiling with the passage of the Budget Control Act of 2011 (enacted August 2, 2011). In the following week, in four consecutive days (August 8-11), the Dow rose or fell by at least 420 points each day. Remember that?
Here are a few other Augusts when the market went haywire, ruining our plans for a trip to the beach:
In August, 1974, the Dow fell 10.4% after Nixon resigned the Presidency in disgrace.
In August, 1990, the Dow fell 10.0% after Saddam Hussein invaded Kuwait.
In August, 1998, the Dow fell 15.1% when a falling Russian ruble caused a big hedge fund to fail.
Outside of those market hurricanes, August is usually a rather placid market month. Using the Dow, the Investor's Almanac says that August was up in 80% of the years from 1901 to 1950. Even in the Great Depression, August 1932 was up 35% and August 1933 rose 13%. In modern times, the strongest bull market of the century began in August of 1982, with an 11.5% gain, followed by a booster shot in August, 1984, rising another 10%. Recently, since 2000, the S&P 500 rose in August in 10 of the last 16 years.
The big market hurricane of early August 2011 was Category 4, but it's important to recall that the S&P 500 chart was jagged (wide swings up and down) while staying between 1100 and 1300 in all of August and September, 2011, but now it is up over 100% since its intra-day low of 1074.77 on October 4, 2011.
Despite a Treasury debt downgrade in 2011, U.S. Treasury yields have fallen since 2011 and the dollar has risen to the euro and most other currencies. On August 1, 2011, the euro traded at $1.426. Today, the euro is around $1.10, or 23% lower. In addition, government spending as a percent of GDP is down.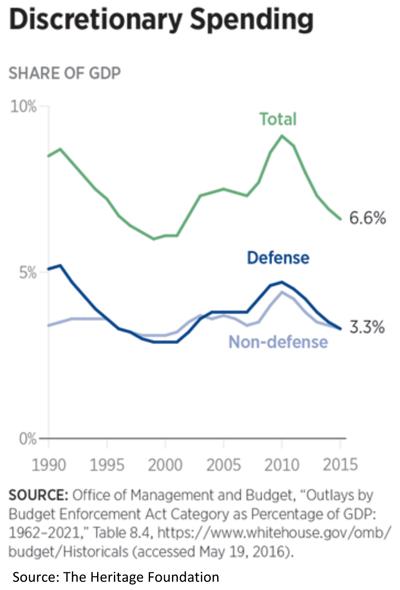 Graphs are for illustrative and discussion purposes only. Please read important disclosures at the end of this commentary.
The 2011 Budget Control Act and the Budget Sequestration of 2013 worked. Discretionary spending is down sharply as a percent of GDP, according to a May, 2016 Heritage Foundation study. As the above chart shows, discretionary spending in defense and non-defense decreased almost in tandem since 2010.
Dismal Augusts of the past were caused by a Presidential resignation (1974), invasion of Kuwait (1990), a hedge fund crisis (1998), and a budget showdown (2011). A crisis of that proportion is not on the near horizon. While our two major party Presidential candidates provide their choice this year, the chains of the Constitution blessedly limit a President from forcing their agenda down our throats without the complicity of Congress, so there's a good chance our Republic (and our market) will survive.
Disclosure: *Navellier may hold securities in one or more investment strategies offered to its clients.
Disclaimer: Please click here for important disclosures located in the "About" section of the Navellier & Associates profile that accompany this article.