In my previous article, I explained how market factors such as high crude oil inventory levels, weak oil product demand and rising gasoline glut are responsible for the current decline in oil prices. I had also stated that the above factors (combined with strong US dollar) will further affect the prices in the coming weeks. This Monday, both WTI (WTI) and Brent were trading at $43.76 and $45.28 at the time of writing this article. It must be noted that the US gasoline stocks have increased 4 times in the last 5 weeks and they are at their highest seasonal levels since 1990. Even crude oil stocks (at 519.5 million barrels) are almost 12% more than what they were last year. Does this mean that rising crude and refined product glut is the biggest reason for the current oil price decline?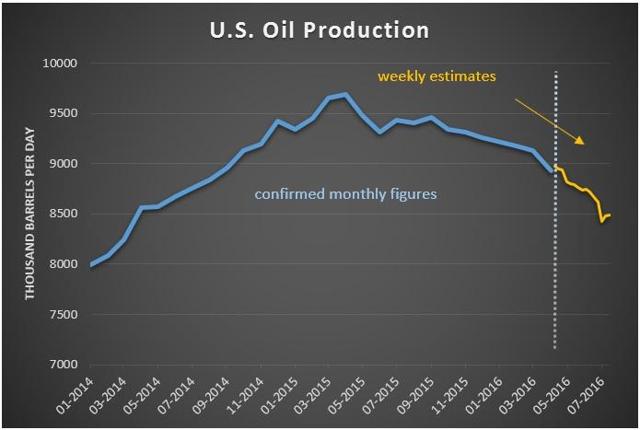 Image Source: oilprice.com
US Refiners are preparing themselves for the worst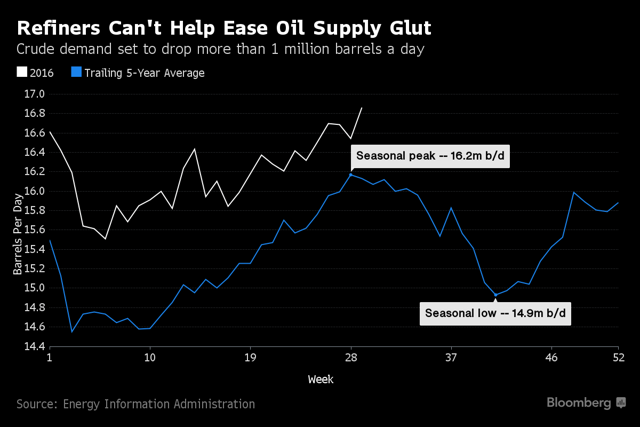 As low oil prices were beneficial for refining, refiners ran their units at maximum capacity earlier in the year and processed more gasoline than required. In fact oil majors such as BP (NYSE:BP) have reportedly increased its earnings from refineries because of higher GRMs (global refining margins) from the previous quarter. However, these margins are now reducing and so is the refined product demand. In fact, a report from Reuters even suggests that U.S. refiners now have to prepare themselves for the worst. In simple words, the supply of refined product has outpaced its demand which has resulted in reduced refining margins. If these margins keep of reducing the way they are, then refiners will have no other option but to cut their production. Once the production stops, crude oil stocks will increase which will put further downward pressure on oil (NYSEARCA:USO). Moreover, US gasoline consumption will reduce in August and September (with vacationers returning home) and refineries will go for shutdown maintenance during that time. So, the crude oil demand is anyway going to fall in the coming time. "If we've gone through the bulk of the summer driving season and haven't done much damage to gasoline supply, refiners are going to react. It will be hard to find investors that are willing to go long," said an analyst from Barclays. As refiners have not been able to ease the oil supply glut, the next couple of months can be quite bearish for oil.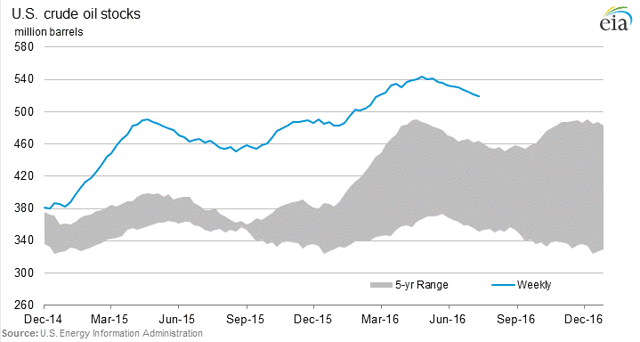 Takeaway
Last week, the total US oil and gas rig count increased by 15, thereby adding more downward pressure on oil prices. Although this rig count is still short by 414 when compared to last year, it needs to be noted that the US rig count has increased in 7 out of last 8 weeks. Also, it must be noted that it is not only US that is responsible for the refined product glut. China exported a record 1.1 million tons of gasoline in June this year and has now created a gasoline glut in Asia. Although I believe that oil prices will definitely increase in the fourth quarter of 2016 because of uptick in demand from key markets like China and India, I am also confident that prices may not increase (substantially) any time sooner and the biggest reason behind this will be the rising crude and refined product glut. Investors who are planning to invest in ETFs such as USO must wait for prices to decline even further.
Disclosure: I/we have no positions in any stocks mentioned, and no plans to initiate any positions within the next 72 hours.
I wrote this article myself, and it expresses my own opinions. I am not receiving compensation for it (other than from Seeking Alpha). I have no business relationship with any company whose stock is mentioned in this article.