The vast amount of information available on the internet can be overwhelming, that is why many use Seeking Alpha to try to distill the information, obtain a clearer picture and learn alternative ideas on investments.
Here I offer an alternative look at the S&P 500. Over 10 years if someone had invested in a typical tracker fund of the S&P 500 index it would have produced a return of nearly 70%. Over the last 5 years the return would have been roughly 50%.
However, the picture is entirely different if one looks at the performance of the S&P 500 index over the last 18 months. The index has practically gone sideways, giving some investors concern that their investments are not performing well. Certainly, for those people entering positions in early 2015 the returns have not been much greater than if they had kept their money in a bank account, without the risks that the stock market entails. If in March 2015 you had invested $1000 into a typical low cost tracker fund such as one from Vanguard, today that investment would be worth about $1028 - taking also into consideration the running costs of the fund. If we consider the effects of inflation, the real return would be $1017.
Historically, the average P/E of the S&P 500 index is 16, whereas today it is over 22. There is consensus and some concern that the S&P 500 is overvalued and most large companies' earnings are going to stagnate for the near future.
Here are my suggestions on how investors can try to increase their returns despite these seemingly unfavourable circumstances.
1. Slumps
The biggest most recent falls have been in the Energy sector, which now constitutes only 7% of the S&P 500 index, with some companies like ConocoPhilips (COP) and Southwestern Energy (SWN) that have had large falls in revenue and reduced market share, their stock price is now worth 12% and 13% less than 10 years ago respectively.
The Materials sector has not performed as well as the S&P 500 index as a whole mainly because the sector has reached saturation and prices are lower due to a proliferation of competing products. The sector has delivered 45% gain in 10 years, a lot less than other sectors or the S&P 500 index as a whole.
In these two sectors there are opportunities for a rebound, as can be seen by price increase over the last 6 months of some Energy companies such as Royal Dutch Shell (RDS.A) +8%, and miners, Rio Tinto (RIO) +5%, Randgold Resources (GOLD) +56%.
2. Dividends - 2 large-cap companies that reward investors
Examining some large-cap companies that had some of the largest gains in stock prices over the last 10 years a trend is apparent. There are some large companies in the S&P 500 index which give sizeable and consistent dividends that when reinvested and compounded over the years dramatically increase the value of the original investment. The fact that they consistently pay generous dividends also contributes to their popularity and consequent increase of their share price; therefore, it is comparatively more difficult to find value stock for companies that also pay sizable dividends.
Here are two good examples on the effects of dividends on an investment, two large-cap companies that I follow. Verizon Communications (VZ) has consistently increased revenues for the past 5 years also boasting a large yearly cash flow ($39 billion in 2015). In contrast, the revenue of Philip Morris International (PM) have declined over the last 5 years, due to the decrease in the number of smokers, stabilizing in 2015 also thanks to the widespread introduction of e-cigarettes.
What is interesting to see, from the point of view of this article, is that despite the different company performance and sectors, the investment returns increase by the consistent dividends paid by the two companies.
Verizon stock price increased 60% in 10 years and paid an average dividend of 4.5%. In that period, the initial $1000 invested would have grown to $2166, of which 47% represents the compounded reinvested dividends.
Verizon currently trades at a P/E ratio of 12, trading at a low price when compared to its historical P/E values.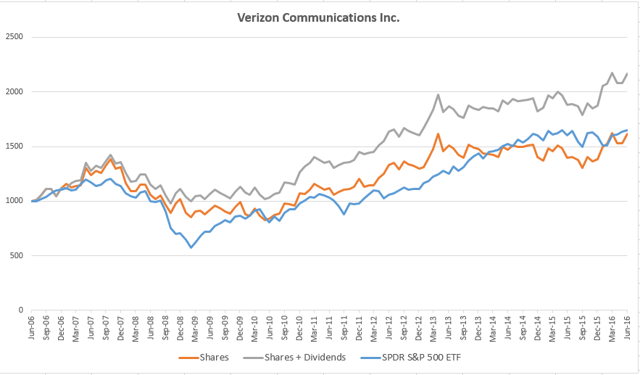 After the spin-off from Altria, Philips Morris stock price increased 101% over 8 years and paid an average dividend yield of 4%. If you had invested $1000 in 2006, today it would be worth $2383, of which $370, or about 28% of the growth in your investment would be thanks to reinvested dividends.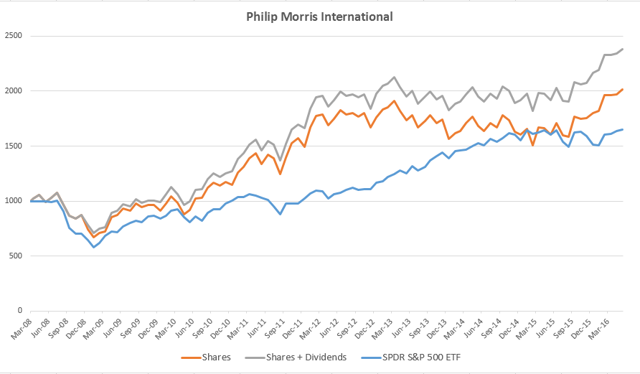 A company's consistent dividend history is only part of the story, it is also important to invest in companies offer good value and prospect for growth.
The Daily Dividend Alert web site, offers a list of companies and their dividends. Link.
In conclusion, it seems wise to do a little more research on the main Wall Street index, analyzing the possibility of better returns by investing in sectors that are out of favor. As an alternative strategy, to invest in companies that provide the most regular and highest dividends, keeping in mind the importance of investing in reliable companies that happen to be on offer at a reasonable price.
Disclosure: I/we have no positions in any stocks mentioned, and no plans to initiate any positions within the next 72 hours.
I wrote this article myself, and it expresses my own opinions. I am not receiving compensation for it (other than from Seeking Alpha). I have no business relationship with any company whose stock is mentioned in this article.