The S&P 500 continues to make new all-time highs even as FactSet is now showing analysts are projecting another year over year decline in earnings for Q3. In April the expectations for earnings were growth of over 3%. This decline will be the 6th consecutive quarterly decline in year over year earnings. This has led the trailing 12 month earnings multiple to balloon to 19.4. It reached over 23 in 2009, but that is because earnings were being forecasted to increase after the recession. While earnings are forecasted to increase in 2017, I don't give them any credence because we haven't experienced a recession yet and margins have peaked. The credit cycle has been tightening and the dollar has been rallying, so the formula for growing earnings simply isn't there.
With bond yields at record lows, the case for stocks is strong even though they are expensive. While precious metals and cash are viewed as diversification and risk mitigation tools, there are few professional investors who would be willing or able to put a majority of their assets under management in them. With the economies of Europe, China, Brazil, and Japan all looking weak, there isn't many places to invest outside of a scant few emerging markets. The U.S. market is the only game in town. Because everyone recognizes this and because investors believe the Fed will always back up the market, investors are piling into equities without a care for valuations.
I've discussed this concept with General Mills (NYSE:GIS), Con Ed (NYSE:ED), Reynolds American (NYSE:RAI), and Campbell Soup (NYSE:CPB). Investors want to buy U.S. stocks, but high growth companies have had lackluster growth because of the weak economy. Therefore, consumer staples and utilities are the only place for investors to park their money. An additional benefit is they often have higher yields than the 10 year treasury which is currently at 1.58%.
General Mills, Reynolds, and Campbell Soup are all expensive consumer staples stocks, but I found an even more expensive stock than them. McCormick (NYSE:MKC) trades at 29.83 times 2015 earnings and 27.76 times 2016 earnings. There is a relatively good reason for McCormick to trade at this multiple which is usually reserved for a high growth company. McCormick has stronger business than Campbell and General Mills as it is better at riding the healthy eating trend which most mature packaged foods firms have missed out on.
McCormick is a spices company. If the consumer wants to eat healthier, the best option is to cook at home. McCormick spices provide consumers with the ability to make their cooking better tasting which is helpful for those trying to cook for the first time. McCormick is also making sure to focus on selling healthier products as it is trying to reduce sodium, MSGs, and sugar. While McCormick does have an industrial segment, 2/3rds of its operating income comes from the consumer segment, so consumers eating at home is a net benefit. Another benefit to eating at home is cost. With the economy weakening, consumers are choosing to eat at home to save money. McCormick even has private label brands if consumers want to trade down.
As you can see from the slide below, McCormick brand has seen lower growth than the industry. This just shows how strong the industry is as it is in a secular growth trend.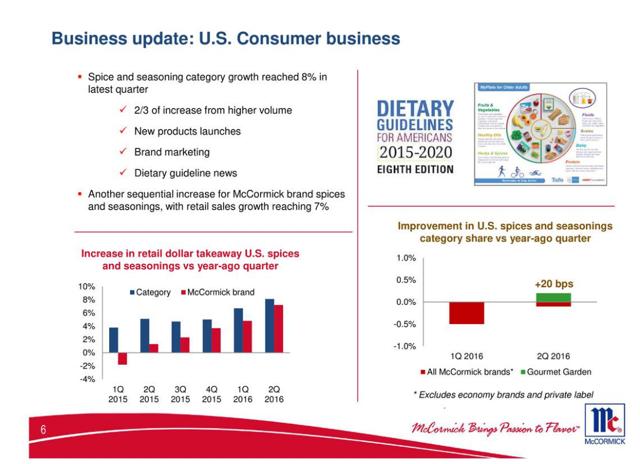 The biggest growth driver of sales last quarter was acquisitions. Sales grew 6% on a constant currency basis and 3.8% including currency impacts. 3.3% of the 6% growth came from acquisitions, with the main one being Gourmet Garden. Gourmet Garden is the global leader in chilled convenient packaged herbs merchandised with fresh produce. While this sales growth is slow, it is impeccable compared to General Mills and Campbell Soup which are in decline.
It's expected that McCormick would trade at a premium valuation to its peers, if you take into account its superior growth rate. However the firm is only expected to grow adjusted earnings by 9%-11% while the stock is up over 30% in the past 12 months, so it has gotten much more expensive. This has led its PEG to reach 3.19. I consider any PEG over 2 to be expensive for a consumer staples firm.
However, an average PE or PEG doesn't give you a picture of where the stock is going. It just gives you an idea of where the stock could end up if the factors that have caused it to be valued this way change. What I mean by this is if yields rise, then the investing paradigm can change and consume staples can go out of favor. They can switch from being the best place to be, to the worst place to be. It's easy to say that an investor shouldn't buy consumer staples when they are favored category, but that depends on how your timing is. It could have been a good time to buy them 6 months ago when they were still in the favored category for quite a while. The question is when interest rates will rise. Another possibility is we fall into a recession and it brings down the entire market.
The reality is neither I nor anyone else can tell you when the situation will change. However, if you are one of the investors who purchased McCormick for its safety and reliability, you must notice the tone of this discussion. McCormick has become a stock you need to time. Traditionally investors who shirk volatile stocks like Facebook, to buy consumer staples are doing so to avoid making bets that are aimed at timing the market. Usually buying McCormick has been a good idea at almost any price in the past. However, because of record low yields causing the stock price to shoot up, I think McCormick has become too risky for the low-risk investor.
Conclusion
McCormick is a strong business which is growing at a steady rate. However, due to market forces it has ballooned to spotting a 30 PE. This is unsustainable in the long run, so risk averse investors should take profits. Traders who have a 6-12 month time horizon should try to determine when interest rates will rise or when we will fall into a recession to determine when to sell the stock. Unfortunately, these are the two biggest issues facing the market today, so timing it would be difficult. Buying a long term put option may be the best trade.
Disclosure: I/we have no positions in any stocks mentioned, and no plans to initiate any positions within the next 72 hours.
I wrote this article myself, and it expresses my own opinions. I am not receiving compensation for it. I have no business relationship with any company whose stock is mentioned in this article.