Q2 results
BlackRock (NYSE:BLK) reported roughly in-line earnings, with GAAP EPS of $4.73 and adjusted EPS of $4.78 compared to the consensus estimate of $4.77. The key positive takeaway from the results was a 230bps q/q pick-up in adjusted operating margins. BLK posted 2Q long-term net flows of just $2 billion, well below the consensus expectations. iShares ETFs were very solid with $16 billion of inflows, but were overshadowed by $6 billion and $8 billion of outflows on the retail and institutional side for the quarter.
The DoL fiduciary rule
On April 6th, the U.S. Department of Labor released a new fiduciary regulatory package which sets a new standard for advice given to retirement investors. Basically, the rule is designed to eliminate the incentive for brokers to put retirement savers in inappropriate investments. The rule is long and complex, plus the implications on the industry are still subject to interpretation. That being said, we believe passive strategies/products will be the most likely winners from the rule, as they are easier to justify under a fiduciary standard. It is well worth noting that while the new fiduciary rule applies only to retail retirement accounts, we do not rule out that this standard will be applied to all retail accounts within the next few years. Based on all of these factors, we see BLK as the biggest beneficiary of the rule.
The continued secular shift toward ETFs
While the global ETF industry has grown to over $3 trillion in AuM (assets under management), its market share is still very low: 4% of the overall equity market, and just 1% of the overall bond market.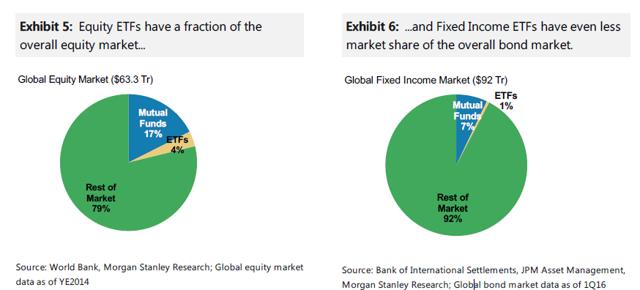 Source: Morgan Stanley Investment Research
With 342 ETFs covering a wide spectrum of strategies, asset classes and regions, many investors look to BlackRock's iShares as the one stop solution for their ETF needs. We believe iShares should continue to generate meaningful growth, and hence, BlackRock will remain the biggest beneficiary of the secular growth of the ETF industry.

Source: Company data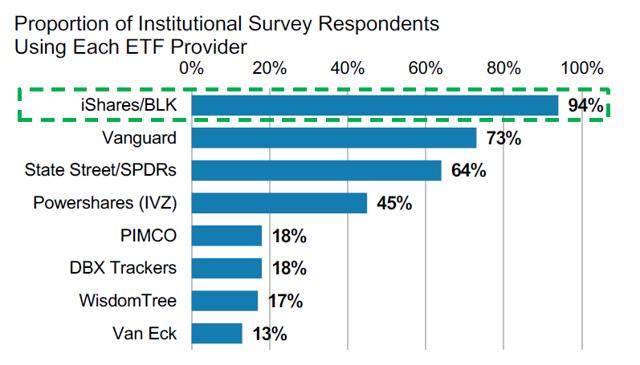 Source: Greenwich Associates, Morgan Stanley Investment Research
US Retail: It is all about gaining market share
BlackRock has significant potential in the U.S. retail mutual fund space, given its low market share, strong retail distribution and broad product offerings.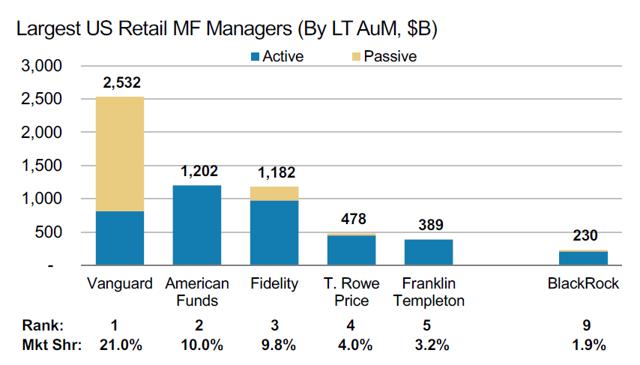 Source: Morningstar Direct, Morgan Stanley Investment Research
Hence, we see: 1) tailwinds from the DoL fiduciary rule; 2) the secular growth of ETF industry; and 3) higher marker share capture in the U.S. retail space as the main drivers of 4-5% organic long-term asset growth at BlackRock, which is impressive, in our view, given the company's $4.7 trillion AuM base.
BlackRock's valuation premium to peers can expand further
On a 2017E P/E basis, BLK trades at a 18% premium to the average of its peer group.

Source: Bloomberg, Renaissance Research
However, given that BlackRock is exceptionally well positioned versus peers to gain market share and continue its organic growth path, we believe its premium could expand further.
Bottom line
We think the BLK's valuation will begin to diverge from peers, as other asset managers are at risk of big flow headwinds, which could cause multiples to compress. By contrast, BlackRock will benefit from: 1) tailwinds from the DoL fiduciary rule; 2) the secular growth of ETF industry; and 3) higher marker share capture in the U.S. retail space. Hence, we feel confident in the valuation premium expansion story at BlackRock.
If you are interested in equity research on U.S., European, LatAm, and CEEMEA banks/financial companies, including fundamental analysis, DCF/multiples valuation, commentaries on price-sensitive events and actionable trading ideas, click the "Follow" button beside my name on the top of the page.
Disclosure: I am/we are long BLK.
I wrote this article myself, and it expresses my own opinions. I am not receiving compensation for it (other than from Seeking Alpha). I have no business relationship with any company whose stock is mentioned in this article.