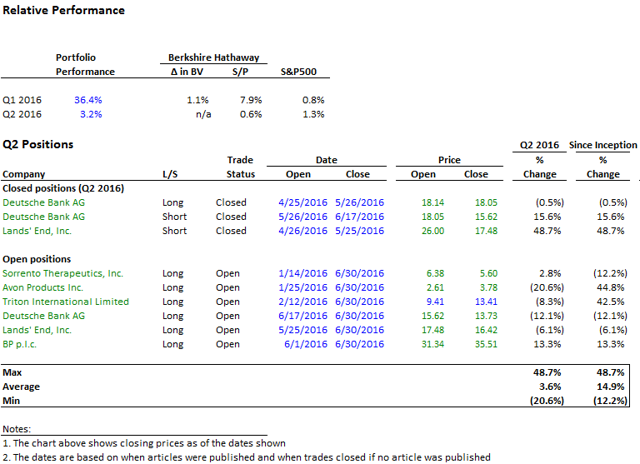 This article is intended to provide an update on the price performance of the stocks that I have covered during Q2 2016. Additionally, I have provided a fundamental and technical update as appropriate for each security.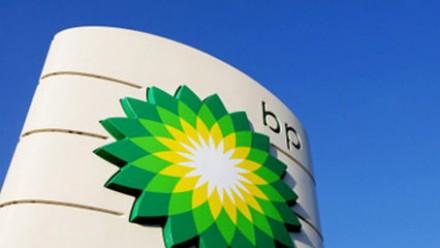 Overall, the portfolio performance was adequate reflecting the very strong performance in Q1 of 36.4% and the associated corrections that inevitably follow. Additionally, overall portfolio performance was dragged down by two losing positions: Deutsche Bank and Lands End.
What follows is a brief discussion on each individual security.
LONG Sorrento Therapeutics (NASDAQ:SRNE)
My article on SRNE (NASDAQ:LONG) was published on January 14, 2016. I personally acquired stock at around $6 and that day the stock closed at $6.38. As of June 30, 2016 the stock closed at $5.60.
Clearly, as a long position this stock has been a disappointment so far. I figured the bottom would be between $5 and $6 but instead the stock fell to $4.25 on February 11, 2016. Longer term the stock has significant potential due to the promising early stage drugs in its development pipeline as well as potential royalties from NantPharma. NantPharma announced on May 15, 2016 the acquisition of Cynviloq from SRNE. Unfortunately, so far there has been no news updates in regards to Cynviloq.
The bullet points below summarize SRNE developments during Q2 2016.
On May 2, 2016 SRNE announced the closing of the first tranche its previously announced $150m private placement of common stock. Yuhan, a Korean pharmaceutical company, purchased 1,801,802 shares of common stock at $5.55 per share and a warrant to purchase 235,294 shares of common stock. The warrant is exercisable for three years at an exercise price of $8.50 per share. Other parties are still completing due diligence and SRNE may announce further private placement sales of common stock in the near future
On June 7, 2016, SRNE announced the creation of a JV with Chinese Shenyang Sunshine Pharmaceutical Company Ltd to develop and commercialize proprietary immunotherapies, including those developed from, including or using TNK's chimeric antigen receptor T cell technology targeting carcinoembryonic antigen positive cancers. Shenyang will invest $10m into the JV and own 51% of the venture with SRNE owning the rest.
On June 8, 2016, SRNE announced that the remaining $140m private placements of common stock had been placed. Ally Bridge Group, a global healthcare-focused investment group based in Hong Kong, led the financing and, together with Beijing Shijilongxin Investment Co., Ltd., and FREJOY Investment Management Co., Ltd. collectively purchased 25,225,221 shares of common stock at $5.55 per share, and warrants to purchase 5,055,642 shares of common stock for total consideration of $140 million.
Fundamentally the large equity raise has added $150m of cash to SRNE's balance sheet giving SRNE time and resources with which to develop its pipeline. Unfortunately, it has come at a cost for shareholders with shares outstanding increasing from 37.8m to 65.5m reducing the potential upside going forward. That being said, given the high potential of its development pipeline I am holding firm my shares. Technically, the stock has been in a sideways pattern between $4 and $6 with no real primary direction.
LONG Avon Products (NYSE:AVP)
My article on AVP was published on January 25, 2016 when the stock closed at $2.61. Since then the stock has been on a tear hitting a high of $5.25 before correcting lower. The stock closed at $3.78 on June 30, 2016.
On May 5, 2016, AVP reported Q1 2016 earnings results. On a GAAP basis revenues and EBITDA came in $1.3BN and $35.4m respectively. Adjusting for $47.1m of restructuring charges EBITDA was $82.5m with AVP reporting a EPS loss of $0.38 per share. Revenue declined significantly since Q1 2015 partly reflecting the sale of Avon North America but also reflecting revenue declines in continuing operations. The results were not good but reflect the continuing restructuring of the company.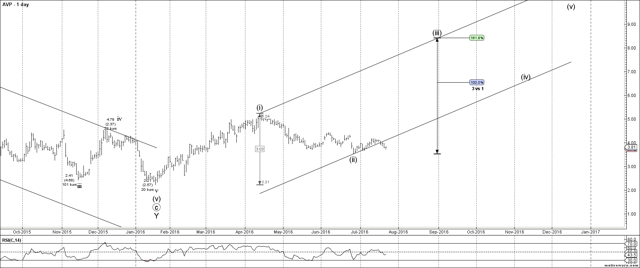 Technically, AVP likely bottomed at $2.21 on January 20, 2016 as I initially expected. Given the impressive gains in the stock a correction is likely not far away and a pullback to $3.50 to $4.00 should provide investors with another chance to increase or to establish new long positions. This wave 2 pullback could also already be complete with lows at $3.50 although new highs above $5.25 need to be seen in order to confirm this view. If correct, I expect the stock to trade higher targeting $8.00 to $8.50 area in the medium term.
For now I am holding onto my shares expecting much higher share prices in 2017 and 2018 in line with my initial projections of $10 per share within 2-3 years.
LONG TAL International (NYSE:TAL) now renamed Triton International (NYSE:TRTN)
My article on TAL was published on February 12, 2016 when the stock closed at $9.41. Since then the stock has raced higher hitting a high of $17.60. The stock closed at $13.41 on June 30, 2016.
On April 28, 2016 TAL reported Q1 2016 financial results. Leasing revenues increased by 0.2% in Q1 2016 vs. Q1 2015 to $149.2m. Adjusted net income per share for Q1 2016 was $0.25 or $8.4m. This included losses from the sale of leasing equipment of $13.9m.
This is clearly less than the current quarterly dividends of $0.45 per share. I believe the dividends are safe for now due to two reasons:
On July 12, 2016, TAL International and Triton consummated their previously announced share for share merger. The merger promises a lower tax rate as well as $40m in synergies which should support the company's net income and quarterly dividends.
The recent improvement in commodity prices indicates that the deflationary environment is receding which should be supportive for steel prices, secondary market prices for containers as well as container lease rates.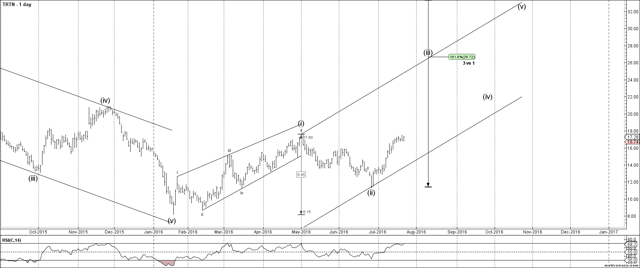 Technically TAL has had an impressive run since the February 2016 lows below $10. The initial run from $8.15 to $17.70 seems to be wave 1 with a 3 wave correction that bottomed at $11.27. Since then the share price has rebounded back to recent highs and is now trading around $17 per share. I expect the shares to pause around current levels before racing higher towards $26 to $27 per share during 2016 and 2017.
LONG Lands End (NASDAQ:LE)
My first article on LE (short) was published on April 25, 2016 when the stock closed at $26.00. On May 26, 2016 I closed the short position at $17.48 for a 48.7% gain and went long. Since then stock has been volatile and trending lower. As June 30, 2016 the stock closed at $16.42 for a 6.1% loss.
On June 1, 2016 LE announced first quarter earnings. On a whole the performance was not good with revenues and earnings declining further.
Net revenue was $273.4 million as compared to $299.4 million in the first quarter last year. Direct segment net revenue decreased 8.4% to $232.2 million. Retail segment net revenue decreased 10.4% to $41.2 million primarily driven by a 7.1% decrease in same store sales and a reduction in the number of Lands' End Shops at Sears.
Gross margin was 47.4% as compared to 49.0% in the first quarter last year due to deeper promotions as compared to last year in response to a difficult retail environment.
Net loss was $5.8 million, or $0.18 per share, as compared to net income of $1.7 million, or $0.05 per diluted share, in the first quarter last year.
Adjusted EBITDA1 was $0.6 million compared to $13.1 million in the first quarter of fiscal 2015.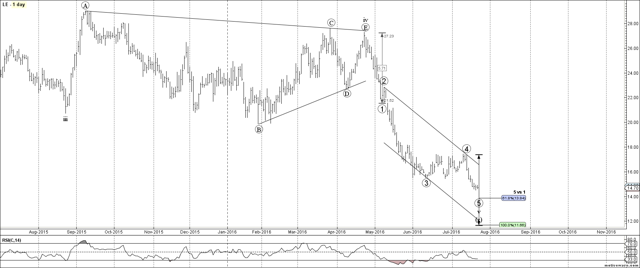 Technically the stock has kept on falling and my initial assessment that a bottom had been found turned out to be incorrect. That being said the signs of a turn are still there so I am holding my current long position for now. As can be seen from the chart below the targets for a completed wave 5 is first $13.84 and then $11.66.
LONG Deutsche Bank (NYSE:DB)
I wrote three articles in regards to DB during Q2 2016.
The first was a long position taken on April 25, 2016 and closed on May 26, 2016 for a 0.5% loss.
The second article was a DB short published on May 26, 2016 and closed on June 17, 2016 for a 15.6% gain.
In the third article, published on June 17, 2016 I announced that I had closed my short positon and again entered a long position which as of June 30, 2016 had generated a loss of 12.1%.
On April 28, 2016 DB announced Q1 2016 earnings which I described and commented in depth in the following article.
Although DB has been cheap for quite some time on a P/E and a P/B basis the stock has kept falling rendering fundamental analysis by itself not particularly helpful in picking a bottom. Technical analysis can be useful but a high degree of certainty usually only comes ex post. As a result, it's not uncommon to have several failed attempts in picking a bottom. On Wall Street there is a saying "do not try to catch a falling knife" which I disagree with. Catching a falling knife can be extremely profitable as stocks that decline 70-90% will experience huge moves up once the decline is complete. Key is of course that the company doesn't go bankrupt and that the long position is as close to the bottom as possible.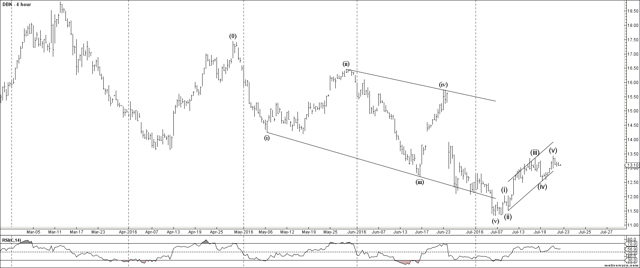 In the case of DB the signs are still there that the stock is bottoming. The chart above (DBK EUR denominated stock) shows RSI diverging with the share price in wave 5 and what looks like a start of a new upturn in the past 2 weeks.
BP PLC (NYSE:BP)
On June 1, 2016 I published an article on BP PLC.
That day the stock closed at $31.34 and has since then advanced to $35.51 by the end of quarter for a 13.3% gain.
At my initial cost BP had a 7.7% dividend yield.
This is a primarily a play on higher oil prices. Technically speaking, oil bottomed at $26 although it will take some time before we break out above $50-55. Additionally, BP should benefit from declining expenses related to the Macondo oil spill and renewed EM economic growth and demand for oil.
Final remarks
Overall average Q2 portfolio performance was good with a gain of 3.2% outperforming the S&P500. I expect Q3 and Q4 to be better given the strong start to Q3 by TRTN and the possible turnaround of DB and LE.
Disclosure: I am/we are long BP, DB, AVP, TRTN, SRNE, LE.
I wrote this article myself, and it expresses my own opinions. I am not receiving compensation for it (other than from Seeking Alpha). I have no business relationship with any company whose stock is mentioned in this article.
Additional disclosure: This article presents the opinions of the author and does not provide individually tailored investment advice. It has been prepared without regard to the individual financial circumstances and objectives of persons who receive it. Investors are recommended to independently complete their own due diligence and evaluate any investment independently as well as to seek the advice of a financial advisor. The appropriateness or legality of a particular investment will depend on an investor's individual circumstances and investment objectives. The securities, instruments, or strategies discussed in this article may not be suitable for all investors, and certain investors may not be eligible to purchase or participate in some or all of them. The article is not an offer to buy or sell or the solicitation of an offer to buy or sell any security or instrument or to participate in any particular trading strategy.