Turkey in trouble
On Wednesday 20th July, Erdogan took yet another draconian step by declaring a state of emergency to remove what he has called the "viruses" from society. But don't think this will in any way resemble the French state of emergency which has now been in place for over six months on the other side of Europe. In Turkey, in less than a week, over 50,000 people have been "purged" in one way or another; either removed from their positions, or arrested. CNN reports that as of Wednesday:
"- 21,738 teachers in private institutions have had their licenses revoked;
- 2,745 judges and prosecutors have been listed for detention, although it is unclear if they have all been detained;
- 1,577 university deans have been asked to resign"
No liberté, no egalité and certainly no fraternité here! All academics have been banned from leaving the country, while every second word uttered by President Erdogan is "treason".
As human rights evaporate and Erdogan continues to hurl vitriol and blame at the US, the relationship between Washington and its NATO ally will continue to deteriorate. The Incirlik Air Base of course plays an important role in the fight against ISIS. However, should Erdogan continue to flex his muscles on the issue of deporting Fethullah Gülen, the Americans are not short of allies in the region who would be willing to chip in and curry favor with the next US administration.
Turkey will thus inevitably find a friend in Putin. The pre-coup apology to Russia from Erdogan was a sign that if the 'sultan' must begrudgingly eat humble pie, it will only be in the shadow of the Kremlin. However, as with the US-Kurdish alliance in the battle against ISIS, Russian support for Syrian Kurds as an ally to Assad will have to be balanced if Erdogan and Putin are to nurture this newfound relationship.
Despite initial positive noises from senior officials in the presidential palace in Ankara regarding the rapprochement with Israel, we will not be surprised if the rationale behind this deal also unwinds quickly. Closer ties with Russia undermine the necessity of Israeli gas, while a strengthened inflexible Erdogan also pushes off a solution to the Cyprus problem; a necessary step to complete any route of an Israel-Turkey gas pipeline. Ties with Germany are also at an all-time low, and with Brexit now in full swing, Germany's voice in the EU will be stronger than ever.
None of this bodes well for the Turkish economy
On the economic front, Turkey's tourism was in a rut before the coup, hit hard by the brutal terrorism both from the PKK and ISIS. The Economist was already reporting - before pictures of Turkish tanks took over our screens - that "the tourism slump will lead to a current-account deficit of 5% this year and 5.4% in 2017." Since the failed coup, there have been reports of Islamists threatening secular tourist sites, and crime rates are already increasing as police focus on the purge and ignore their day to day duties. In the long term, an emboldened Erodogan will inevitably lead to a strengthening of religious conservatism throughout Turkey. This is all bad news for an already struggling tourism sector.
Taking a look at the Turkish Lira, the market is clearly starting to take notice of the instability. The Lira is trading at its lowest point in the past 10 years, currently at 3.07 Lira per $1. While that may appear to imply that the market is learning the lesson, we think that this is just the beginning. With weakening foreign investment, slowing tourism, low job creation there do not seem to be many silver linings. Here is a look at the 5-year chart for the USD vs. TRY.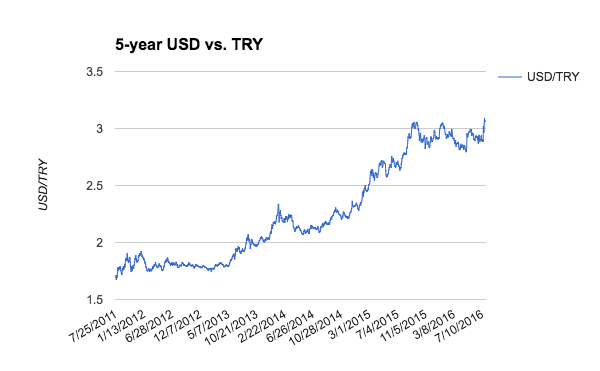 Now, let's say that the Lira has made its move and is poised to recover. A simple comparison to GBP weakness over the past six months shows that the market either believes that 1) the post-Brexit economy is a greater risk than Turkey's or 2) the market has yet to fully recognize the risks ahead for Turkey.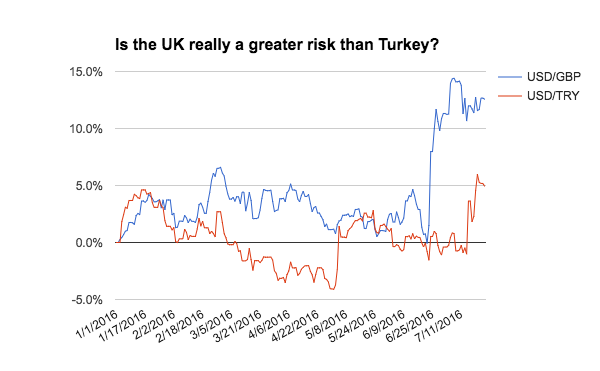 The equity market seems to have a better grip on things having taken the Turkish market down significantly and even relative to the wider MSCI emerging index. Here we compare the iShares MSCI Turkey (TUR) and iShares MSCI Emerging Markets Index (NYSEARCA: EEM).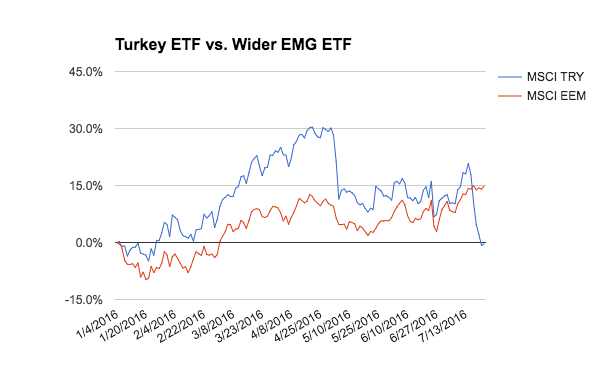 Summing up
In conclusion, we expect to see a more conservative, isolated, unstable Turkey, moving further away from the West, and continuing to suffer from PKK and ISIS violence. With over 90% of Turkish debt held in foreign currency, a flight of foreign investment (likely), and a further deterioration of tourism (very likely), the Turkish economy is in a lot of trouble.
Given the significant risks to Turkey, which we feel are significantly greater than those to Great Britain, we believe a trade to take advantage would be short-Lira (iShares Turkish Lira ETF (TRYS)) and long-British Pound iShares British Pound ETF (GBPS).
Disclosure: I/we have no positions in any stocks mentioned, and no plans to initiate any positions within the next 72 hours.
I wrote this article myself, and it expresses my own opinions. I am not receiving compensation for it (other than from Seeking Alpha). I have no business relationship with any company whose stock is mentioned in this article.